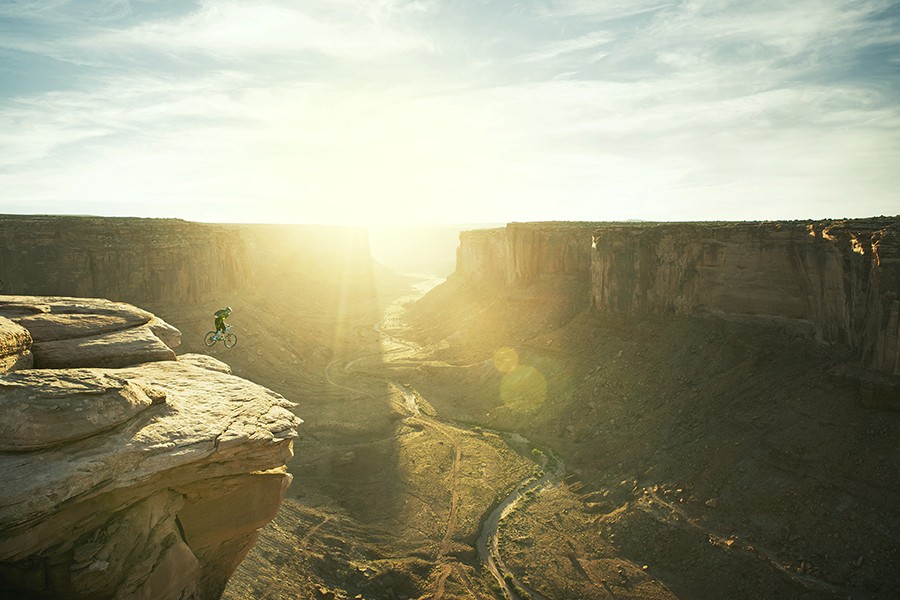 "Our need for mountains runs deep and wide," breathes Willem Dafoe in his unmistakable sultry growl. "Mountains are wild and ungovernable — this is the source of their danger and the source of their allure." Dafoe later delivers more hot-and-heavy narration about how "the siren song of the summit" offers "a pumped-up poker game of high stakes and high returns," before finally climaxing by purring about "the spell of the mountains … the pleasure and terror that we came to call the sublime."  
If I didn't know any better, I would think that Willem Dafoe wants to literally fuck a mountain.  An occasionally breathtaking but mostly eye-rolling meditation about the apparently indescribable human attraction to high places (the text comes from British writer Robert McFarlane's memoir Mountains of the Mind), Mountain is florid and cranky in the service of a vague and stingy eco-spiritualism. It's like bad Herzog. 
A unique collaboration between writer McFarlane, director Jennifer Peedom (she previously made the well-received mountain-climbing movies Solo and Sherpa), mountaineer/photographer Renan Ozturk, and Australian composer Richard Tognetti, Mountain provides no shortage of amazing shots or sublimely beautiful musical interludes. Every time I felt ready to bail on the film, Peedom would drop in a jaw-dropping aerial image of flea speck humans scaling an enormous mountain face or an unbelievable GoPro shot of some life-threatening snow stunt. 
However, the film consistently promotes a worldview of sour enthrallment, lamenting about little kids skiing the bunny slopes while equating daredevil idiots with lamas and shamans. If keeping score at home, intentionally causing avalanches to protect the lives of skiers at a resort is bad and wrong, but intentionally causing avalanches to risk your life for a snowboarding video means that you're totally in touch with the mystical majesty of the mountains or whatever.
[embed-1]

For all the potency of the sounds and images in Mountain, it's hard to overcome the movie's hypocrisy, especially since Dafoe's narration is omnipresent. Peedom and McFarlane use an anti-colonial argument to excoriate mountain tourists while lionizing thrill-seekers leaping out of helicopters onto virgin snow or jumping their bikes off the side of a mountain.
Crazy thought: The main appeal of mountains to the types of people who would ride a bicycle off a cliff is that mountains are very high from the ground. If those same people had to climb 10,000 feet to reach shopping malls, they would jump off malls instead. That doesn't mean that those people would suddenly understand malls on some secret spiritual level that none us could ever grasp.