Stories you shouldn't miss:
1. Big oil and gas interests spent millions lobbying California lawmakers during the final few months of the legislative session as they successfully weakened a fracking regulation bill, the SacBee$ reports. Chevron, the Western States Petroleum Association, and Aera Energy LLC all spent more than a $1 million each on lobbying in Sacramento during the last quarter. Oil and gas interests also treated a handful of moderate Democrats to a $13,000 dinner at an upscale eatery near the Capitol. In the end, the lobbying and gifts paid off when the legislature approved a fracking bill that promises to greatly expand hydraulic fracturing in the state.
[jump]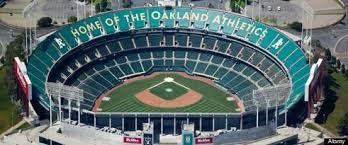 2. Major League Baseball's threat to move the Oakland A's to San Francisco next year appears to have worked. The Tribune reports that Oakland and Alameda County officials have decided to soften their negotiating stance with the A's over a new lease at the Coliseum and agree to favorable terms for the ballclub. The city and county had wanted the A's to pay higher rent at the stadium, and when the A's refused, the league stepped in and threatened to move the team to AT&T Park next year.
3. California will fail to meet its ambitious climate change goals by 2050 unless it adopts stricter greenhouse gas emissions policies and new green technologies emerge, the LA Times$ reports, citing a new study from the Lawrence Berkeley National Laboratory.
4. Up to seventeen million Americans may be eligible for government financial assistance under Obamacare, the Washington Post$ reports, citing a new study from Kaiser Permanente.
5. And state and federal agencies have embarked on a $3.5 million effort to remove sunken boats from the floor of the Oakland estuary, the Chron reports.