Housing, healthcare, job training, addiction treatment, and mental health support slashes recidivism compared to sending people to jail, a pilot project in Seattle's King County is reporting.
University of Washington researchers in the first part of a three-part evaluation
report
this week that King County's Law Enforcement Assisted Diversion (LEAD) Program of treatment not jail leads to safer communities.
"LEAD has shown promise as an alternative to jail for low-level drug crimes," stated Seattle Mayor Ed Murray. "Bringing service providers, police, prosecutors and defenders to the table in a collaborative manner works. We are seeing results, and re-investing in the program will touch more of the people who need it most."
[jump]
"LEAD has shown us a way to move past the failed War on Drugs and change the racial disproportionality in drug enforcement, without ignoring the harm to health and safety caused by untreated mental illness and addiction," stated King County Executive Dow Constantine. "Now the rest of the nation is looking to King County and Seattle as a model for breaking the cycle."
Local police and the community developed LEAD in October 2011 in Seattle's Belltown neighborhood to confront open-air drug markets in Seattle and King County. It has since expanded to other areas of downtown Seattle, King County, and other jurisdictions across the nation.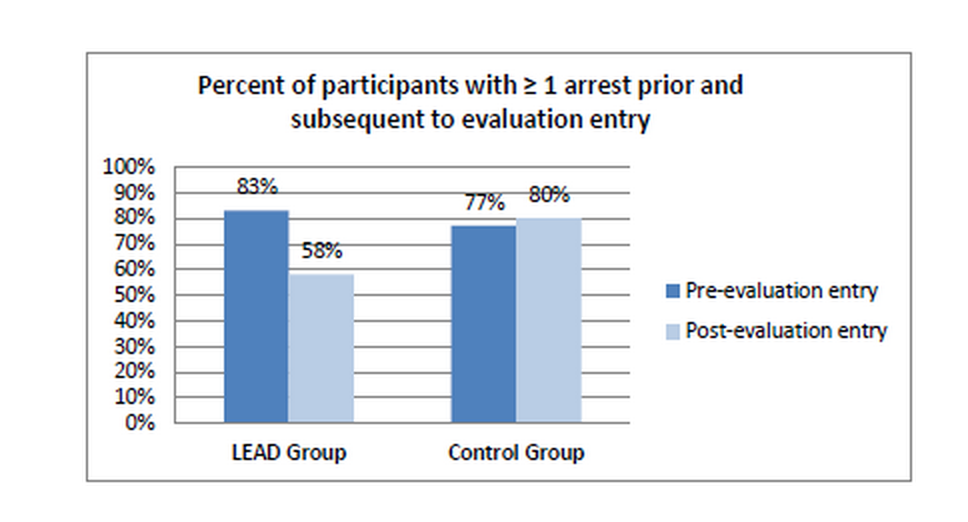 Instead of arresting low-level drug and prostitution suspects and prosecuting them in a revolving door of punishment, police divert suspects to housing, healthcare, job training, treatment and mental health support. In contrast to the traditional zero tolerance approach, LEAD case managers work with participants to reduce drug use and impacts on others.
In a study of LEAD Program members versus a control group arrested and prosecuted as usual, people in LEAD were 58 percent less likely than people in the control group to be arrested. Control group suspects saw their likelihood of being re-arrested actually go up — in an expensive, wasteful negative feedback loop of arrest, imprisonment without treatment, release, re-offense, and re-arrest.
"The criminal justice system is the most expensive and ineffective way we could possibly design to try to help people change their behavior," stated Lisa Daugaard, policy director at the Public Defender Association. "But communities worry about giving up the arrest and punish approach if they feel there is no alternative. This evaluation shows that there is a less harmful way that does a better job of meeting community needs for order and safety."
"Seattle Police enforcement efforts emphasize prevention and intervention principles not just because they are effective but because they are humane," stated Seattle Police Chief Kathleen O'Toole.
"This report confirms on paper what my deputies have seen on the street," stated King County Sheriff John Urquhart. "Solutions that address the underlying issues of non-violent crime are much more effective at changing behavior than traditional incarceration."