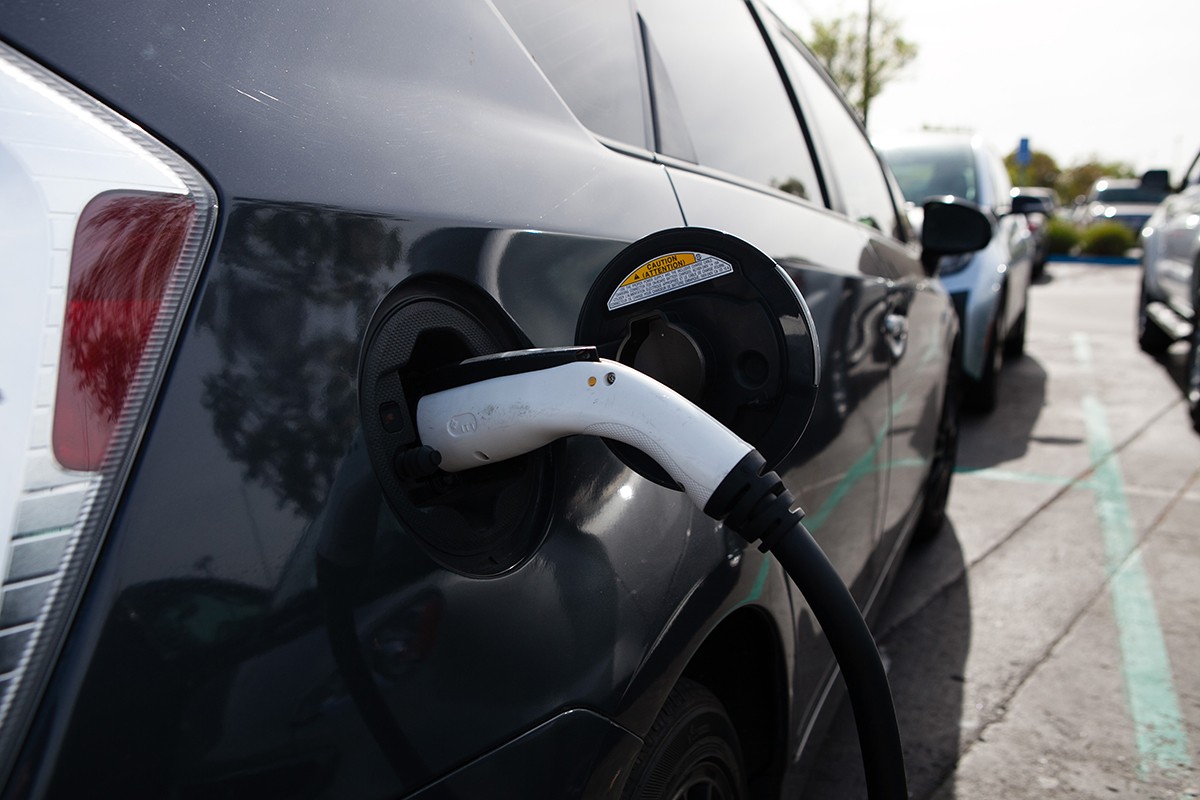 Electric cars are key to California's goals of reducing carbon emissions and improving air quality. But their widespread adoption has been slowed by the lack of charging stations available in commercial parking lots and residential buildings.
Oakland planners want to change the city's building code
so that new commercial and residential projects include lots of PEV-ready parking spaces. PEV-ready means installing conduit under a parking lot or garage so wires can be pulled through and charging stations easily installed later on. City planners also want to require a small percentage of parking spaces in new projects be fully wired and include everything but a charging station.
According to city staff, it costs $500 to $1,500 to make each parking space ready for an electric charing station —  a tiny fraction of the total cost of building new housing and commercial projects. And according to city staff, making things PEV-ready at the outset saves thousands of dollars per parking space later because workers don't have to trench new electrical lines.
But for several months, the costs and benefits of these building code changes haven't gotten a public hearing because a developer lobbyist had the item repeatedly pulled from committee hearings so he and other lobbyists could influence the proposal in private meetings.
At the November 15 meeting of the Oakland City Council's Community and Economic Development Committee, the building code update item was withdrawn without explanation. It was reschedule for a December 6 meeting of the same committee, but when that date came around, committee chair Larry Reid withdrew it again, saying only
"we're gonna put that item over until the next CEDA committee meeting."
What Reid could have said was that lobbyist Greg McConnell of the Jobs and Housing Coalition had asked that the item be withdrawn. The Jobs and Housing Coalition is a landlord and real estate developer lobbying group led by McConnell.
According to city email records, after McConnell had the item taken off the agenda,
he met with Shayna Hirshfield-Gold
, the city staffer working on the code updates. McConnell reportedly told her that developers are worried about increasing construction costs, and that
one developer even "hates"
the proposed code update.
After it was delayed by McConnell,
city staff also went out of their way to meet with the Oakland Builders Alliance
, which includes some Oakland's largest real estate developers, architects, construction companies, and brokers. McConnell also attended to the OBA meeting which city staff went to, according to city email records.
OBA member Mark McClure, who is a partner with CCIG, wrote in an email that OBA doesn't oppose the building code changes, only that they wanted more information, and that OBA "appreciate[s] the thoughtful process the city staff is following to receive input from various stakeholder groups."
But while OBA is working to influence the new building code, its members don't appear to be following the city's transparency rules regarding lobbying.
While McConnell is currently registered with the city as a lobbyist, McClure and other members of the Oakland Builders Alliance — which include former Planning Commissioner Jim Moore, and current Planning Commissioner Tom Limon — aren't registered, and they aren't disclosing their contacts with city staff.
In fact,
the last time
OBA members filed lobbying disclosure forms with the city was in 2014.
In response to whether he is currently registered with the city's Public Ethics Commission, McClure wrote in an email that "any communication that has taken place with city councilmembers in the interim has occurred through the standard process of providing stakeholder feedback requested by the city."
But Oakland's Lobbyist Registration Act doesn't have any exemption for "stakeholder feedback requested by the city." The only exception to the law that comes close is
Section 3.20.060 (c)
which says, anyone invited to give testimony to the city council, or a board or commission, or a hearing officer, doesn't have to register and disclose their activities as a lobbyist.
That doesn't appear to be what happened in this case. What happened is that Greg McConnell lobbied to have the legislation taken off a committee agenda which forced the city staff members who drafted the proposed code changes to meet with McConnell and the Oakland Builder's Alliance in private to get their input.
Last Tuesday, the electric vehicle code item was supposed to be heard, but
a
shooting
 on Broadway caused the meeting to be adjourned prematurely, delaying things again.
So now it appears that the item will finally come to committee
next week
. That is, unless it's quietly withdrawn again so that developers can lobby city staff more behind the scenes.