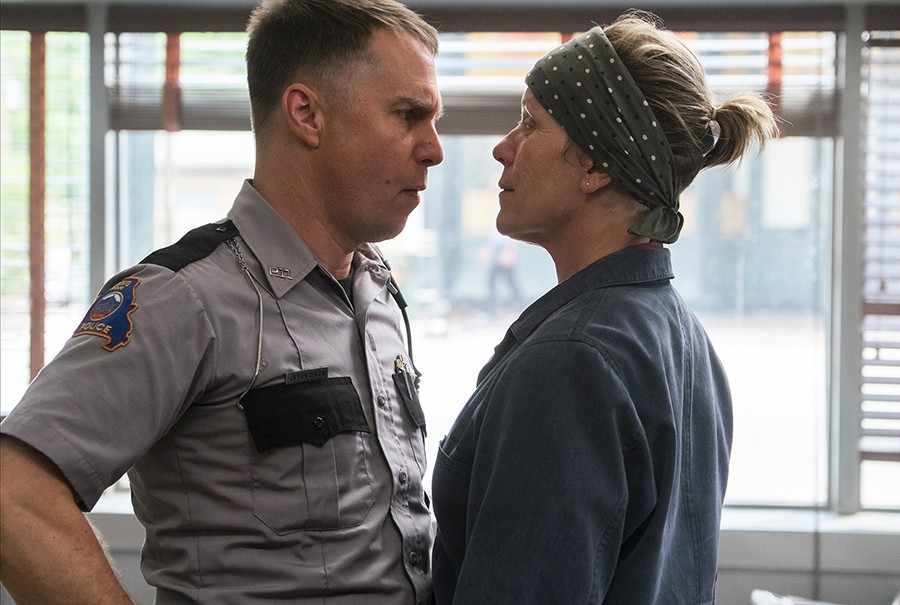 Martin McDonagh is no longer the new kid in the neighborhood. When the London native playwright first tried to export his brand of violent, ironically comic stage drama — à la The Lieutenant of Inishmore — to American movie screens, the result was mixed. His offerings either clicked (In Bruges) or stank of imitation Tarantino (Seven Psychopaths). Now he's got the hang of it. Three Billboards Outside Ebbing, Missouri shows how relaxed McDonagh can be in the wide-open spaces. It's easy; just get Frances McDormand, Sam Rockwell, and Woody Harrelson.
Oh, there are a few free-range, cartoonish hicks running loose in the town of Ebbing, but the feud between a grieving mother named Mildred Hayes (McDormand) and the local establishment over the unsolved rape and murder of Mildred's teenage daughter has all the staccato snap, crackle, and pop we expect from a McDonagh crime story — plus that little something extra that only top-notch performers can bring.
Village outcast Mildred thinks Ebbing Chief of Police Willoughby (Harrelson), or his nasty assistant Dixon (Rockwell), or Dixon's repulsive mother (Sandy Martin), or someone, is covering up for her daughter's death, so Mildred rents three billboards to complain about the lack of investigation, in no uncertain terms. Mildred takes to revenge like a raccoon takes to the sandwich you left in the backyard. Matters degenerate from there. Mildred is one tough cookie.
McDormand, of course, is one of this country's finest players, and she shows it, Missouri-style, in one of the year's smartest performances by an actress. And Harrelson's electrified personality can make even the role of a dying man vivid. But the revelation of Three Billboards is Rockwell's tour-de-force Dixon, a rambling, shambling mama's boy with a mean streak, in a town chock-full of mean people. Rockwell (alongside Harrelson) kicked out the jams in Seven Psychopaths, but his Dixon may be the best thing he's ever done. McDonagh should cement Rockwell into his stock company. But we've left out John Hawkes, Lucas Hedges, Caleb Landry Jones, Abbie Cornish, Peter Dinklage, Kathryn Newton, Zeljko Ivanek, and Samara Weaving. The flick is riddled with first-rate actors mouthing provocative dialogue in a unique story. Don't just sit there. See it immediately.
Three Billboards Outside Ebbing, Missouri Written and directed by Martin McDonagh. With Frances McDormand and Sam Rockwell. Opens Friday.