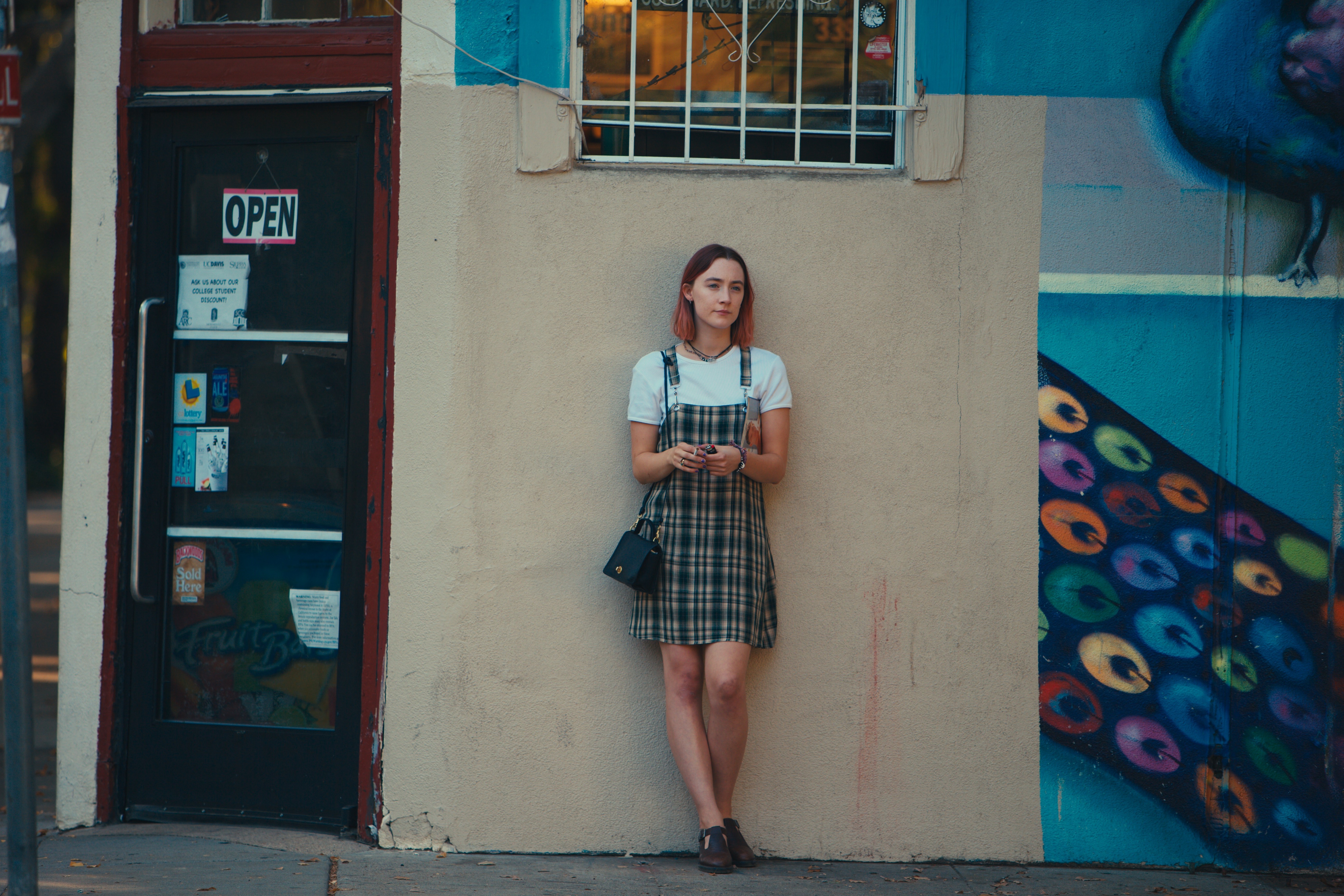 In Lady Bird, the title teenager (played through the roof by Saoirse Ronan) is poised at the threshold of womanhood, self-respect, self-assurance, sex, and independence. Familiar territory. We've seen hundreds, maybe thousands, of coming-of-age movies from every conceivable point of view. But here, in the writing-directing debut of actress-turned-filmmaker Greta Gerwig, with Ronan and a carefully chosen cast of characters, the time-worn genre twinkles like new.
Christine "Lady Bird" McPherson lives in a lower-middle-class Sacramento neighborhood with her mother (Laurie Metcalf), a nurse; her unemployed father (Tracy Letts); and her adopted older brother (Jordan Rodrigues) and his girlfriend (Marielle Scott). Lady Bird's time at a Catholic high school is spent in low-key rebellion alongside her best friend (Beanie Feldstein). She's a skeptical underachiever who disdains sleepy Sacramento and dreams of escaping to the East Coast. But that takes money. A scholarship is her only hope and she doesn't quite have the grades.
Something is amiss between Lady Bird and her mother, Marion. Bitter, defeated Marion thinks "poor," in contrast to the richness of her daughter's aspirations. Their habitual and incessant bickering clouds the sky at a moment when Lady Bird is most in need of moral support. The one kindly nun at school (played by Lois Smith) can't quite answer all the questions — but someone needs to.
Why does Christine choose to call herself Lady Bird, and why does Marion steadfastly refuse to humor her daughter's choice of names? Who is this guy Danny (Lucas Hedges from Manchester by the Sea), Lady Bird's costar in a school musical? And what about Lady Bird's clandestine applications to New York colleges in place of settling for her mom's choice, boring old UC Davis, where they teach agriculture? Everywhere our heroine turns, her friends and family are too wrapped up in their own problems to lend a hand, so she helps herself.
Two of the cinema's most provocative young talents rise to the top of their game in this film, in perfect sync with each other. Sacramento native Gerwig, who reportedly wrote her own dialogue for her friend Noah Baumbach's Frances Ha and Mistress America, matches up so well with Ronan that the Irish international phenom (Brooklyn) seems to be channeling her director. As Ronan interprets Gerwig's writing we get the same feeling we had watching, say, Café Society or Midnight in Paris. That is, every time Jesse Eisenberg or Owen Wilson would speak their lines all we could hear was Woody Allen. Likewise, when sweet-natured Sacramento schoolgirl Lady Bird intones her thoughts we naturally picture sweet-natured Manhattan newcomer Frances from Frances Ha. Lady Bird doubles down on the essential Gerwig persona, with a Ronan inflection plus a nod to another Sacramento product, writer Joan Didion.
Gerwig takes great care with the supporting cast. Veteran actress Metcalf, whose credits include JFK, Toy Story, numerous David Mamet plays, and The Big Bang Theory, portrays Marion McPherson as a complicated woman torn between encouraging her daughter and penny-pinching. (To her, the two goals are mutually exclusive.) Lady Bird's dad, played by playwright-actor Letts (Indignation) as an amiable burnout, provides the nurturing warmth his wife cannot. Other characters in the large cast are given thoughtful screen time, notably Timothée Chalamet as Lady Bird's alternative lover and Stephen McKinley Henderson as Father Leviatch, a consoler who could use some consolation. Gerwig's casting is impeccable and the movie is, too. She's just as charming a filmmaker as she is an actress. Lady Bird takes wing.
Lady Bird
Written and directed by Greta Gerwig. With Saoirse Ronan and Laurie Metcalf. Now playing.