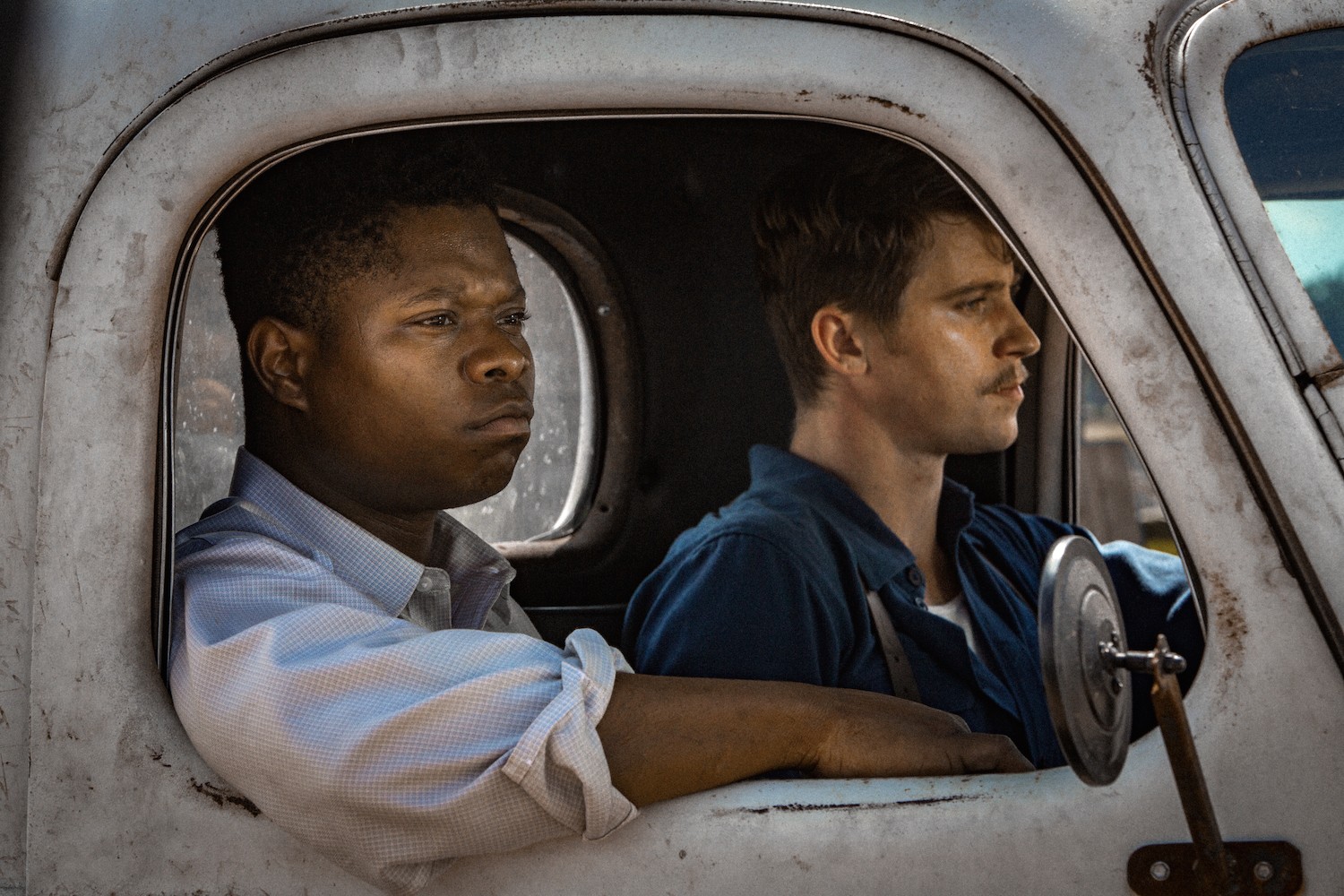 Most of the movies released at this time of year arrive "pre-sold" for targeted holiday consumption, or as putative candidates for year-end awards. Dee Rees' Mudbound is conceivably guilty of pre-selling itself (it was reportedly a hit at Sundance), but we prefer to think that it's being distributed on its intrinsic merits alone. Its merits are many, despite its modest roll-out and awkward title.
The year is 1941, with the Great Depression finally winding down and WWII about to begin. Through a stroke of bad luck, the McAllan family is obliged to leave its comfortable life in Memphis and move down to the Mississippi Delta to begin raising cotton, somewhere outside Tupelo. Laura (Carey Mulligan), a would-be "old maid" who studied classical piano, has just married rough, awkward Henry McAllan (Jason Clarke), although it's abundantly clear she prefers the company of Henry's handsome younger brother, Jamie (Garrett Hedlund). But now Jamie is leaving for the Army, and Laura must get used to the hard work, the shotgun shack, and the mud of her new home. She, Henry, and their eventual kids may look like "po' white trash" — they definitely have faces out of Dorothea Lange photos — but inside she's the one who insists on a piano, so she can play her Chopin.
The McAllans are white but their tenants, the Jacksons, are Black, and have been farming the same piece of land for generations. Hap Jackson (Rob Morgan) confides his frustrations to his wife, Florence (Mary J. Blige), that they will never be able to own the land they work. Nevertheless, their children are ambitious for a better life somewhere else. But right now, their oldest son, Ronsel (Jason Mitchell), has also joined the Army. Life is tough enough in the Delta for the McAllans but it's infinitely tougher for the Jacksons, especially now that they're under the spiteful eye of Henry's mean old father. Pappy McAllan (Jonathan Banks), a classic racist, is ornery to everyone but worse yet on Black folks. The stage is set for a tale of strong emotions, raw injustice, and courage, Southern-style.
African-American filmmaker Rees, who directed Bessie, a TV movie about singer Bessie Smith starring Queen Latifah, also made one of the most impressive "sleepers" of 2011 — Pariah, an urban lesbian coming-of-age drama with notable performances by Adepero Oduye and Aasha Davis. Mudbound continues in the same Deep South milieu as the Bessie Smith bio. It's adapted by director Rees and writer Virgil Williams from a novel by Hillary Jordan, and handles its three narrative threads of lives and times from a common perspective connecting the Black and white families.
Farmer Hap Jackson is also a preacher (his "One Morning Soon" sermon is a highlight). The McAllans beg Florence to come help with their child's whooping cough, and she knows just what to do. Meanwhile, Laura buries her pride and hunkers down to the heartbreaks of dirt farming. The two families may not be equal in the eyes of the law (unlucky Henry is a race hater when it's convenient), but they relate to each other without undue histrionics, just like regular people — the big difference being that the Jacksons are unselfconsciously righteous.
Mulligan, Blige, Morgan, Clarke, and Banks all turn in acting jobs of exceeding honesty, but when Hedlund's Jamie and Mitchell's Ronsel return home from the war, the saga opens up into a frank, gratifying Mississippi variation on The Best Years of Our Lives. Former bombardier Jamie is a self-pitying drunk, while ex-tank-sergeant Ronsel nurtures dreams of his German girlfriend and their baby son. Ronsel will not back down from a fight; Jamie is a slave to his whiskey. Rees directs this sprawling, supremely well-acted saga with a steady, realistic hand, light on the corny musical cues but rich on details — as in the subplot of the miserable white sharecroppers. Mudbound will probably get buried beneath the avalanche of holiday Big Important Movies, but it doesn't deserve to be. Seek it out.
Mudbound
Directed by Dee Rees. With Carey Mulligan and Garrett Hedlund. Now playing.