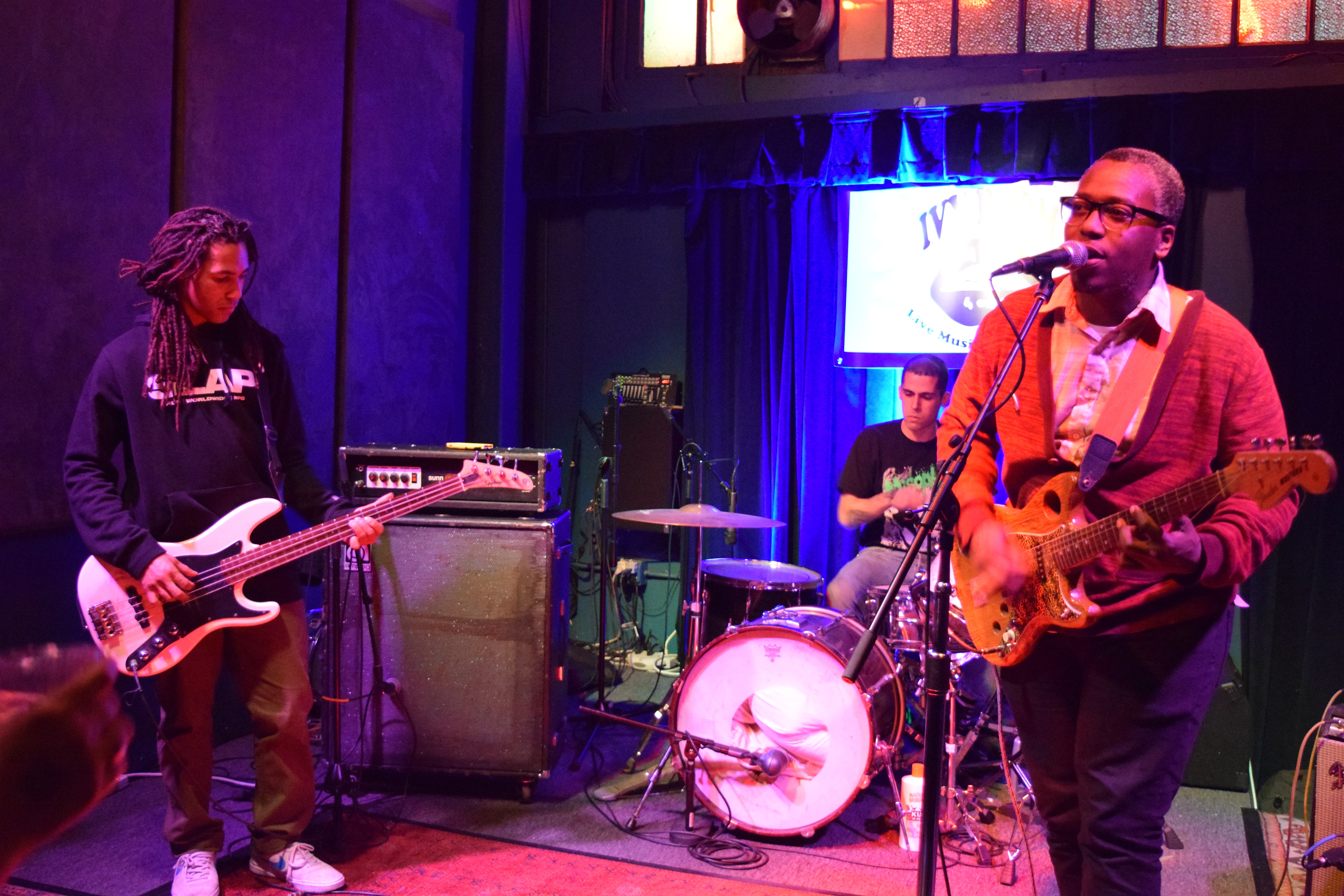 "Don't you love when rock 'n' roll musicians pretend like they have the hardest job in the world?" Brontez Purnell, frontman of garage rock band The Younger Lovers, asked the crowd Friday night at the Ivy Room in Albany. "Like, girl, come on. Calm down."
Purnell, dressed in a sensible cardigan, button-down, and chunky hipster glasses, may play in a rock band, but he certainly doesn't take himself too seriously. Telling hilarious tales of the inspiration behind his songs, teasing his bassist for "fucking white boys,"
accepting drink after drink from the crowd, and making fun of himself for forgetting the chords to songs, he turned the ordinarily white and male-dominated space of punk music into something lighthearted and inclusive.
Growing up Black and gay in small-town Alabama, Purnell found a community in the riot grrrl scene, playing in punk bands and writing a humorous 'zine about his sexual experiences called
Fag School
.
He eventually moved to Oakland, earning a reputation for his outrageous stage presence in queer electro band Gravy Train!!!! before starting The Younger Lovers in 2003.
Since then, the band has developed its sound, Purnell's loose drawl racing over straightforward guitar chords in a style that pays homage to surf, punk, and soul. If you listen closely to the slurred-together lines, you'll be charmed by grimly funny relationship tales and other escapades — stories that were surely tragic at the time, but become entertaining through a bitingly good sense of humor. Upbeat and concise, most songs are punk through and through, clocking in at two minutes or under.
After some extended technical difficulties with a malfunctioning guitar cord and some jokes about erectile dysfunction, The Younger Lovers opened with "Sugar in My Pocket," an urgently saccharine love song wrapping up after just one minute and 30 seconds. A few
minutes later, the band was already almost halfway through its setlist, playing "Tight Fade," a relatable song about getting a haircut as an attempt to fix your life: "Something had to change so I cut my hair/I had to rearrange so I cut my hair," Purnell sang.
What the band lacked in polish they made up for in banter. Purnell had no shortage of quips targeted at the too-serious white indie bros of rock music throughout the show. Before launching into "Poseur" toward the end of their set, he told the story of an "indie
rock threeway" gone wrong, something that he said happened to him seven years ago but still haunts him to this day. Upon meeting the third person participating, Purnell said he asked the guy what his favorite band in high school was, and he replied, "Modest Mouse."
"I'm just like, fuck, he listened to Modest Mouse. And I'm supposed to get a hard on?"
White rocker boys could stand to learn a thing or two about punk music from Purnell.