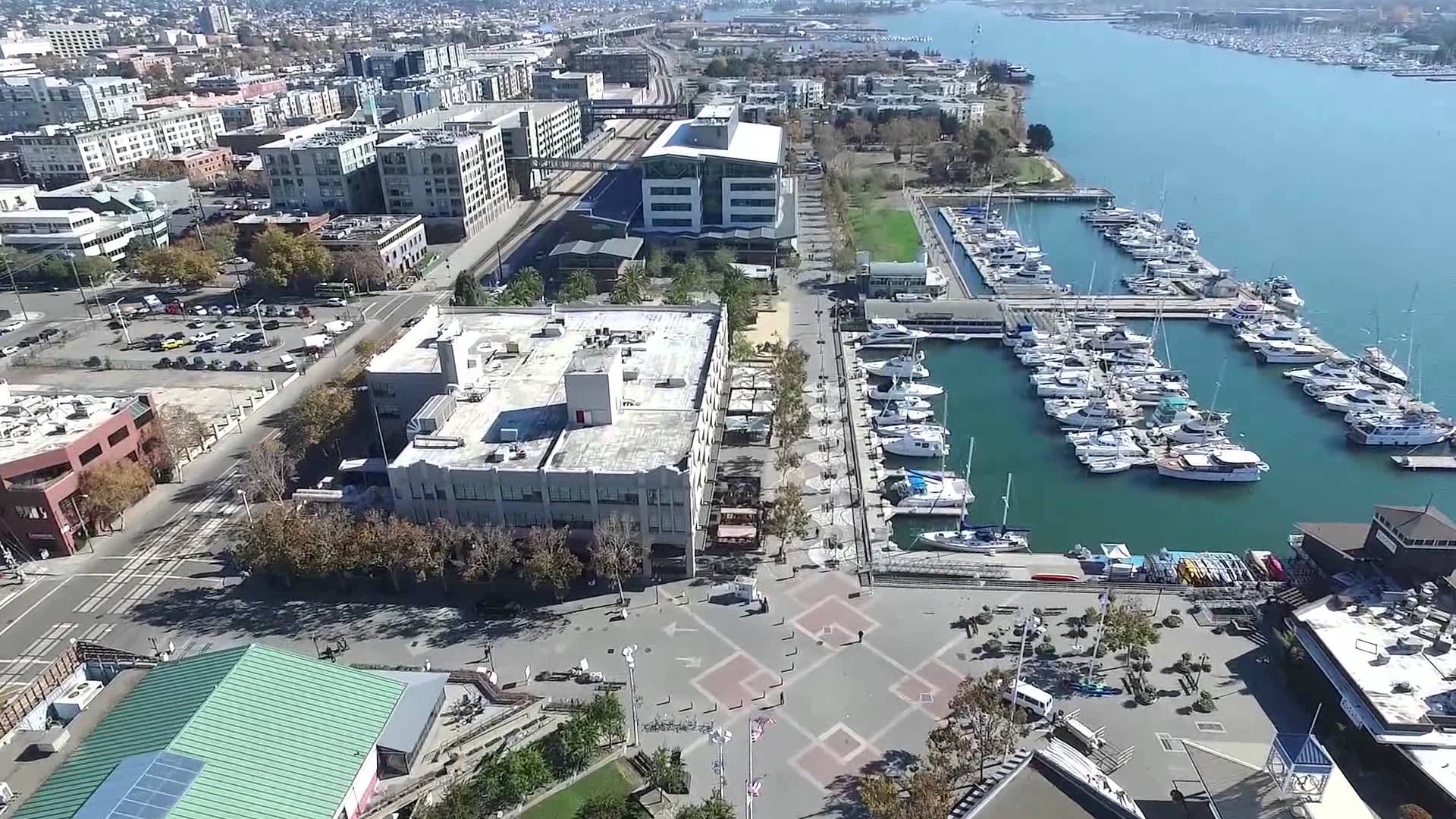 Jack London Square was awash with green, gold, and sunshine Saturday when 25,000 people attended the Oakland A's' annual FanFest. The largest FanFest in A's history overflowed with unbridled optimism about the upcoming season. Yet it wasn't all good vibes and blue skies.
Some A's fans, in fact, seemed on the verge of a full revolt when they peppered team Executive Vice President Billy Beane with questions about his habit of trading away popular players. In fairness to Beane, he handled the browbeating with grace and humor. And as usual, he tied the team's frequent roster turnover to the franchise's efforts to generate more revenue by building a new stadium. "We're trying to change that narrative," Beane said. "That's why Dave [Kaval] is up here doing everything he can."
Ah, yes. The new ballpark. It's now been nearly two months since the Peralta Community College District board ordered stadium talks with the A's to stop. Since then, the A's have been tight-lipped about their next steps, other than to repeat that they're committed to Oakland, have gone back to the drawing board, and are again considering the same three sites: Coliseum, Peralta, and Howard Terminal.
FanFest was held on a sun-splashed weekend on the Oakland waterfront, a short walk from Howard Terminal. In that setting, with the iconic Port of Oakland cranes looming nearby, it was difficult to ignore Howard Terminal's bright potential. We can talk about the site's major challenges – ranging from environmental cleanup to ingress/egress to concerns of neighboring businesses – on another day. Whenever I see scores of A's fans filling Jack London Square bars and restaurants with green-and-gold jerseys on a sunny Oakland afternoon, the idea of placing the new ballpark on the waterfront seems to be a no-brainer. Let's leave it there. For now …
I smiled over the weekend when I saw a social media post from a Bay Area man saying he was so enamored with the team's new kelly green jersey, it might change his apathy about A's baseball and turn him into an Oakland baseball fan. That, folks, is the power of good marketing. And the A's franchise sorely lacked it for two decades, until team President Kaval arrived on the scene a year ago. It will take time – years, in fact – to reverse the damage done to the franchise by previous A's owners and executives. But the new jersey, along with the cheeky "fashion show" that announced it last Friday, is but one of many marketing steps required to solve that problem. …
There was lots of A's talk over the weekend about the franchise's young cornerstones, Matt Chapman and Matt Olson. And why not? Chapman's defense at third base is already worthy of a Gold Glove, and first baseman Olson swatted homers out of the Coliseum last year like he was the second coming of Mark McGwire. With super prospect Franklin Barreto set to emerge at second base, the A's could enjoy what the Dodgers had throughout the 1970s – an infield of All-Stars anchoring a playoff contender for a decade. …
A's fans can dream anyway …
When WWE CEO Vince McMahon last week announced he's bringing back the XFL, it immediately sounded like a good idea. But upon closer inspection, two main ideas emerge: 1) Thanks, but no thanks. 2) And what the hell happened to Vince McMahon?
The original XFL, which started and ended in 2001, was a flawed but fun antidote to the NFL's "No Fun League" reputation. Sure, XFL football was third-rate and the off-field histrionics too often appeared canned or just plain dumb. On the other hand, the league was undeniably creative, sometimes inspired, and always entertaining. It stoked fans' collective id by featuring WWE-like trash-talk and embracing football's natural violence by banning fair catches and promoting big hits – long before we knew about the long-term brain trauma caused from concussions.
Also, player self-expression was encouraged, as Rod Smart's infamous "He Hate Me" jersey proved. Perhaps most important, games were affordable and fan-friendly. I'm still surprised the XFL lasted only one year. McMahon's recent announcement also intrigued me because now is the perfect time for a new league to hand the NFL a comeuppance. The NFL's poor leadership is threatening its long-term success, as feckless Commissioner Roger Goodell inspires no faith and league owners have alienated fans with their hubris and greed. That's illustrated best by Jerry Jones' and Jerry Richardson's misconduct and PR blunders, as well as the league's betrayal of longtime home cities like San Diego, St. Louis, and Oakland. The NFL hasn't been this ripe for competition since the 1960s, when the upstart American Football League quickly became its equal.
But as soon as I read the details of this new XFL, which essentially offers the polarizing tone and divisive ideas of President Trump, the idea seemed dead on arrival. McMahon says the league will be nonpolitical. Yet the league will force players to stand during the national anthem and ban players with a criminal record or even an arrest. First, that actually is very political. Second, what if a player gets arrested but is later acquitted? That XFL policy would force a player to lose part of his career on potentially bogus charges. Treating people as if they're guilty until proven innocent is as un-American it gets. So, how can you do that and still claim to be patriotic?
Also, the hypocrisy of this "no criminals" policy is mind-boggling, as McMahon's WWE has long been so infested with illegal steroids and other illicit performance-enhancing drugs that most pro wrestlers are lucky to live past 50. What happened to the Vince McMahon who built an empire with humor and sheer entertainment, refusing to take himself or his product very seriously? What happened to the guy who years ago smartly envisioned filling a football niche with a fun product that offered something for fans of all backgrounds – not just one side of the political aisle?
Thanks, but no thanks on the XFL 2.0, Vince. I can smell what this rock is cookin' – an unmistakable failure. …
Professional soccer in the East Bay? That's the plan of Walnut Creek developer Bill Hall, according to a Bay Area News Group article by Lisa P. White. Hall, who owns the rights for an East Bay team in the United Soccer League, has proposed a 15,000-18,000-seat stadium on BART-owned land next to the Concord station. The development around the Division II franchise's park would have two hotels, retail, housing, and a convention center. Concord city leaders are excited by the proposal, but it will need approval from BART, according to the BANG article. Will this East Bay soccer plan move forward or fall apart like so many other Bay Area stadium deals? Stay tuned. …
Steph Curry poured in 49 points on Saturday in Oakland, in an epic win over Boston that had the Oracle Arena crowd rocking. A Warriors-Celtics matchup in the NBA Finals looks inevitable. If that happens, it will be fun to sift through the Oakland-Boston connections and sports history. First, many Oakland and East Bay playground legends – including Bill Russell, Jackie Jensen, Paul Silas, Pumpsie Green, Dennis Eckersley, and Leon Powe – have played big roles for Boston teams over the years. There's also the football rivalry, where bitter playoff results between the Raiders and Patriots have featured phantom penalties, questionable "Tuck Rule" refereeing, and names like Sugar Bear Hamilton, Ken "The Snake" Stabler, Tom Brady, Jon Gruden, Charles Woodson, and Walt Coleman.
And don't sleep on the Athletics-Red Sox history. Oakland and Boston have met four times in memorably heated American League playoff series: 1975, 1988, 1990, and 2003. Their head-to-head record in those postseason battles is an even 2-2. Hopefully, Oakland's Warriors can own Boston's Celtics as thoroughly as A's pitcher Dave Stewart dominated Red Sox hurler Roger Clemens back in the day. Stewart was 8-0 lifetime against Clemens in an era when the A's ousted the Sox from the ALCS in both '88 and '90. …
Lastly, it's still astonishing that the Warriors have four players in the NBA All-Star game: Curry, Kevin Durant, Draymond Green, and Klay Thompson. That's one-third of the entire Western Conference roster. And yet, with stalwart Dubs role players like Andre Iguodala and Shaun Livingston left at home, it somehow feels like there could have been more. Either way, the large number of Dubs players at the Feb. 18 game in Los Angeles will be yet another reminder that Oracle Arena in Oakland, for now, is the pro basketball capital of the world.
Chris De Benedetti, a co-founding member of Baseball Oakland, writes a regular sports column for the
Express.