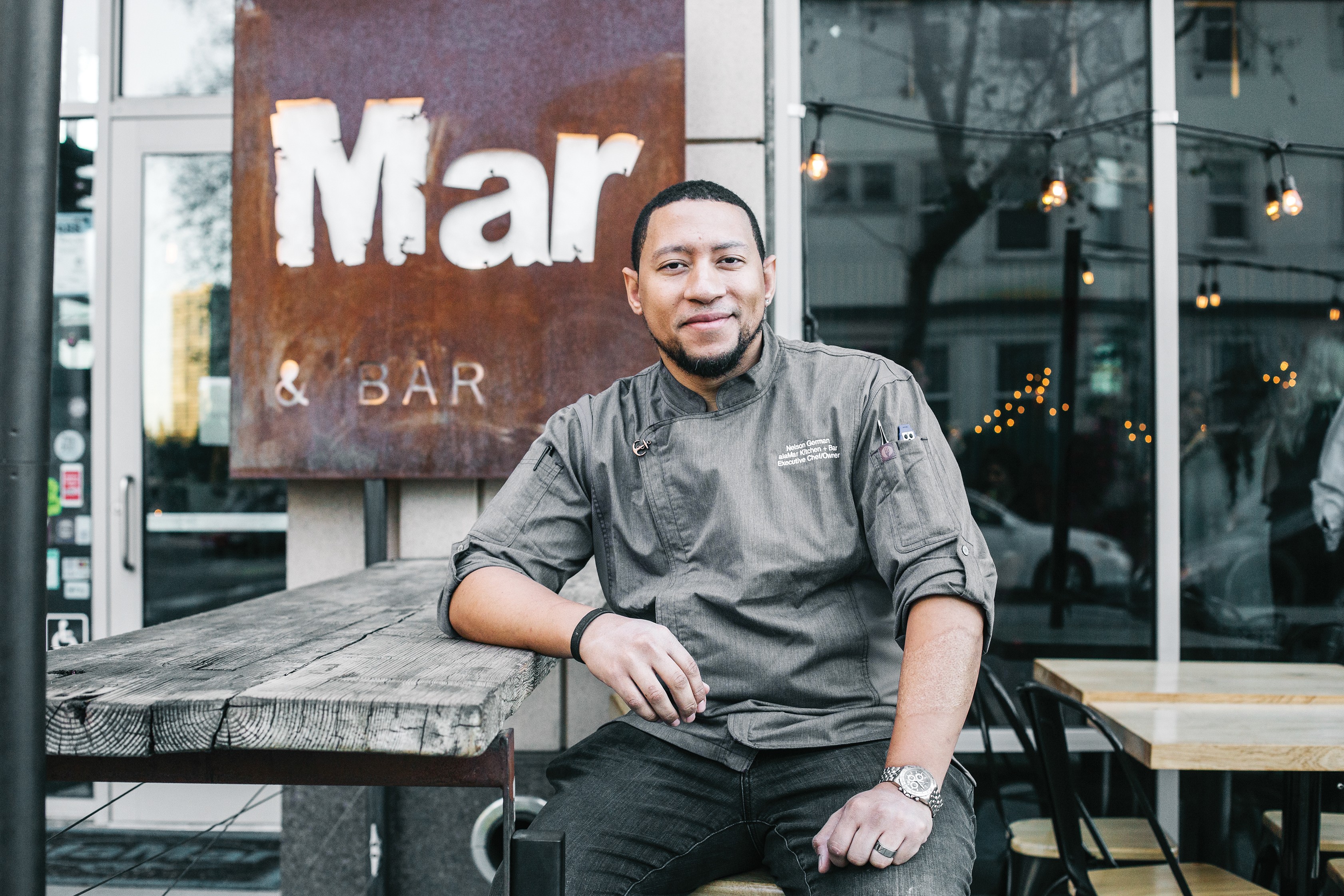 Almost exactly one year ago, Oakland's alaMar Kitchen & Bar closed its doors. Unlike a lot of ambitious Bay Area restaurants in 2016, though, it was temporary.
In January, alaMar reopened as a fast-casual restaurant. It was a dramatic shift for chef-owner Nelson German, who had always envisioned alaMar as the special occasion, full-service, seafood-oriented restaurant it had been since it debuted in 2014.
"As a full-service chef for years, it was hard for me to make the transition," he said. "When you open your first business, this is your baby. You have your vision, your philosophy, you don't want to change it."
But costs were rising too quickly. Minimum wage continues to rise — it'll reach $13.23 in Oakland on Jan. 1 — and with it, higher workers-compensation insurance premiums and payroll taxes as well. "That's getting hit three times instead of once," German said. "That's what really hurt businesses."
He tried to make cuts here and there but eventually realized something major would have to change or else alaMar would suffer the same fate as Ozumo, Picán, Cafe Rouge, and other popular, more upscale restaurants that have closed in the past 13 months.
Given these rising costs, it's no surprise that many East Bay restaurants that opened in 2017 are fast-casual. The labor needs are dramatically lower, the staff easier to manage, and the speed more appealing to millennials, the country's largest generation of diners.
This year saw the openings of Navi Kitchen, chef Preeti Mistry's American eatery suffused with Indian flavors in Emeryville; The Kebabary, the Camino team's ode to Middle Eastern salads and kebabs; Bare Knuckle Pizza, the Neapolitan pie destination in Oakland Chinatown; and Craft & Spoon, chef Charleen Caabay's follow-up to Kainbigan, just to name a few. James Syhabout's hotly anticipated Hawker Fare spin-off Hawking Fare arrived a couple of weeks ago, and San Francisco fine dining Indian restaurant DOSA just expanded into the East Bay for the first time. All of these restaurants, and many more new spots, combine counter-service, speed, and higher-quality food than you might ordinarily expect from such a casual environment.    
The trend seems to be a direct response to the Bay Area's housing crisis. With record-low unemployment and talented workers leaving for more affordable regions, staffing has never been so difficult. Finding and retaining experienced servers and cooks has become a huge challenge, as has trying to make rent on a restaurant worker's salary in the explosively expensive East Bay. The fast-casual model addresses this with not only smaller staffs but a lower bar to entry — it's not too difficult to train someone new to restaurants to work a cash register.
On the flip side, diners have tighter budgets and less money to go out to eat. Many are opting to hit up fast-casual spots more often instead of more expensive full-service restaurants once in a while.
When alaMar was a full-service restaurant, it staffed 28 people for serving, food running, bussing, bartending, and other front-of-house roles. Now, German said he has just 15 front-of-house staff on payroll, bringing his total labor costs down by 8 percent on average. Instead of needing eight front-of-house folks working at a time, alaMar now only needs three.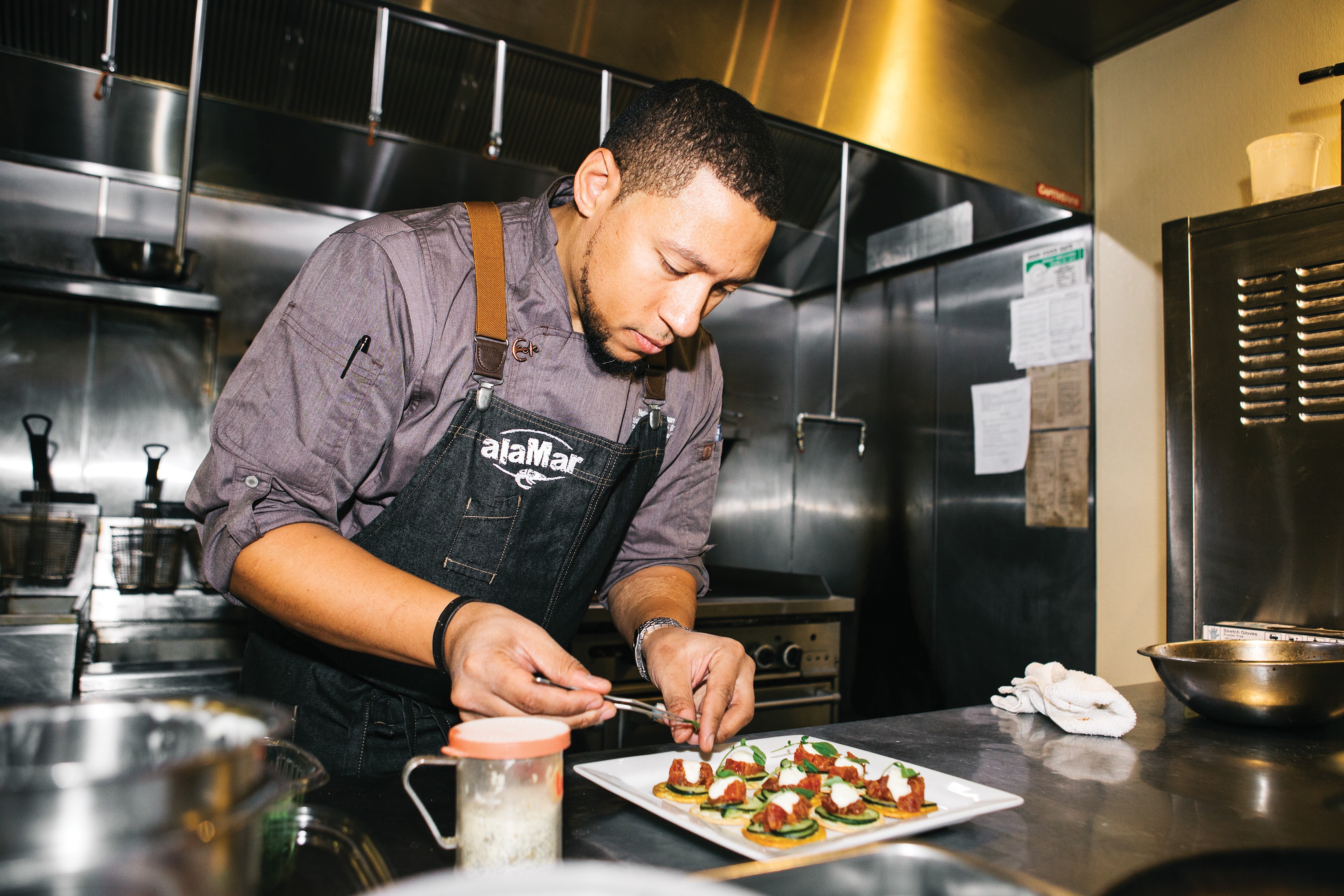 In general, diners have embraced the changes, too. German said 95 percent of former regulars still come back. And because his labor costs dropped, German was also able to bring prices down across-the-board by about 20 percent. That's resulted in folks coming in more frequently. German said AlaMar has already broken a couple of its sales records — on average, the restaurant is bringing in 10 to 15 percent more than it did as a full-service restaurant. He added that the place feels more like a family-friendly, neighborhood restaurant, and that's a good thing. "I think that's the best way for one to survive these days," he said. "You want to be a spot where people can come more often, where people don't feel the need to spend too much money for a great experience."
When John Keh decided to get into the restaurant business with Chick'n Rice, a newish Thai eatery in Berkeley, he quickly determined that fast-casual was the way to go. Keh had already worked with and observed lots of restaurants as a co-founder at Caviar, the popular delivery app.
"For a [full-service] restaurant, the turnover takes a while — a party might come in and eat for an hour or two. You require more space to serve more customers," Keh said.
In an effort to maintain quality, Keh brought on executive chef Gregory Delgadilo, who comes from a fine dining background and keeps the menu short at four entrées. Keh plans to open more Chick'n Rice locations across the Bay Area, in part because fast-casual restaurants are simpler to replicate. "It's easier to create, launch," he said. "You don't have to hire executive chefs for each restaurant you're opening. … It's about economies of scale."
Keh sees fast-casual as the future of the restaurant industry, borne out of a widespread desire to eat more quickly but also with an eye toward healthy eating. While Chick'n Rice's plates aren't exactly hippie fare, they're far more virtuous than traditional fast food. "It's more conducive for millennials to eat this food and be healthy and still be on the go," he said. "It's just the way society has been evolving."
Restaurants, like alaMar, that adapt are reaping the benefits.
"I had my doubts. It wasn't my style. I knew people would say, 'Oh, alaMar, they're not the same. They're cheapening themselves. The chef is just doing fast food,'" German said. "It can bother you, but you see the rewards. People are coming back — not just twice a month but twice a week, sometimes three. It makes you feel good."
alaMar Kitchen & Bar
100 Grand Ave., Oakland
510-907-7555
AlaMarOakland.com
Hours: Mon. 11 a.m.-2:30 p.m., Tue.-Thu. 11 a.m.-9 p.m., Fri. 11 a.m.-10 p.m., Sat. 2-10 p.m., Sun. 11 a.m.-6 p.m.

Chick'n Rice
2136 Center St., Berkeley
510-990-6576
EatChicknRice.com
Hours: 11 a.m.-10 p.m. daily