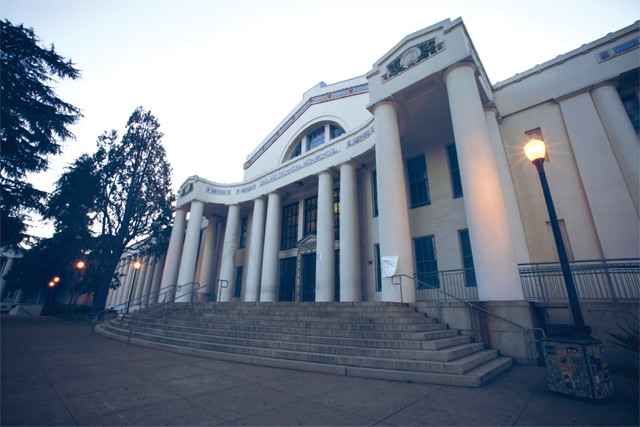 Maryann Wolfe
intended to return this fall for her 32nd year of teaching at Oakland Technical High School. But the co-founder of the acclaimed Paideia program, which was instrumental in turning Tech into the best public high school in Oakland, said she became overwhelmed by frustration during the summer. Paideia, a rigorous humanities program that serves students in 10th through 12th grades and has sent many of its graduates to Ivy League schools, has been increasingly "under attack," she said.
Fed up, she decided to resign in protest before the school year began in August.
"The decision to resign was one of the toughest I've ever made," said Wolfe, a Berkeley resident whom NPR once named one of the nation's 50 best teachers. "The Paideia program that brought Tech out of the ashes in the late 1980s and helped to make Tech the 'it' school of Oakland has been under assault. And I did not feel I could stay another year at Tech only to see the demolition train finish its job. I felt powerless to stop it."
Over the past year, Wolfe had become convinced that Oakland Tech administrators and school district leaders wanted to dismantle Paideia, despite its considerable success. When she launched the program in the mid-1980s, Tech was one of the lowest-performing high schools in the region. But during the past three decades, Paideia and the school's other well-regarded programs, particularly the Engineering Academy, have transformed Tech into one of the most highly sought after public schools in the East Bay. Now, Tech routinely has a waiting list for applicants each year, and students who live outside the school's North Oakland boundaries often have trouble gaining admission.
Through the years, Paideia has attained something akin to celebrity status for many of Oakland's most academically ambitious families. Steeped in the Socratic method, the program famously immerses high schoolers in college-level debate and discussion of the great works of literature, history, and political theory, ranging from Montesquieu and Machiavelli and Aristotle and Plato to Shakespeare, Gandhi, Frederick Douglass, and other notable writers, thinkers, and political philosophers.
The program features honors-level classes in English and world literature and U.S. and world history and has helped students from all backgrounds gain acceptance to the nation's most prestigious colleges, including Harvard, Yale, Stanford, Brown, MIT, and UC Berkeley. And supporters of the program say it has helped transform youth into critical thinkers and changemakers in the community. Oakland Mayor Libby Schaaf recently lauded Wolfe for her role in inspiring hundreds of Oakland students in the program.
But over the years, as Tech became more popular with middle- and upper-income families, thanks largely to Paideia, the program has switched from serving mostly African-American students from low-income families to white and Asian students from the surrounding Temescal, Rockridge, and Upper Rockridge neighborhoods. Paideia's demographic makeover, as a result, has engendered a backlash from some Tech faculty and students who think the program has become "elitist" and "racist" and has fostered a tiered academic system at the school.
"Paideia classes get recognized more than other classes at the school, and 'elitism' is definitely a word that's commonly applied to certain aspects of the program," said Chris, an African-American student who asked that the magazine not use his real name. He used to be in Paideia but opted out last year. "And I think there is a perception in the students who aren't in Paideia that they aren't good enough. So, if you're not in Paideia, students start to believe this idea that they are underachieving. But the program only has a limited number of students who can be involved in it."
At Oakland Tech, students, beginning in the 10th grade, can choose an area of study to concentrate on by joining one of a number of academies at the school, such as those in engineering, health, and computer science. Paideia, by contrast, is an honors program in humanities that has traditionally accepted students from any of the other academies.
But this fall, for the first time, Tech's largest academy — Health — refused to allow its students to enroll in Paideia. During public meetings last year, the Health Academy's leaders cited Paideia's lack of diversity for their decision.
Tech administrators also refused to allow Wolfe and other Paideia teachers to visit ninth-grade classrooms to recruit students of color last spring to make the program more diverse, nor would they let Paideia teachers present their program to parents and students during the school's well-attended Academy Night. In addition, for a time last school year, Tech's leaders considered eliminating all of Paideia's 10th-grade classes this fall — until parents showed up in large numbers to complain loudly at a series of raucous public meetings at the school.
In recent interviews, Tech's co-principals, Josue Diaz and Staci Ross-Morrison, and Preston Thomas, the High School Network superintendent of Oakland Unified School District, adamantly denied that they plan to eliminate Paideia. But they acknowledged that they're still figuring out the best path forward for Tech's academic programs. They also said they were sad that Wolfe decided to leave rather than stay and help forge a solution.
Wolfe, however, said she felt she had to resign to protest how school administrators blocked Paideia's ability to recruit minority students, while at the same attacking its lack of diversity. She also argues that the school, by isolating Paideia and prohibiting hundreds of Health Academy students from enrolling in it, risks making Paideia even less diverse than it is now. And if parents conclude that Paideia's days are numbered, they could end up pulling their kids out of Tech.
"I didn't think I would end my career like this," Wolfe said. "There are so many parents that come to Oakland Tech to send their kids to this program. But now, those same parents have been saying, 'We're not bringing our younger kids to Tech because of all the uncertainty surrounding Paideia's future.'
"What this administration has done is that they have made us persona non grata," she added. "They attack Paideia for being 'elitist,' and the subtext is, it's 'racist.'
"But for the first 10 years of the program when it started in the 1980s, there weren't any kids other than the Black kids, and all my students were African American, and my African-American male students are the ones that scored the best on the AP tests, despite those that said they weren't capable of such high-demanding work," continued Wolfe, who takes pride in the fact that an Oakland law firm awards a $16,000 scholarship in her name every year to an African-American female student.
"But that's kind of been my whole life — is kind of pushing back on all these people who think these kids can't go to Harvard," she added. "So, it's like a stabbing. It's like, 'How could you call me a racist?'
"That hits the hardest of all."
---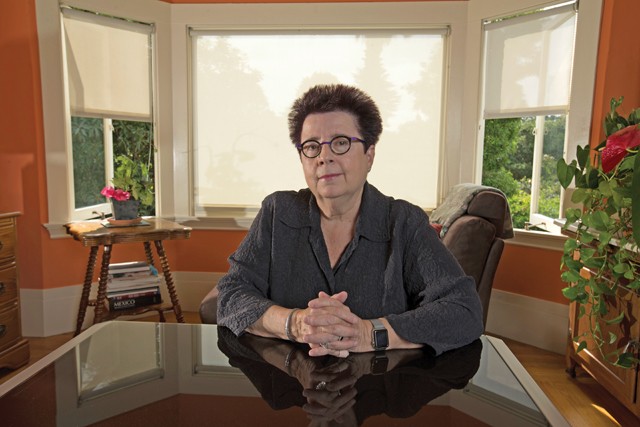 Founded in 1914
, Oakland Technical High School on Broadway in North Oakland has a storied history. Its notable alumni include former longtime Congressman Ron Dellums, Black Panthers co-founder Huey Newton, Academy Award winner Clint Eastwood, baseball Hall of Famer Rickey Henderson, and NFL legend Marshawn Lynch.
But when Maryann Wolfe arrived in 1986 to launch Paideia, Oakland Tech was known more for violence and rock-bottom test scores than its famous graduates. In fact, the year that Paideia began, an Oakland Tech custodian was found lying in a pool of blood on campus, after being stabbed fatally in a quarrel with a one-time friend, according to the
Los Angeles Times
. Six months earlier, a 17-year-old Tech student lost a fistfight to another student in the school's main corridor, pulled a gun on another youth, and shot the second youth to death.
"The school's nickname was 'Murder High,' and it was about eight blocks from the epicenter of Oakland's crack epidemic," recalled David de Leeuw, former director of Tech's Health Academy, which started around the same time as Paideia.
"It was an academic wasteland," Wolfe added. "The school had a horrible reputation. The school only had one honors class, in which they read one book a year, and no AP [Advanced Placement] classes, not at the school or anywhere else in Oakland."
Wolfe was recruited to Tech by then-principal Dennis Chaconas — who would later become superintendent of Oakland public schools — to help turn around the school. Wolfe brought on a former Fremont High colleague, Marietta Joe, to co-run Paideia. Joe still teaches Paideia classes at Tech.
Wolfe said she still recalls talking to a Stanford recruiter, who said that whenever the university received applications from students from Oakland's public schools, they would just toss them in the trash. "So, it's been kind of a challenge all these years to take a school with a bad reputation and that had no kids who were going to any important universities in this country, including those in California, and turn it around. But today, they are everywhere. They are at Harvard, Yale, and one of my Latinas this year got into Stanford. But that's what we try to do — give them rigorous curriculum to prepare them for success."
During the past three decades, Oakland Tech's enrollment has ballooned from about 1,400 students to over 2,000. Many North Oakland families who can afford private school now send their kids to Tech instead.
The school's success has prompted a seismic shift in its demographic makeup. The increasing number of white and Asian students who have enrolled in the past few years have pushed African-American and Latino students out of the highly selective Paideia program.
Critics have chastised Paideia for failing to reflect the racial and ethnic makeup of the school, which is very much like the city as a whole. Tech's student body is currently about 32 percent Black, 24 percent white, 20 percent Asian, and 16 percent Latino. But according to the school's Equity Team, Black students currently make up just 11 percent of Paideia's enrollment, and Latinos, only 9 percent. By comparison, 49 percent of the program's students are white and 23 percent are Asian.
Wolfe acknowledges that Paideia could do a better job of reflecting the racial and ethnic makeup of the entire school. "But all of our recent efforts to change that imbalance have been stymied," she said, referring, in part, to the school's decision last year to block Paideia teachers from recruiting students to the program.
Paideia also doesn't fit cleanly into the school district's major overhaul of its high schools. In an effort to increase graduation rates, reduce the dropout rate, improve academic achievement, and better train students for jobs after they graduate, Oakland plans to require all high school students to enroll in a so-called "Linked Learning Pathway" or "career pathway" by the 10th grade next fall. Ironically, the sweeping new initiative is based, in part, on Tech's existing successful academies, including its Engineering and Health academies (which Tech is now renaming "pathways").
Paideia was never an academy; rather, it's a program that has traditionally included students from all the school's academies. They take their academy classes together and then go to Paideia for English and history classes. Wolfe and other Paideia supporters believe that Paideia could become a casualty of the new pathways system.
Last year, Tech administrators rejected a proposal by Wolfe and other Paideia teachers to be considered a career pathway, because they said the program must serve at least 50 percent or more at-risk kids, Wolfe said. That's led to fears that the school will require Paideia to reduce its admission standards or that its philosophy of teaching with rigor and to the highest standards will be lost to future generations of students.
"What Paideia provides is equity, in that we enable students of all races the opportunity to thrive at the highest level so they might truly be competitive at the university and in the workplace," Wolfe said. "We do not 'dummy down' curriculum … We want of our students to reach their highest potential."
---
During the past year
, many Paideia alumni have made it clear that they'd be happy to talk to the school's youth of color to extol the program's virtues. Among them is Daniel Hutchinson, an African-American attorney at the prestigious law firm Lieff Cabraser Heimann & Bernstein who specializes in consumer protection and class action cases in the public interest. Hutchinson and a group of former Paideia alumni — many of whom are African American or Latino, attended top-rated colleges, and have inspiring careers serving the public good — went to a PTA meeting in January to voice support for Paideia and Wolfe and talk about how the program changed their lives.
Like other Paideia alumni, Hutchinson also appealed to school administrators not to lower Paideia's academic standards or eliminate the program. They also repeatedly offered to help personally recruit students of color to Paideia and mentor them, but the school's administration never followed up with them, Hutchinson said.
Hutchinson graduated from Tech in 1995, and when he attended the school, it was overwhelmingly made up of students of color — as was Paideia. There were four white male students in the entire graduating class, he said.
"It reset my baseline for what was possible," he said of Paideia. "Without it, I would not have become who I am today.
"So, it's strange to me that Paideia is being attacked for being too white and not having enough African Americans in it," he continued. "If you had told me at the time that the problem at Tech, 20 to 25 years down the road, would be too many white folks, I don't know what I would have thought."
Hutchinson said the recent changes to Paideia's demographic composition shouldn't detract from the fact that, throughout most of its history, it served students of color. He also argued forcefully that Wolfe and other Paideia teachers have never sought to exclude students based on race. "To hear anyone say that the program might do something that is exclusionary on the basis of race doesn't pass the smell test with me," he said. "These teachers have dedicated their lives to serving whatever students have come before them, and I believe those students have been overwhelmingly people of color over the past 30 years. I don't think there's any question that they've served that population."
When Hutchinson attended Tech, anyone could get into Paideia, as long as they were willing to put in the extra work. But after the program's popularity rose, it established admission requirements. Nowadays, a ninth-grade student needs a teacher's recommendation and well-written essay to get in.
Hutchinson is also worried that Tech might make the curriculum less rigorous to try to ensure that Paideia is more diverse. "It's sad to me that there is this great thing there at the school, and they want do something else that is less tested and less effective," he said. "You don't help anyone by giving them lower expectations. You don't help anyone by taking a phenomenal program and replicating some of its elements to dumb it down for folks. I come from the school that you show you care about people by holding them to high expectations."
And if Paideia ceases to exist, it won't be the privileged kids who'll be harmed the most, he said. "They'll just go a private school somewhere, and they'll just be just fine," he said. "It's not the white kids that'll miss out. It's the students of color that are going to miss out, because they will not be getting to attend a diverse school."
Kulwa Apara, who is also African American and who graduated from the program in the mid-2000s, said Paideia saved her life. She said she was raised by her mom and that her dad was addicted to crack cocaine when she was in high school. "Ms. Wolfe fought for my twin sister and me, and we both got into UC Berkeley because of her," she said. "But she did not hold back any punches. We definitely both got our fair share of bad grades, and when we were writing essays, she was really hard on us. She made us step up our game, and she prepared us for the real world."
Apara said Wolfe also changed her perceptions about race. "Just knowing that Ms. Wolfe was a white woman, it helped me to realize that even though we really didn't see white people much in Oakland, that there are really good humans out there that loved me regardless of my skin color," she said.
Today, Apara is a childhood mental health consultant to many Oakland students. She works with a lot of Black and Brown middle schoolers from low-income neighborhoods whom she helps to get into Oakland Tech because of the Paideia program, she said.
"Paideia is amazing," she said. "It has to stay in Oakland. It cannot be forced out. It needs to be supported. I just know that it would be devastating for Oakland kids to not have Paideia as an option."
<hr width="20%" align="center" noshade=""

Many parents
who support Paideia say they've been made to feel that they don't care about the school's diversity, when that's not the case.
"Tech is a unique and vibrant school, because it is a place where Oakland's diverse communities meet," said Karen Fiss, a Paideia parent and member of the Equity Team, which is working with parents and teachers to help students of all backgrounds achieve their potential. "You don't send your kids to Tech because you don't want to have a diverse experience. You send you kids to Tech because you want them to be part of this community and this world."
Other parents say that they fear the uncertainty surrounding Paideia could result in many affluent families that can afford private schools, sending their kids elsewhere. "This program is one of the things that makes Oakland Tech special, so what are they thinking? Why are they going after what seems like one of the best things at the school?" said a parent whose two children attend Paideia, echoing the concerns of hundreds of parents who showed up to meetings last year, worried about Paideia's future.
Some parents also noted that the school's finances could be impacted severely if too many Rockridge and Temescal families leave. California public schools receive funding on a per-pupil basis. And middle- and upper-income families often provide additional funds to Tech through donations to the PTA.
Preston Thomas, High School Network superintendent of Oakland Unified, believes that some teachers and parents are overreacting and said that no one is calling for Paideia's destruction. "I want to emphatically say that I think there's the perception that we're trying to close the Paideia program, and that is absolutely false," he said. "What we are trying to do is integrate that quality programming into the new programming that is happening at Oakland Tech."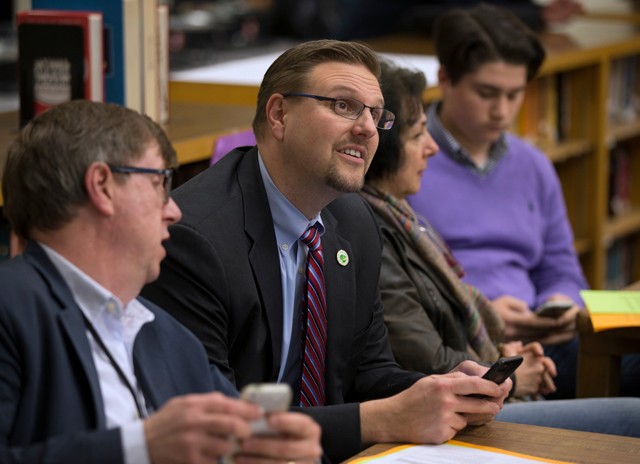 Thomas, who heads the district's Linked Learning Pathways initiative, argued that the Health Academy wasn't trying to harm Paideia when it decided to not let its students attend the program, but rather it wanted to create its own high-quality humanities program and build a more tight-knit community within its academy. He also contends that Tech's other high-achieving programs don't get enough credit.
"There isn't some evil agenda or anything like that," he said. "There are very different viewpoints on how to get to the same goal, which is helping every student succeed. And I think that's getting lost is there is an amazing story about all the programs at Oakland Tech. And sometimes I think that gets masked by just having Paideia as defined as 'quality,' and I hope we move past that soon."
Paul Koh, executive director of instruction for Oakland Unified high schools, pointed to the changeover to wall-to-wall pathways, in which all Oakland students must attend a pathway — or academy — by the 10th grade, as the cause of worry among parents and teachers. "When schools go through change processes, oftentimes there's this initial stage of people feeling the way they've been doing things is under attack," he said. "That's actually not the case, but it's more like some shifts have to be made so that the equity piece is true. We're saying that Paideia is a model of excellence at Oakland Tech, and we want all the programs at Oakland Tech to be that excellent."
David de Leeuw, a Health Academy teacher and former director of the program, said the main reason his academy decided to not allow its 10th graders to be in Paideia this fall is that Paideia's long-standing priority in the school's master schedule was creating racial imbalances in the classes in his program.
De Leeuw explained that, traditionally, under Tech's master school schedule, students who are in Paideia and the Health Academy (or any other academy) take their English and history classes together. That means they also end up in the same Health Academy classes. Those health classes, as a result, have tended to be predominantly white and Asian in recent years because Paideia is predominantly white and Asian. In addition, the Health Academy classes that have no Paideia students in them have tended be mostly African-American and Latino — just like the non-Paideia English and history classes.
"So, one of the blocks of classes would be mostly all honors students and mostly white and Asian," he said. "And the other two blocks would have all the other kids. And once you create those blocks, they are not balanced, then those kids go through their whole day with the other kids in that block. They don't have many of those other classes with other kids in Tech. And that was just unacceptable for our program — that's just not what we set out to be."
He said that because classes had become too segregated, the Health Academy teachers decided to create their own humanities program that would serve all of the academy's students. "Our staff said the only way to defend ourselves is to say for 10th grade, all of our students have to be in our English and social studies class," he said. "And, really, we wanted that anyway to help form a closer-knit community among our students."
Tech co-principals Diaz and Ross-Morrison both said Ms. Wolfe's departure was a great loss. They also said they had hoped she would have stayed around to teach other teachers how to carry the torch of Paideia — the way that Parker Merrill, the former Engineering Academy director, did as that academy overhauled its student-selection criteria.
"We could have done better, but we've said it over and over, "We're not killing your program," said Ross-Morrison, referring to assurances she said she and Diaz gave to Wolfe about Paideia's future. She said they told Wolfe, '"We want to engage in a conversation about how can we bring you along with the school's changes, and how can we bring this about in a way that doesn't hurt your program?' So to hear that we're trying to destroy your program is hurtful, because that's not our intent."
Ross-Morrison also said they didn't intend to send conflicting messages to parents and students about what they planned to do. Rather, the school district was still figuring out its next steps, Diaz said.
"We threw a lot of options out there on the table to make it work, but we hadn't settled on any," Ross-Morrison explained. "We want to have a conversation with our community before making any final decisions, because it's never been top down at Oakland Tech."
Diaz also said Paideia alumni were not invited to speak because it would have been too late in the school year to include them in informational sessions that had already been planned. He also said they didn't allow Paideia leaders to recruit during ninth-grade classes because ninth-grade teachers — not the administration — resisted the idea. Those teachers didn't want to miss out on valuable instruction time, and some said it would be unfair if teachers from other AP and honors offerings weren't also provided equal time to present in the same classes, he said.
"We're real sensitive to anything that might give a message that these Paideia classes are better and more important than other classes," Ross-Morrison said. "This is coming from our teachers, where they are saying when you do this, it makes us feel less than, and we have great teachers throughout."
<hr width="20%" align="center" noshade=""

Some students
who aren't in Paideia end up feeling like they're second-rate because of Paideia's reputation for being the best program at Tech, said a student who is also a founding member of a club called Supporting People of Color Now. He asked that the magazine not use his name. The club formed a couple of years ago to support students of color in Paideia, AP, and honors classes, where they often report feeling isolated and misrepresented, he said.
"Also, there's sort of a myth or legend that if you are not in Paideia, that the English and history department isn't going to help you, or that the teachers who are not Paideia are subpar, but that's absolutely not true," said an African-American student who used to be in Paideia, but he opted out his senior year. "That might have been true in a different era, but right now, at this school, we have an excellent English and history department that is not part of Paideia. The teachers are amazing and the students certainly feel they are prepared."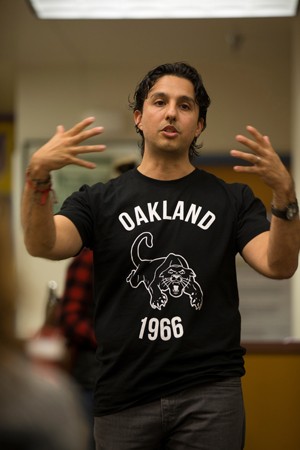 Other minority students have spoken out about their dissatisfactions about Paideia. At a community-input event that the school puts on called "a fishbowl," a number of former students shared their negative experiences.
"I know one young lady shared about being one of the only girls of color that were in Paideia for a few years and how she had a problem with the word 'nigger' being said over and over in class, when discussing slave narratives …," Ross-Morrison said. "And I asked her, 'Well, is it in the book?' and asked her to find a way for her not to be angry about it. But at the same time, it's how she feels."
Another student, who is Japanese American, said she didn't like being put on the spot in a similar way when the class discussed the Japanese internment, said Antonio Calbo-Jackson, who is African American and graduated last year from the Paideia program. He was one of two African-Americans males in the senior class of Paideia, which had about 64 students.
"Her grandmother had been interned, and she did not want to talk about it, and she said that was too much for her, which I could totally understand," he said. "She felt, 'Why I am being used to explain my culture to these people?'"
He also remembers at times feeling awkward moments in class, such as during discussions of Frederick Douglass' slave narratives, when he and the other students of color were asked to explain their culture and how they felt about it, he said.
"There definitely were some people who thought the program was too white — that was probably the only way to say it," he said, explaining that he is half white and half Black. "And it was definitely fairly white. There was no way around it, and it would kind of put off a weird vibe at times."
Calbo-Jackson also said it was clear that Wolfe had her favorites — students she would call on the most often. There was also a group of white males in his junior year class that often did distracting things in class that felt culturally insensitive, he said, adding that the group seemed to act like it owned the school and made it harder for others to not see Paideia as elitist.
"People would call it an 'elitist program,' " he said. "And I agree. It was elitist. And it was super-white, but I would say just hating it because there's a lot of white people in it, isn't for the right reasons.
"You're not going to fix a problem of lack of diversity by just saying there's bad diversity," he continued. "You have to actually get involved. By actually participating in it, it's going to get a lot better."
Wolfe said she helped to increase access to Paideia by creating a ninth-grade California history curriculum for all students, with similar Paideia-inspired techniques, to prepare all students to the rigors of Paideia. Also Paideia's ability to expand has been limited by the number of teachers willing to put in the extra hours to teach the course, she said. "Not every student gets in to Paideia, but the numbers of those not getting in haven't been large — usually less than 10," she said.
Randolph Li, who has been co-director of the Engineering Academy for the past three years, said it has recently been criticized for not requiring applicants to get the top scores on a geometry test this year, and instead only mandated they get the best scores on an algebra test. The academy changed its admission standards in order to make the selection process fairer, he said, because many students are not eligible for geometry in ninth grade due to the fact that their middle schools don't offer algebra in eighth grade. "If there are students who have been underserved by our school district and school system, we want to be sure we do not perpetuate those issues," he said.
But Li also feels that too much blame has been placed on Paideia. "There's no question, that in the Paideia program, the students are not an exact reflection of our student body, but I think where the fight comes in there are some people who are chalking that up to racism, favoritism, or a rigged system," he said.
Engineering, he added, gets some of the same complaints — with people blaming teachers for the fact that it's not as diverse as the rest of the school. "Some people will say, 'There are students in Oakland who can't qualify for your program, so what are you doing for them?' " he said. "And we want to do what we can, but there is only so much we can do.
"There is some responsibility elsewhere out there in this whole global system," he continued. "And I don't think it helps to say, 'It's this person's fault; it's that person's fault.' Especially when we're all trying to get at the same thing. We want our students to be successful — all of our students to be successful. But there is only so much that any one program can do to change the status quo of all of Oakland.
"We still have so many different inequities in education ­and our system—­­besides just race and Paideia or something like that," he continued. "And I don't want us to lose sight of that as a community."
Disclosure: The editor of this story, Robert Gammon, is a Paideia parent.
This report was originally published by our sister publications,
Oakland
and
Alameda Magazines.