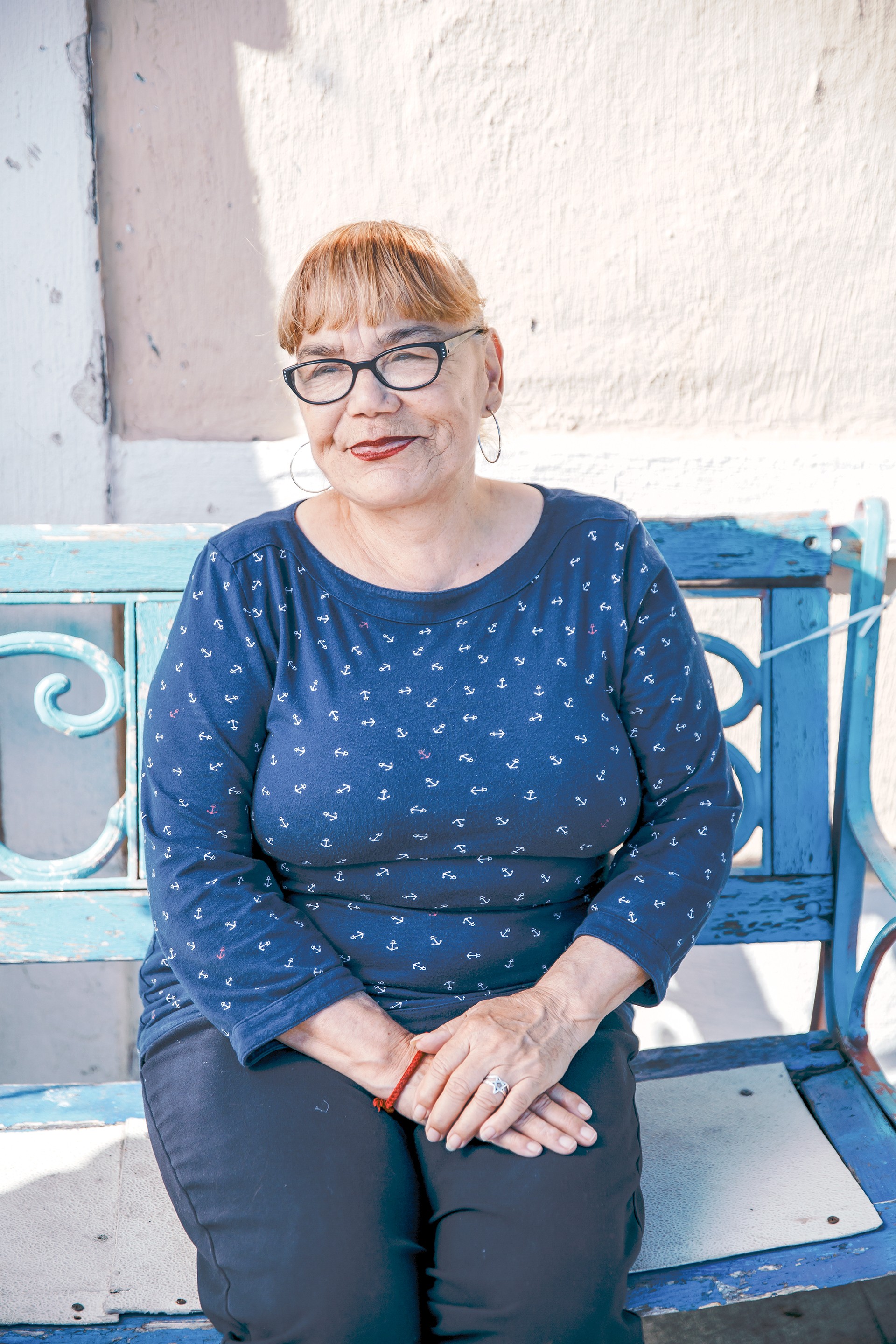 Emilia Otero's life took a sharp turn when an old, tired man knocked on her door one afternoon. It was 1998, and Otero had just started making a name for herself as a community activist in the Fruitvale district, having organized after-school programs and community events. At the time, she was looking for her next project.
"He said, 'You know we sell fruit in the street, and tamales, and the city comes and takes our food away. The health department, the police, they humiliate us. They say they'll take us to jail if we don't stop selling, but this is our only way to survive,'" Otero recalled. "It hit me hard."
A week later, Otero met with 25 mobile food vendors who were desperate for help. At the time, selling food on the streets was illegal, but the people who were doing so didn't know how else to make a living. Most were undocumented immigrants and they were terrified of Oakland's police officers and the looming threat of deportation.
Otero was moved by their stories. "I said, 'I'll get you your pushcarts. I will get you your permits. I will get you a kitchen. I will get you everything that you need to operate,'" she said, her eyes moist with tears. "They just looked at me like, is she crazy? I used to say inside of me, 'Why am I saying that?' I had no idea either."
Otero might not have known how she would accomplish these tasks, but she believed the vendors had a right to operate and that they were good people working hard to provide for their families. After all, street food has been a crucial way for poorer folks to earn a living all over the world for centuries. Why was it so stigmatized in the United States? Instead of forcing members of the Latinx community to live on the fringes, Otero wanted the city to allow them to sell their food legally.
But achieving her goal wouldn't be easy. Along the way she faced threats of violence from people in her own community, who resented her efforts and believed she was messing with their livelihoods.
After organizing protests and countless meetings with city officials, however, she got what she wanted in 2001: the Oakland City Council passed an ordinance legalizing the mobile food industry — the first of its kind in the country. Even undocumented vendors were able to get permits.
For Otero, this accomplishment took a lot of time, scrappiness, and on-the-fly learning.
"I had no idea what an ordinance was," she said. "I had no idea it was going to be the first in the country. I had no idea how important it was."
The ordinance allowed many people in Oakland's Latinx community to make a living. It also turned Fruitvale into a culinary destination — a place that draws tourists as notable as Anthony Bourdain.
But that first ordinance only allowed vending in certain parts of Fruitvale and East Oakland. "I was so excited," Otero recalled. "They were gonna legalize the business. They weren't gonna bother my vendors. I didn't even think about downtown."
In the following years, Oakland quickly fell behind street food hubs such as Portland, Ore.; Austin, Tex.; and even San Francisco, Emeryville, and Berkeley. For the past 16 years, many of Oakland's mobile vendors have been operating in a legal gray area. Those who wanted to sell outside Fruitvale or East Oakland broke the rules and did it anyway. Food trucks park on Broadway to feed the late-night crowd. On weekends, pushcarts appear around Lake Merritt, tempting families with fresh fruit. Folks set up tables outside their homes and sell whatever they're cooking inside.
According to interviews with more than a dozen mobile food vendors, enforcement has largely been nonexistent. The public clearly liked having food trucks around, but Oakland did little to regulate the growing industry, leading to an increasingly chaotic, difficult situation.
That nagged at Otero. After running a commercial kitchen for a few years, she realized she needed to push the city to pass a new ordinance. Once again, she found herself in meetings with city councilmembers and other stakeholders.
On March 28, her efforts paid off: The city council passed an ordinance allowing individual vendors to sell in other parts of the city for the first time. The city is still going through applications, but assuming all goes according to plan, more food trucks and mobile vendors should begin appearing downtown, around Lake Merritt, and in North and West Oakland in the coming weeks.
While Otero's initial efforts to legalize the mobile food industry were all about supporting her Latinx community, there are fears that the new rules may actually harm them. As with other industries, such as cannabis, that operated in a legal gray area and are now being regulated, the increased enforcement that comes with legalizing mobile food could force some longtime vendors out of business. Some vendors are still confused about the new regulations, and many haven't applied for the permits.
"This is the next layer of gentrification," said the Lumpia Lady, who asked to go by her business name because she doesn't operate her Filipino food cart legally. "The folks who are benefitting are the ones who just got here."
Meanwhile, restaurant owners worry about how the increase of mobile food will impact their businesses in an industry that's only getting tougher. Overland Country Bar & Grill closed last month near Jack London Square, and owner Paul Hayward partially blames a food truck that started parking in his neighborhood. He said it's unfair competition, as mobile vendors tend to have lower overhead costs than brick-and-mortars. "Soon this town will only be food trucks and pop-ups," he said.
Otero herself is somewhat of a conflicting figure. She supports regulation but also advocates for suspending rules. According to Otero, there are about 15 food trucks operating without proper city permits in downtown Oakland right now. She said it's been months since they applied for the new permits, and they can't afford to hold off until the city finishes their paperwork. She calls it civil disobedience, which falls in line with her history of activism and no-bullshit attitude.
For her efforts, Otero said she's been threatened with violence over the years and even has a restraining order against one of her biggest critics. Yet she remains undeterred.
"That's why I accomplished so much," Otero said. "I didn't give a damn."
Otero's face sat just inches from the small television screen in her office. A Mexican news program was on, and Otero's eyes aren't what they used to be. Wearing rectangular glasses and a hot-pink ensemble, the 70-year-old grandma shuffled over to a wooden desk that looked far too large for someone so small.

[pullquote-1]

At less than five feet tall, Otero is dwarfed by the dozens of commemorations, certificates, and awards hanging on the wall behind her. They come from politicians and civic groups, including former senators, assembly members, and even the Guatemalan Consulate. Variations on "Woman of the Year" appear multiple times.
As she's gotten older, she's thought more about how she's gotten here from her native Tijuana.
It wasn't a quest for the American Dream. In Mexico, her politically active father was a business owner who provided their family with a comfortable lifestyle. But at age 17, Otero did something unexpected: She ran away with her boyfriend and moved to the United States.
"I knew there was something here, that I had to come to this country and do something," she said.
A year later, they got married in Southern California. She had five kids, who became her life. But she always had a knack for solving other people's problems. She decided that as soon as her children were grown, she would spend the rest of her life helping others — her Latinx community, in particular.
In 1993, her husband died battling cancer, leaving Otero enough money so she wouldn't need a job for some years. By that point, her children were all adults, but she moved to Oakland to help her youngest daughter, Aracely "Shelly" Garza, raise her baby.
She decided it was also time to help her community, and that community was now Fruitvale. She marched up and down International Boulevard introducing herself to every business owner. She linked up with a nonprofit to launch after-school programs, writing plays for kids and teaching their moms to sew ballet folklórico costumes. After about three years, however, she started feeling like an unpaid babysitter.
Then, Otero met with the 25 mobile food vendors and issued her promises.
"I want families to be able to have a food truck so they can send their children to universities," she said. "This is my goal: to have our people educated."
Getting that first ordinance passed was no simple task. After the director of the Alameda County Environmental Health Division told her the vendors needed pushcarts capable of dispensing hot and cold water, which would have cost $9,000 each, she flew to her vendors' native Guadalajara in Jalisco, Mexico, seeking a cheaper option. She ended up meeting with Jalisco's then-governor, Alberto Cárdenas Jiménez, who gave her 25 pushcarts, each costing less than $1,000.
But that was just one small step. A key ally was Ignacio De La Fuente, who at the time was the president of the Oakland City Council and represented the Fruitvale district. When he was first elected in 1992, he said there were only a handful of food trucks and vendors in the neighborhood, "but they were definitely more or less always in trouble."
"City police used to harass these people because they had no permits, no this, no that," he said.
Otero said she was constantly trying to get people to understand their plight. She held meetings with the health department, the police department, and city leaders. She made picket signs out of the city's cease-and-desist letters and encouraged the vendors to speak up at city council meetings.
"I used to get so frustrated," she said. "I'd have to go to two or three meetings in one day — long meetings — explaining over and over and over."
It took a long time for folks to come around.
"The city — everyone — was opposed back then," De La Fuente said. "It became very political. … Councilmembers were concerned. They didn't want vendors in their neighborhoods."
To change the perception of the vendors, Otero insisted that they wear clean, white button-down shirts every day.
Otero said she also faced a backlash from members of her own community. In the middle of a grocery store, she'd hear comments like "Go back to Mexico" — from fellow Latinos. Otero said people picked fights with her because she was an immigrant and many of the vendors she was helping were undocumented.
"They would say, 'Why are you helping those dirty Mexicans?' They used to hurt my feelings because I was Mexican, too," she said.
Some of the pushback came from the vendors themselves, who didn't want to be organized or have to pay application fees and city taxes.
Otero said one time three men showed up to her front door with a knife — a tense encounter that ended with Garza punching one of them in the eye.
"I've always been very protective of my mom," Garza said. "He got way too close to my mom's face."
"They used to break my windshield, they used to pinch my tires — so many things like that," Otero said. "But I never gave up. I was just stronger."
Looking back, Garza suspects that some Fruitvale vendors viewed her and her mom as outsiders trying to ruin their lucrative street-food businesses. She thinks it was due to the fact that her family is not originally from Oakland — and sexism.
"It was never the women [vendors]. They were men who didn't want us to tell them what to do," Garza said.
Looking back, Otero doubts the first ordinance would have passed had De La Fuente not been council president at the time. "I knew why [councilmembers] were not supporting my vendors. Because they were a bunch of Mexicans," she said. "It was only Ignacio, because he was Mexican. He was powerful, so they had to support him."
But De La Fuente credits Otero and Garza, who eventually became Otero's business partner.
"Emilia and her daughter are very hardworking, aggressive people," De La Fuente said. "They were very instrumental."
In 2008, Otero began working on another one of her promises: a commissary kitchen for the vendors. She opened La Placita on Fruitvale Avenue, giving the longtime vendors she worked with, as well as newer folks, a place to prep and learn about the industry.
James Whitehead of Fist of Flour Pizza Company joined La Placita in 2011, shortly after building a mobile pizza oven. "There's no handbook on how to start a mobile food business," he said. "There were a lot of us in those early days who found a lot of help there."
But that first iteration of La Placita didn't last long.
As a lifelong volunteer, Otero found it difficult pivoting into the role of a business owner. One time when she didn't have enough money to cover a check to keep the lights on, strangers came forward to give her the necessary funds.
"That's the true love people really have for my mom and what La Placita was doing for people," Garza said. "They all came to the rescue."
Otero wasn't always so fortunate, though. In 2012, La Placita's building went into foreclosure, and the new owner gave Otero three months to pack up and leave. They didn't have enough money to start all over again. "I didn't have $20 in my purse," Otero said.
A timely grant from the Opportunity Fund, a microfinance nonprofit based in San Francisco, allowed Otero to refurbish an old, windowless building caked in spider webs on International Boulevard. Friends and volunteers helped with the painting, cleaning, and plumbing. La Placita found its second life, and that's when Otero remembered she still owed her vendors one more thing. She told them she'd open up the rest of Oakland to mobile food — and she worried the city would never get around to it without her pushing.
"When I sit down and relax, no one does anything," she said. "When I moved into this La Placita, I said, 'We need to bring this back. I want to retire and I want to die and I want to accomplish my last promise.'"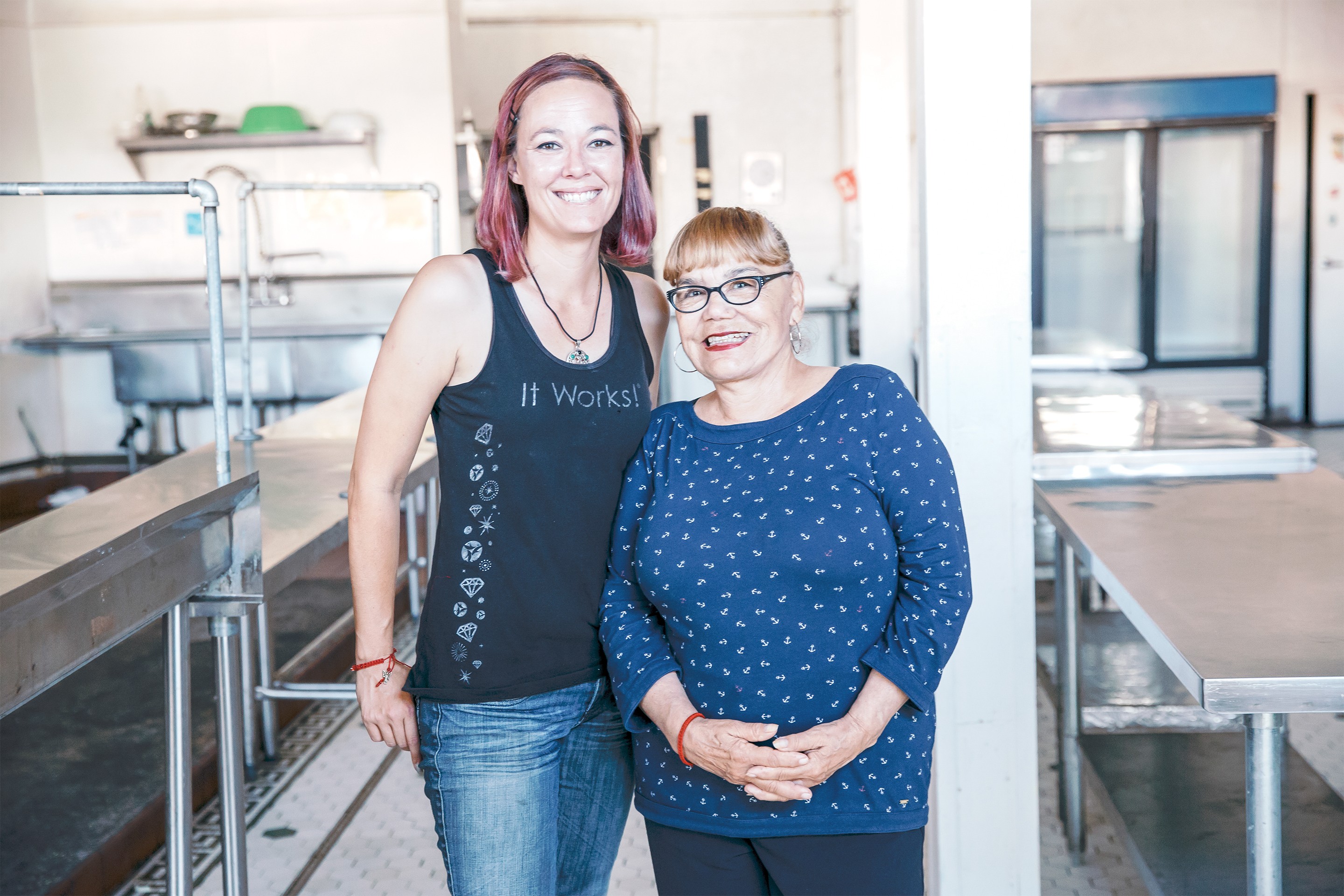 On a recent Wednesday night, the Cool!naria food truck sat closed outside of Room 389 on Grand Avenue.
Inside the bar, though, Alberto Avramow Pitman and Elizabeth Rueda were serving their contemporary Mexican cuisine: shrimp tacos topped with a carrot slaw and pesto; tostadas loaded with portabellas, pumpkin purée, cherry tomatoes, and queso fresco; and hanger steak costras — street tacos layered with crispy cheese. Rueda took orders while Pitman warmed tortillas on a small griddle behind the espresso bar. They prefer to operate out of their more spacious and properly equipped truck, but for now, they can't.
Pitman and Rueda are Mexico City natives who were hired for so many private chef gigs in the Bay Area that they decided to make it their permanent home about four years ago. With Oakland as their base, they launched Cool!naria in January and soon accepted an invitation from Room 389 to park in front of the bar.
And then a neighboring restaurant started complaining. The police came — twice. Fines were threatened but ultimately disregarded as a result of faulty paperwork, according to Pitman. So Cool!naria moved indoors. Pitman applied for a permit from the city this summer and doesn't want to risk opening up his food truck until he gets it.
"[City officials] are not clear about what they're gonna do. We've been waiting," Pitman said. "We hope to open soon because we need to open."
Pitman said he operated his food truck in San Francisco with no issues, but as an Oakland resident, the cost of gas added up fast. Other food truck operators echoed Pitman's dilemma: They lived in Oakland and wanted to park their trucks here, but there were more friendly rules elsewhere.
Even though Oakland was the first city in the country to legalize the mobile food industry, the regulations have largely stayed the same since 2001. One change came in 2011, when the city allowed food trucks to sell in groups for special events like Off the Grid or Bites Off Broadway, but that, too, was a case of the city responding to something already happening. Karen Hester, who founded Bites Off Broadway, said she started the illegal event knowingly, and then it became instantly popular.
Vendors who ignored the city's rules — and there were many — operated in what they saw as a lawless free-for-all because the rules were rarely enforced.
"It seemed too good to be true," said Loris Mattox-Matterson, who co-owns Scotch Bonnet Jamaican Food Truck. "You could just go up to the lake on a Sunday and be fine."
The majority of the mobile food operators the Express interviewed who operated illegally for years said they were rarely, if ever, approached by police or city staff. If they were, it was always the result of a complaint from a restaurant.
Back in 2011, when the city first allowed food truck events to be held in Oakland, councilmembers didn't want to fully open up the city to mobile food because they hadn't figured out a way to enforce the law, according to Devan Reiff, the city's project manager for the new mobile food program. "We know a lot of unpermitted vending happens in Oakland," Reiff said. It mostly goes down at night and on weekends, when city staffers have clocked out.

[pullquote-2]

Along with the new regulations come two full-time, bilingual staff members whose sole task will be to monitor vendors. They are expected to start within the next few months, working nights and weekends. Reiff said the plan is to educate folks first about the regulations before handing out citations, although that could escalate to penalties and even the seizure of a vendor's equipment.
Some vendors who've been operating illegally for years don't believe the new rules will significantly impact them. The Lumpia Lady has been popping up around Oakland since the '90s but has never applied for a permit — mostly because it used to be restricted to Fruitvale and East Oakland. She said she's not personally concerned about the new enforcement staff. "First, they gotta catch me," she said.
Other vendors see themselves as legit because they are permitted by the county health department and have business tax certificates — even though they never received mobile food permits from the city. For 2017, Oakland issued just 11 permits to food trucks and 17 to carts under the old program, while the health department gave permits to 75 food trucks and 43 pushcarts in Oakland, according to a February city report. There is an unknown number of vendors operating in Oakland without permits; Otero estimates at least 100 in Fruitvale alone.
For Scotch Bonnet Jamaican Food Truck, the added enforcement is welcome news. Owners Mattox-Matterson and Abraham O'Brian Matterson park twice a month outside the New Parish nightclub in Uptown, and they're tired of the competition from trucks that don't even have Alameda County health permits — some that come from San Francisco. When that happens, Mattox-Matterson said, she can't call the cops because Scotch Bonnet, too, isn't there legally. They applied to make the New Parish their truck's home under the new program. (For the duration of their permit, vendors have to commit to the specific locations they apply for.)
"If we get it, we'll be there as often as we can because it's our spot," Mattox-Matterson said. "Rogue mobile food will be there, too. That's just how it is. I just hope it drops off."
Otero calls unpermitted folks "pirates," but she's actually less hard on them than many vendors. She recognizes that most people in mobile food started out that way.
"We opened a big door, and we have to take the consequences," she said. "My heart is weak in that part because I know [unpermitted vendors] are going to do things right."
Lidia Morales, for example, has parked her La Catrina Taqueria truck outside Grocery Outlet on Broadway for 16 years. About four years ago, she received a cease-and-desist letter from the city and went straight to Otero for the first time. She had no idea that there was any kind of permit program, nor that she wasn't allowed to park on Broadway. "I thought I was lucky that I was the only one who found this place," she said.
Otero talked to city officials and got them to leave Morales alone until the new regulations kicked in. Meanwhile, Morales applied for and is awaiting her first permit.
"I wouldn't know what to do without her," she said.
Back in 2001, when Otero was pushing to legalize street food, the vendors were all Latinx. "Now we have Asians, African-Americans, Europeans — you name it — doing this business. Now they see that this is a new food industry," Otero said. "We changed the perception of business and food."
But there are qualms with the city's new program. Some longtime unpermitted vendors say it primarily benefits newcomers who have funds to start their businesses, while others think it gives an unfair advantage to the Latinx community. On top of that, many vendors haven't applied for the new permits. Those who did are frustrated the process is taking so long.
The new guidelines allow mobile vending from the Jack London area up north through Temescal as well as all around Lake Merritt and in parts of West Oakland. For the first time, food trucks can occupy a public parking space instead of needing to pay rent on a private lot.
To appease restaurant owners, no mobile vendor can set up within 300 feet of a restaurant unless they first receive signatures of approval. Some streets have exceptions to this buffer distance, most notably stretches of Telegraph Avenue.
There are also new limits. The city will only permit 75 pushcarts and 75 food trucks on private property, while the 2001 ordinance set no such restrictions. It will also designate just 25 public parking spaces for food trucks, although multiple trucks could share one spot by alternating days. According to project manager Reiff, it's possible more permits could be added in the future.
"From the city council's view, this is a trial period to see if you can manage 150 permits and do it well," he said.
Some vendors, such as Enrique Soriano, who owns Tacos Los Michoacanos, think these numbers are too restrictive.
"[The city] isn't allowing enough trucks to operate," he said, adding that he wishes the city would legalize more locations. "It's not allowing enough of the map to become available."
Soriano said he didn't apply for a city permit, although he plans to when the application period opens up again in January. Tacos Los Michoacanos is one of the oldest-operating trucks in town, started by his parents in the 1990s. These days, it parks in a lot on International Boulevard, serving piping-hot bowls of menudo and birria on the weekends. But according to city records, Tacos Los Michoacanos only applied for permits under the old program seven times. Soriano said the first ordinance didn't suit his parents' desires to expand beyond Fruitvale, so they stopped bothering.
Getting vendors to apply for permits has been an ongoing challenge for the city. According to city records, more than 140 food trucks and 160 pushcarts applied for permits between 2001 and 2017. Among those, fewer than half applied more than once, even though the permits expire on an annual basis.
Otero blamed staffing issues at the city. She said every time there was a new mayor, there was a new person who had to figure out the program. She'd bring a bundle of applications and checks to City Hall but couldn't get anyone to take them.
"They didn't even know how to issue permits," she said. "Then nobody wanted to pay."
She also said vendors typically don't want to close up for a day — and lose that income — in order to trek to City Hall.
With the new program, the city received 131 applications. Only 26 came from vendors with a currently valid permit and just 16 came from vendors who received at least one permit in the past. "We visited many trucks directly," Reiff said. "For whatever reason, some owners just didn't apply." Cost shouldn't be a major issue for vendors accustomed to the old program. Annual application fees were approximately $1,800 for a truck and $850 for a pushcart. Now they cost $1,589 and $1,000, respectively.
Soriano said the new rules are a step in the right direction, but they don't go far enough. He thinks trucks shouldn't be confined to just one location.
"You should be able to move from one spot to another," he said. "The point of a food truck is to be able to pop up."
In 2015, Tacos Los Michoacanos drove from its usual Fruitvale spot to Temescal and downtown. It attracted quite the following until the city put it to a stop. "We were kind of protesting, showing we wanted to sell and the community wanted us there," he said.
Because Tacos Los Michoacanos has held a permit before, it will receive some priority during the next application period. This "grandfather clause" of the ordinance gives the highest priority to vendors who currently have valid permits, followed by those who have ever received a permit. New vendors who apply for parking spots in the public right of way will be prioritized next, followed by those who apply for private spaces.
There is a big demand for the 25 public parking space permits. The city has already received 44 applications for them. If there aren't enough permits to hand out to everyone who applies, the permitting will be determined by a lottery.
The grandfather clause is a relief for many longtime vendors who followed the rules in the past. "As first, we felt like we were being pushed aside," Soriano said. "New players showed up, and that's when the City of Oakland started to show interest."
But at a city council meeting earlier this year, Harold Stevens, owner of Hal's Original NY Hot Dog Cart, said Oakland's many hot dog vendors who operate without a city permit have cultivated followings in specific locations and deserve some priority.
"It's not fair for the new vendors to come around and take the place of some of us vendors that have been around for several years," he said.
On the flip side, the Lumpia Lady said longtime vendors have been doing just fine without these regulations, and that only 75 carts for the entire city isn't enough to include everyone anyway. That means the vendors who continue to operate will get fined by the city.
"The newcomers think, 'How do I get on it? The city is thinking, 'How do we get as much money as possible?'" she said, adding that the one informational meeting she attended mostly drew white business owners.
She's most concerned about the fate of undocumented vendors. While the new program allows them to apply — thanks to Otero's efforts — there is a lurking fear that the added scrutiny will alert immigration authorities. The Lumpia Lady views the "gatekeeping" as an attack on Oakland's Latinos.
"Mobile vending is not only the economic foundation but the cultural foundation for the Latino community," she said. "For immigrant families, selling food in the streets is how we sustain ourselves."
For other Oakland-based vendors, the new program is too little, too late. Whitehead of Fist of Flour Pizza Company followed the city's mobile food policy progress for six years until he decided focusing on private events made more sense financially. Because his operation, which consists of a big school bus hauling a trailer carrying a pizza oven, doesn't involve cooking in an enclosed space, he isn't even considered a mobile food vendor by the city. Instead, Fist of Flour is a "temporary food facility," requiring a tent and one-day permits for every event. "We wanted the same opportunities as the food trucks," he said.
He launched his mobile operation in 2010, when the food truck frenzy had hit basically everywhere except Oakland. He remembers his friends starting up gourmet food trucks and having to journey to Emeryville or San Francisco. Now, they've either left town or are out of business.
"Perhaps if there was more comprehensive policy, they would have found their spot," he said. "Unfortunately, these opportunities weren't available for us."
At 9:30 a.m. on a recent Thursday, La Placita is already winding down. A cook lugs a 10-pound bag of yellow onions into the building. A woman checks the ripeness of a mango before slicing. Another preps tamales for a local market. Otherwise, it's quiet. Most vendors file into the spacious kitchen around 3 a.m. and leave by 7 a.m.
Otero isn't here. Her son Erick Diaz and daughter-in-law Pamela Smith took over operations in April, after Otero suffered her second heart attack. One month after opening up Oakland to mobile food, Otero's body finally told her she needs to rest. These days, she stays at home and works on her memoir, while Smith maintains two fat manila folders full of vendors' applications.
"She's been a great inspiration and a great leader, someone you really want to follow," Smith said. "Her heart is with mobile food. It's to see people be entrepreneurs and take ahold of that dream and run with it."
Smith and Garza believe Otero's most recent heart attack was the result of stress from a years-long dispute with La Placita's most vocal critic, Elmy Kader, the owner of Royal Egyptian Cuisine. Kader once operated out of Otero's commercial kitchen, but the two had a falling out. In May, the family obtained a restraining order against Kader out of fear of violence — it protects Otero, Smith, Garza, Diaz, and five children. It's one reason why Otero has become less involved with Oakland's mobile food scene in recent months.
Kader built a following while serving illegally in the Jack London district, but after run-ins with the city and police, he moved his truck to Berkeley earlier this year. Kader said he doesn't think he's in the wrong and plans to legally challenge the city of Oakland over the new ordinance. He contends it unfairly benefits Latinos.
"Let's go to court," he said.
Otero doesn't live in Fruitvale anymore. Neither does Smith. The family can't afford Fruitvale's rising rents and has been pushed deep into East Oakland.
They still call Fruitvale home, though. After all, Otero helped shape the district in ways beyond food trucks and La Placita. She's also behind Fruitvale's Día de los Muertos festival and Cinco de Mayo, and she had a hand in the erection of the César Chávez Educational Center.
"You can see where she's assisted and brought people together," Smith said. "It wasn't an easy job. I don't know how she did it."
Otero still dreams of buying a house in Fruitvale, even with the housing crisis and rent at La Placita rising. She acknowledges that some people still take advantage of her kindness. Over the years, she estimates she's helped at least 2,500 vendors, who are now spread out around the world.
"I was an activist for almost 30 years," Otero said. "Giving, giving, giving. I end up with no money. I gave even my retirement money my husband left me to live well the rest of my life — gone. … It's something that I'm learning.
"I do want to live better, at least to be able to buy a house. A nice place where I will die. I don't want to die in a rented house."
Even in semi-retirement, Otero's phone rings constantly. People still have lots of questions. Some vendors are still afraid of being deported. And many new folks are interested in entering the mobile food industry, especially now that Oakland has a real, comprehensive program in place.
"Now, it's like the second round and I'm too freaking old," she said. "I don't want to have another heart attack, but there's still lots of work to do."