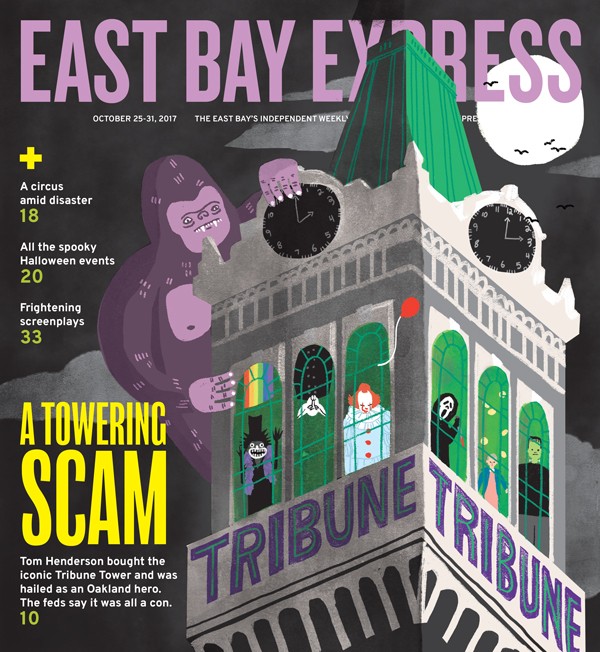 "A Towering Scam," Feature, 10/25
Great Follow-Through!
The demise of the grocery project might be the worst aspect of this debacle — a story that seems to have faded from view in the past couple of years.
Unlike other West Oakland grocery projects that would compete with the nearby Pak N Save in Emeryville, the Jack London Gateway site is truly in a food desert — with no full-scale grocery south of Grand Avenue or (aside from specialty shops in Chinatown) west of Lake Merritt.
Here's hoping this story remains alive, and that the neighborhood gets the store it's so desperately needed for so long!
Mitchell Halberstadt
"Living Dangerously," Eco Watch, 10/25
A Yearly Tax
We control the fire in these developed areas. As a result, the vegetation grows denser, and more flammable. A natural area would be burned out on a regular basis, making the area less flammable. The homes in these areas need to have a yearly tax that pays for regular brush, road, tree, and other clearance. Then they would be paying for the cost that the fire ultimately imposes on other taxpayers.
Jerry Udinsky
Pay Attention
Counties issue building permits. Think of being allowed to build on land set aside as a reservoir for flood waters in Houston, Texas. With rising sea levels, Alameda is going ahead with a housing development on landfill, at the water's edge. In New York state, Hurricane Sandy victims will be removed to areas out of the marshy floodplain. We have to pay better attention.
Joan Soo
"Going on the Offensive," News, 10/25
Obvious Motives
Want the untold truth behind the city manager's motives? Well it's easy! Her job was on the line so she fabricated stories, making false accusations toward city councilmembers, thus shifting the attention from her to them. This is not good government. (Remember Gallant vs. Tam.) It's a similar play out of the same old playbook.
Why could she not speak on facts, rather than rumors and hearsay? Is she that selfish and worried about her own job that she is willing to tarnish the reputation of others? I believe so after reading this article. It opened my eyes to the other side of the story. A side that chronologically explains her evaluation process, to why it has been delayed, to why the evaluator resigned, and now to our current state of affairs.
The city council's dissatisfaction with Jill Keimach began well before she decided not to hire Domenick Weaver, who actually withdrew himself from the horrendous process before any announcement was made. Keimach knew of her possible demise with the draft of her job performance, dated on Aug. 20, from her evaluator, Rob Gould. This occurred before the interviews for the new fire chief began. Then on Sept. 28, Gould suddenly quit for unknown reasons. Finally, on Oct. 2, the city manager decided to release her own opinion through her old friend Dan Borenstein.
What's even more bullshit is she knew what her preliminary evaluations already looked like back in August. The public should be perturbed at the fact that she had access to them and formed prejudices on those councilmembers that rated her not so favorably.
There are lots of gaps to be filled, along with some untold truths. Only time will tell.
Richard Gozyna
"Drummer Boy Aaron Plays the Beat of Oakland," Music 10/25,
A Great Artist
I've witnessed him teaching kids to play drums and handing them drum sticks countless times. What a great artist and person.
Haley Bash via Facebook
Correction
In our June 7 news story, "Oakland's Only Nigerian Restaurant Was Set to Close, Until Community Rallied Behind Miliki," we erroneously stated Miliki was the only Nigerian restaurant in Oakland. In fact, Ruth's Buka opened in Oakland in 2015.