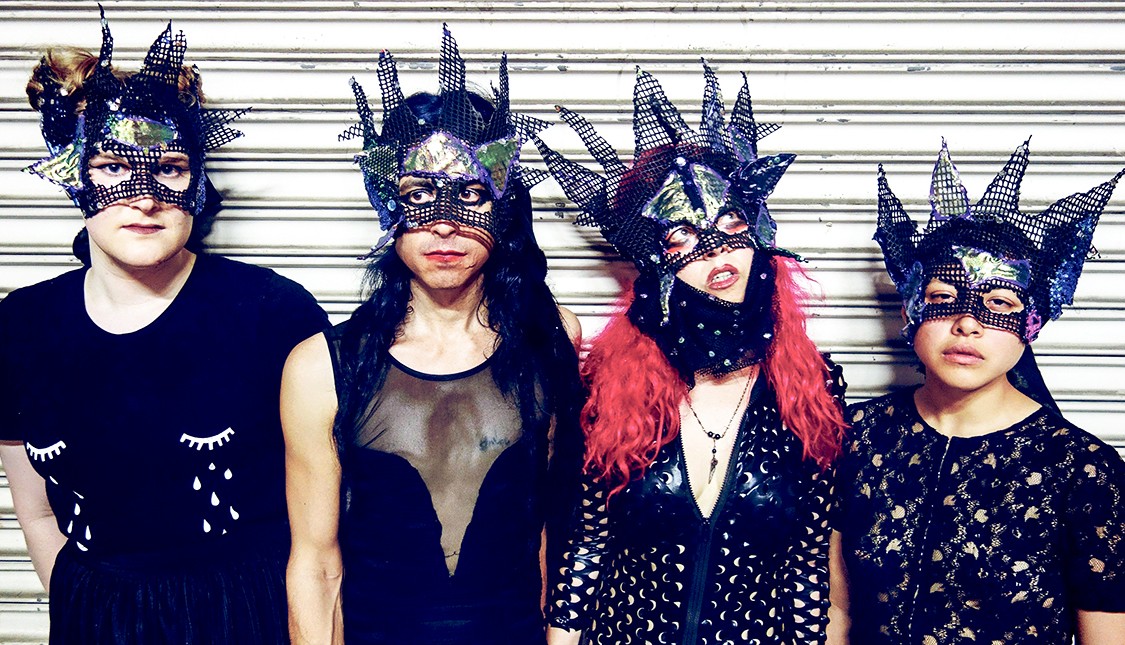 If you had to pick a West Coast city to host a new four-day festival of female- and femme-fronted darkwave bands and DJs, Oakland would definitely be the place. That's according to Akiko Sampson, bassist for the Oakland dark punk band Ötzi.
"There's a really large presence of femme, trans, and non-binary people playing dark music in Oakland," said Sampson. "There are probably more femme bands of this genre in Oakland than in any city I can think of."
Oakland warehouses and nightclubs have long been a fertile breeding ground for musicians ascribing to the darker side of the musical spectrum, and thanks to the efforts of promoters such as the Hanging Garden, collectives such as Katabatik, and a handful of venues — both above- and underground — there are ample opportunities to get your gloom on. When Hanging Garden's Davey Bones noted that its annual dance night tribute to "The Women of Goth, New Wave, and Synthpop" was consistently its most popular themed night, the idea to expand the evening to include live music was an intuitive jump. The hard part, according to Bones, was whittling down the list of possible acts.
Yet the West Coast Women's Darkwave Festival — which will be held Nov. 2-5 at the Uptown Nightclub, Eli's Mile High Club, and the Golden Bull — did not come together so easily. English goth band Skeletal Family and Vancouver dark-wave outfit Animal Bodies dropped out of the lineup; frequent Hanging Garden collaborator Bill Pesch with CiderUp Shows stepped away from the festival to make room for a new collective of female, trans, and non-binary-identified folks to step in; and determining who would be the press contact wasn't decided until this reporter came looking. To add a layer of challenge to the booking, festival organizers also pledged to use only female/trans/non-binary-identified stage crew, lighting and visual designers, and vendors for the "goth mall."
Still, among the organizers, there is a sense of accomplishment. The final lineup represents an array of goth- and post-punk-tinged musicianship that spans almost four decades. Bands from Los Angeles and as far away as Seattle are scheduled to perform, and the members of the new booking collective Cities in Dust, which came together specifically to organize the festival, is considering its next moves.
It's not coincidental that members of some of the bands are also filling the roles of organizers, as Cities in Dust was formed specifically to ensure what member Roxy Monoxide terms "as awesome and as ethical a festival as possible." Although the Gitane Demone Quartet will be the most anticipated act of opening night on Nov. 2, the reemergence of queerdo-experimentalists Moira Scar (in which Monoxide plays with fellow collective member and musical partner LuLu Gamma Ray) will be a treat for audiences who like their music with an extra helping of gray matter and psycho-delic dissonance. Rounding out the five-person collective are members of esses and Ötzi (including Sampson), which will close out the festival with an album release party for its latest, Ghosts, along with fellow Oaklanders Silence in the Snow and Mystic Priestesses.
Among the non-collective performers, highlights will include the spare synthwave of Zanna Nera, the high-octane "Afro-futurism" of Siouxsie and the Banshees tribute ensemble Voodoo Dolly, the melodic goth-rock of Strap on Halo, and the raw, guitar-driven power of Sacramento's Screature. Female DJ talent from as far afield as Chicago will be featured across all four days, including scene stalwart Melting Girl of Death Guild and Hanging Garden's Adrienne Scissorhands, while designers such as Neysa Budzinski (aka Unseelie) and Allison Leigh Holt will provide the visuals.
Although the loss of Skeletal Family due to visa issues was a last-minute blow, the addition of Gitane Demone Quartet is a welcome change. With a career stretching back to 1981, Gitane Demone is probably best known as a longtime member of '80s death-rock ensemble Christian Death, but in the interim years, she's been far from idle: Gitane Demone Quartet, her most recent project, skirts a half-dozen genres with an unapologetic, yet strangely life-affirming, existentialism. The group's full-length LP, Past the Sun, released last year, opens with a ten-minute-plus track, "Man Made God," which morphs from a gently repetitious piano line to a full-on sonic assault of crashing chords and an insistent, driving pulse. Title track "Past the Sun" combines layers of urgent noise with a cosmic invocation.
"We're exploring environments in music we haven't heard before," Demone wrote in an email. "I think there are more variations in the scene, [of] artists authenticating themselves. I sense a deepening of spirituality, a genuine quest for the metaphysical, and a gathering of the tribes."
Debuting on the Day of the Dead, the West Coast Women's Darkwave Festival marks the transition into the darkening days of winter, with a post-Halloween, pre-Saturnalian revel. In other words, it's a perfect time for the Demone-referenced tribes to come together, create, and celebrate their commonality beneath the full November moon, no matter what their particular gender or genre identity.
"It's gonna be off the chain," Roxy Monoxide said. "A time for the bats and ghouls to come out and dance with the shadows."
For more info and tickets, Facebook.com/events/1808084342835252/;