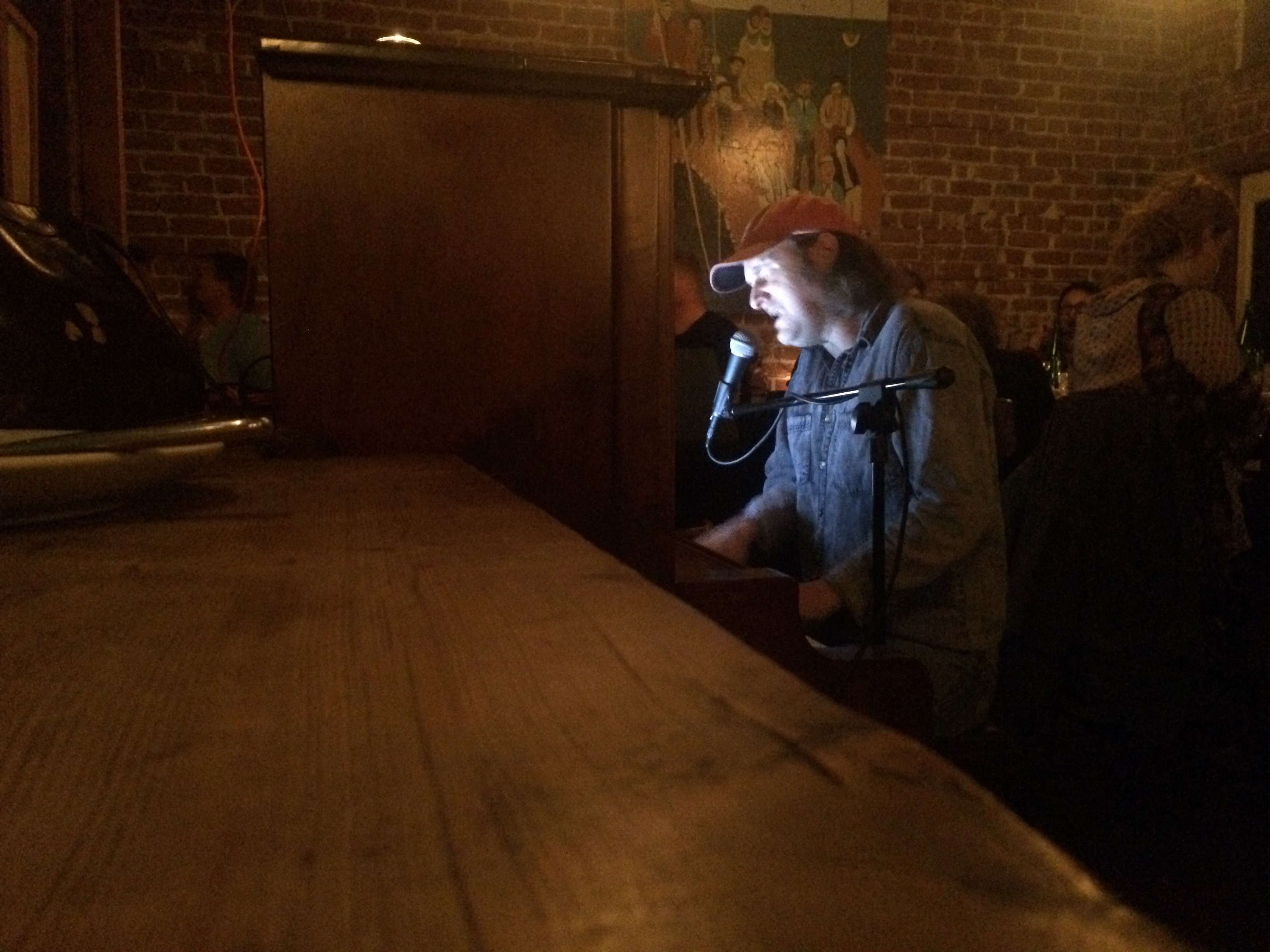 On a Wednesday night in October, Grand Avenue was blanketed in a haze from the North Bay fires. But inside the restaurant Boot and Shoe Service was an oasis: a river of piano notes burbling from the bar area.
There was piano player Joel Robinow. With one hand cascading over the keys and the other bringing a sweating ginger-mint "mocktail" to his lips, he hit every note perfectly — except those he didn't, but he faked it well enough to fool everyone. He sung angelically and mumbled jokes in between.
Robinow is most known for his prog-pop/psych outfit Once and Future Band, which released its debut full-length on Castle Face Records in January. The overwhelmingly positive response led to packed shows in the Bay and an opening gig for Tool on a dozen East Coast dates, where the band played for crowds of 22,000.
"You're King Shit of Fuck Mountain," Robinow said over coffee and tea a few days after his Boot and Shoe gig. "But then you fly back, you're exhausted, and you open the iPad at the piano, and people are talking while you're trying to concentrate."
For the past few years, Robinow has played solo piano gigs at restaurants and bars around Oakland. His current schedule has him playing Wednesdays at Boot and Shoe, First Fridays in the side room at Starline Social Club, and Sunday evenings at The Cat House on Lakeshore. Every night is a little different, partially due to the establishment's setup. The Cat House is a bar, Boot and Shoe is a restaurant that happens to have a bar, while Starline shows are populated by scenester drunks where he's on center stage.
"Starline is more about me," he said. "I mean, who am I, man," his voice dipping into the drowsy affect of hippie wisdom. "I'm just a vessel, man. A vessel for the UltimateGuitar.com app that shows me the chords for 'Runaway Train' after some wasted tech bro says, 'I'll give you $20 to play it,' and I'm, like, 'sure.'"
For the record: Yes, he takes requests, and, no, he doesn't shy away from tips.
"When people request 'Piano Man,' I say, 'I'll do it for $20,'" Robinow said. "And they always do it, so I'll always do it."
It's a little on the nose for a piano player to actually play that song, of course. But it's also the song written by a piano player about the life of a piano player, so it must resonate. "Sometimes, Billy Joel sounds like a dick in the song," Robinow said. "But I also didn't really understand it until I was doing it. Now, I get it."
It's an odd gig, piano man about town, floating in some murky place between stage performer and background music that's mostly ignored. "I'm playing situations where their expressed purpose is for two lonely people to try to fuck," he said. "You can't compete with those instincts."
Rather, the piano player's motive is to keep a steady flow of cacophony and rhythm, hitting crowd-pleasers along the way and trying not to hog the spotlight; he's more emcee than anything. And, as Robinow makes clear, understanding his place in the night's ecosystem has led to an appreciation of his role. "My issues with not being paid attention to are just the negative parts of my own ego," he said. "I respect the work as a craftsman, and believe it is an important endeavor."
Robinow has lived in Oakland all his life, save three years in Santa Cruz, and has been involved in the city's music scene since the late '90s. "I'm wondering if I'm a stalwart or mainstay," he said. "I think I may be a mainstay. That's when you ease into it, humility sets in, and you carve out a place in your closet for your ambition to go wilt."
And yet, that streak of self-deprecation rings hollow if you know him or his work. It's clear Robinow belongs behind the piano, whether in the back of a bar or on a stage in front of thousands.
And regardless of where he's playing, his goal is the same. "The hope is that music is beauty, and the world needs it, and when people hear it, it affects their life in some tangible way," Robinow said. "And they thereby go through a feedback loop, it gets back to me, and makes me feel good about myself."
Still, Robinow knows those sorts of performer-audience loops are mostly reserved for Once & Future shows, not the back rooms of Edison bulbs and negotiated Tinder dates.
"There are times when you're playing something beautiful and you want to people to be affected by it," he said. "But then, when you realize no one's listening, you're like, 'fuck it, I'll just play 'Against All Odds' by Phil Collins.'"  
With Robinow's expertise, that's actually an enjoyable experience.