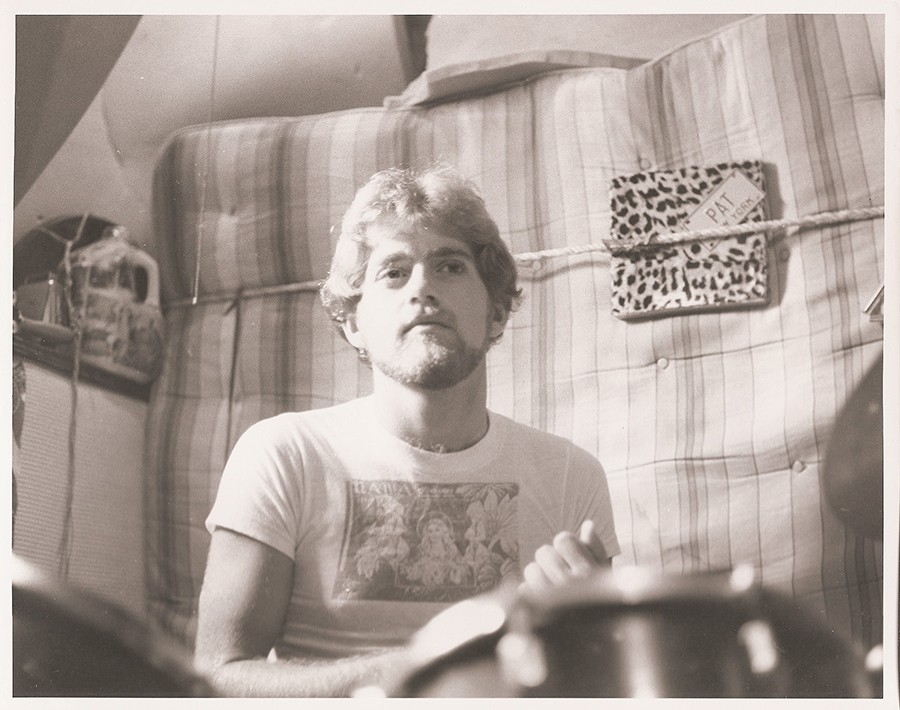 In 2007, the five members of a new gay DJ collective called Honey Soundsystem went to the San Francisco apartment of John Hedges, former president of the storied disco label Megatone Records. Hedges was about to move to Palm Springs; the DJs were after his records. But the more important find was a box of tape recordings by the late-producer Patrick Cowley, Megatone's cofounder and the originator of hi-NRG — "the San Francisco Sound" for the city's gay nightclub scene before the proliferation of AIDS.
Honey Soundsystem's label HNYTRX, along with collective member Josh Cheon's own Dark Entries, have since released several compilations of largely unheard music by Cowley. And their campaign, with its themed parties and savvy branding, has transformed Cowley — who was known as a producer and a sideman to Sylvester and never appeared on the cover of a record — into something of an icon and forged connections between generations of gay dance-music obsessives on different sides of a merciless epidemic.
The finds in Hedges' archives — which yielded Cowley's great unreleased collaboration with Indoor Life frontman Jorge Socarras, Catholic — led Cheon to another trove of tapes in the Southern California storage unit of John Coletti, proprietor of gay porn company Fox Studio. That spawned three compilations of Cowley's earthy, sensuous synthesizer compositions, each named for the Fox Studio movie in which the music originally appeared: School Daze, Muscle Up, and, released last month, Afternooners.
The release event for Afternooners, which doubles as a 10-year anniversary party for Honey Soundsystem, occurs on Thursday, Nov. 9, at Tenderloin district arts space CounterPulse, and promises a range of fittingly lascivious sights and sounds: readings from Cowley's journals by longtime friend Theresa McGinley and arts polymath Brontez Purnell, performances from Group Rhoda and Socarras, uncensored screenings of films produced by Fox Studio, and a discussion between Coletti and the owners of Tenderloin ephemera emporium The Magazine. (Full disclosure: Dark Entries released one record that this writer played on.)
The multigenerational lineup and emphasis on the queer cultural history of San Francisco is a hallmark of Honey Soundsystem parties. In recent years, the collective has honored Cowley's birthday with similarly themed events. But Cheon, in an interview, called this one "incredibly bittersweet," since Afternooners is the final installment in the soundtrack series. "I've been listening to this one for some time — it almost seems too soon to let it go."
The way sex and music intimately entwined in Cowley's experience of San Francisco animates much of the archival material from HNYTRX and Dark Entries. "You Gotta Make It Loose," from the labels' co-released Kickin' In EP, involves a dub-inflected, prowling groove and Cowley's voice, in the tone of a guttersnipe cruiser, guiding the listener through the details of an orgy. Like a snake itching to crawl out of that tight little skin, Cowley croaks at the beginning. You gotta make it come loose.
Cowley, who died at home in the Castro district from AIDS-related illness in 1982, moved to San Francisco in 1971. He studied electronic music at City College and then cofounded a recording studio, moonlighting as a musician and a lighting technician. Eventually, he linked with Sylvester, helping to shape classics such as the singer's "You Make Me Feel (Mighty Real)" and created the hard-edged electronic sound of Hi-NRG through solo records and as in-house producer for his own label, Megatone Records.
By 1982, Cowley was watching his collaborations with signees such as Paul Parker and Sylvester climb the charts. In May of that year, according to Cheon, he recorded the music for Afternooners. But mysteriously intensifying health problems stalked his productivity. Mind Warp, his last album, begins with references to "flags of doom" and closes with a song called "Goin' Home."
When Cowley died, at the age of 32, AIDS was so feared and misunderstood that the next tenants in his house thought it necessary to fumigate. The illness went on to claim Megatone cofounder Marty Blecman; label signees Sylvester, Frank Loverde, and David Diebold; and scores more from the gay dance-music community in San Francisco. A generation was wiped out, but outfits such as Honey Soundsystem steward its legacy.
"Because we were bestowed the tapes and do the parties, his friends started giving us things, like his old dumbbells," Cheon said. "We carry Patrick around like a torch."
During our phone call, this writer mentioned to Cheon that an edit of Afternooners footage he recently posted online to promote the release was removed, according to a message in place of the video, "for violating YouTube's policy on nudity or sexual content."
Cheon was incredulous. "What? It must've been flagged by some homophobe," he said. "Hold on, I'm appealing it right now."