Hopefully you've finished all of your holiday shopping, because this weekend you'll be cramming in some social time before celebrating consumerism with your family. Here's what we recommend for you:
Skinny Puppy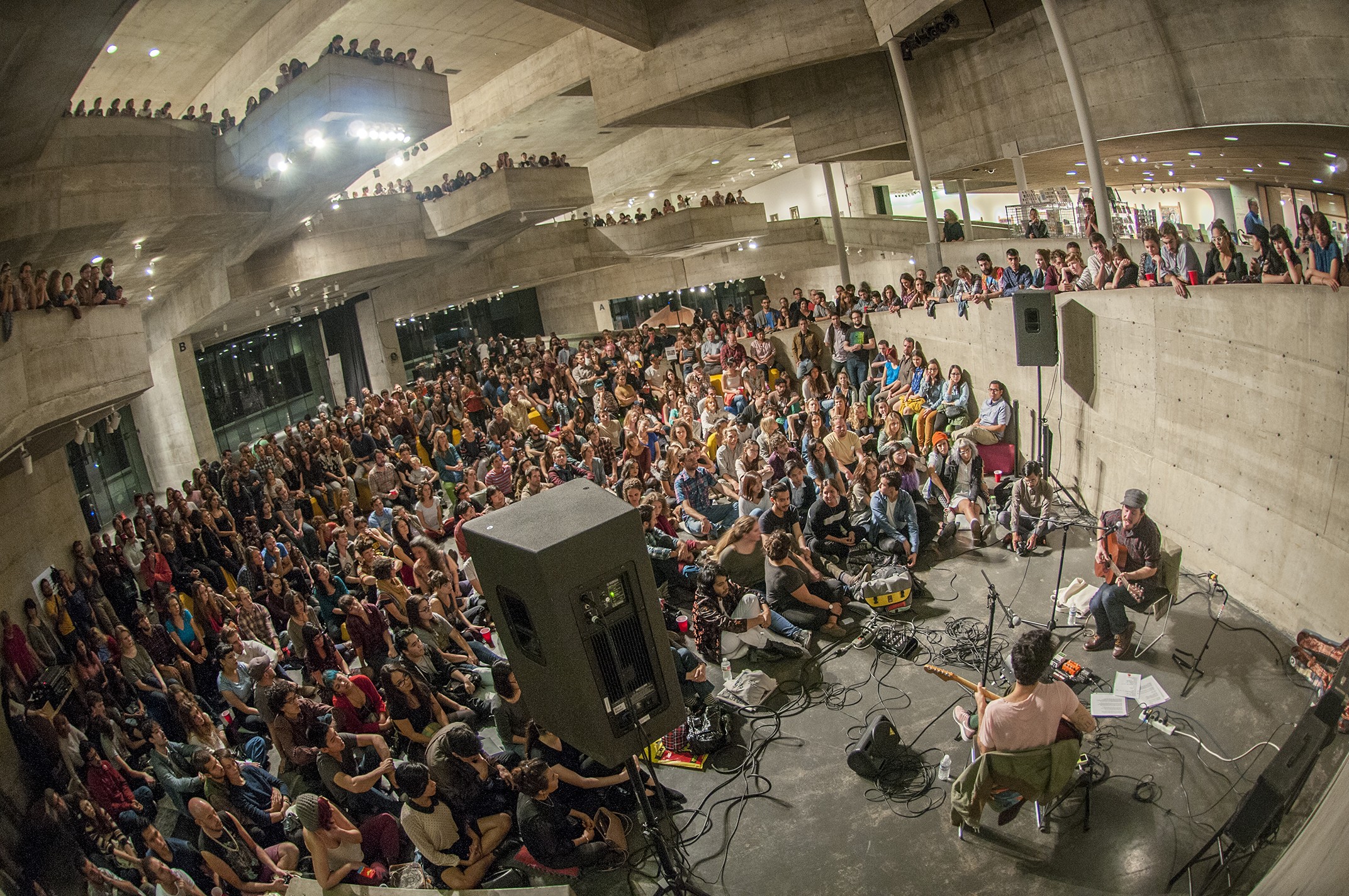 It must be a vindicating time for aging Skinny Puppy fans. Enthusiasts of the long-running Canadian outfit and their industrial rock ilk, such as Ministry and KMFDM, have remained a devout contingent, even when trebly, gated-snare kick tones fell out of step with post-millennial tastes. No longer a comically dated sound, new bands such as Youth Code from Los Angeles, which opens for Skinny Puppy on Friday at the
Regency Ballroom
, are stirring a love of industrial rock in the hearts of young listeners. Perhaps it's not surprising. The cyberpunk aesthetic, a cult literary genre in the 1980s that dealt in technocratic future dystopias and had significant bearing on industrial music and culture, feels more relevant than ever, as power consolidates into the hands of fewer and fewer technology companies and the chasm between the haves and have-nots widens. Industrial rock, with its rhythmic use of automated machinery to mimic the oppressive apparatuses of totalitarian regimes, resonates intensely.
— Sam Lefebvre
Fri., Dec. 19, 7:30 p.m. $40. TheRegencyBallroom.com
Oakland Drops Beats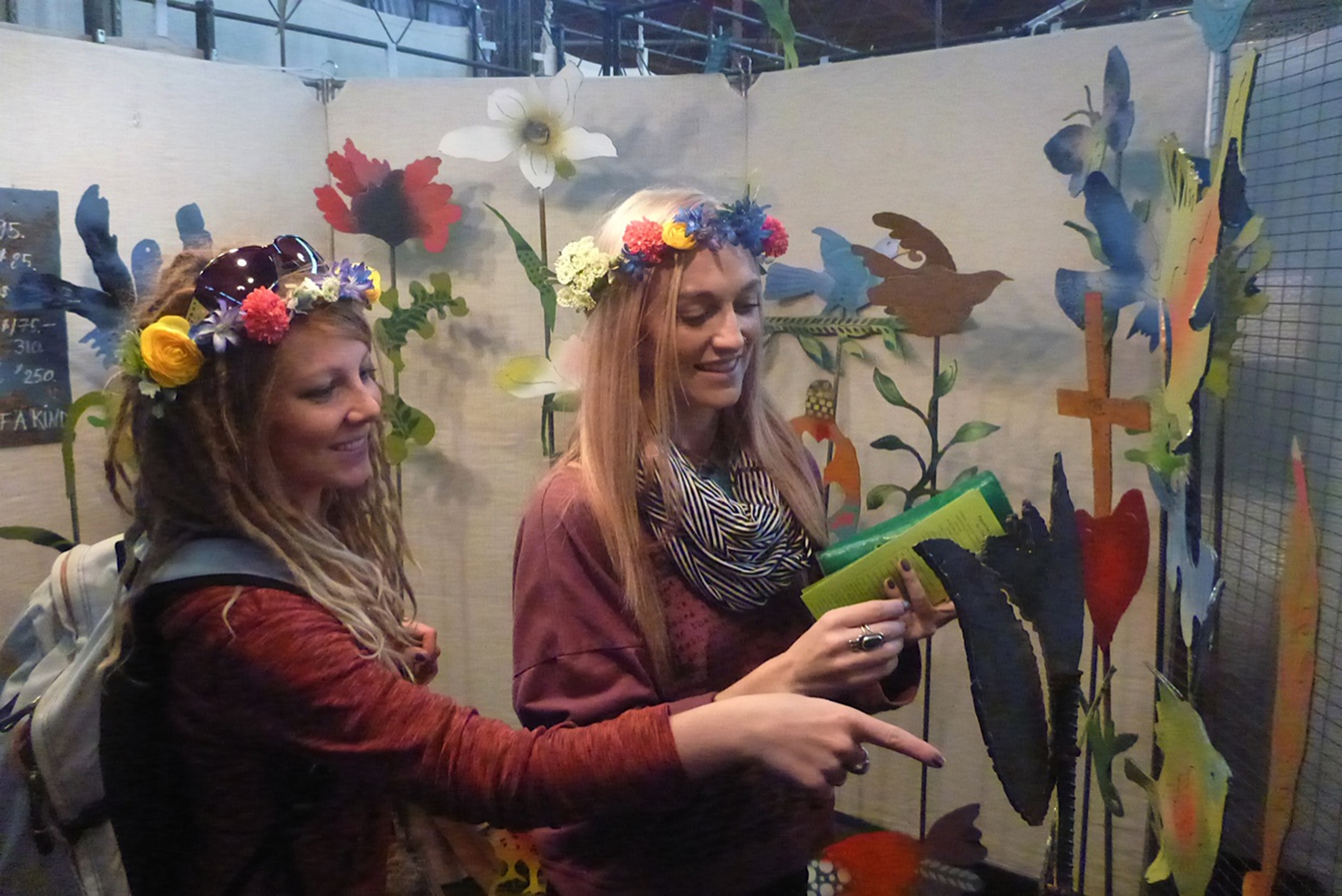 Last spring, Oakland Indie Mayhem programmer Sarah Sexton and a group of other local music bookers and musicians came together to produce Oakland Drops Beats, a free all-day music festival in Downtown Oakland. Now, they're back for another edition of the event on December 20. The day of music will function like a Noise Pop-esque music crawl, except the performances will take place in unconventional venues and the lack of ticketing will eliminate the horrendous lines. Stages will be set up at Awaken Cafe, Solespace, Mary Weather, Vamp Records, and six other spots in the downtown area. One highlight of the event will be local rapper Jay Stone's performance at
Mary Weather
, along with beatmaker Mark Aubert at
Vamp
, and the funky Fantastic Negrito at
Solespace
, as well. The event will also include music talks, such as "Music and Education in Oakland" at Joyce Gordon Gallery, and workshops, like a beatmaking introduction at Tilde. Even better if you've never heard these bands or been to these spaces, because now is your chance to get in the loop for free.
— Sarah Burke
Sat., Dec. 20, 1 p.m. Free. OaklandDropsBeats.com
Let's Go! A Farewell Revel
For its last day in its current building, December 21,
BAM/PFA
has planned a full day of free programming that ends in a procession down to the new site. It will begin at 11 a.m. with art-making workshops led by educational artist Veronica Graham, in which participants will make floor plans for fantasy museums and fill them with tiny artworks. The afternoon performances will begin in the atrium with singers from Kitka's all-women chorus and dancers from Turf Inc. Later, Chris Kallmyer will do a sound piece in which he strikes handmade chimes in a composition that follows the geometric architecture of the building's ceiling as he moves around the space. Performance artist Dohee Lee will then do a ritual farewell to the building. And finally, Sarah Cahill will perform Ligeti's
Poème Symphonique
for 100 Metronomes. A group of fifty, including museum staff, professors, artists, and members of the community, will make up the necessary participation for the piece, in which one hundred metronomes are set off at the same time and gradually fade until there are just a few, and then finally only one left, ticking until it creates its final echo.
— S.B.
11 a.m.­–5 p.m. BAMPFA.Berkeley.edu
Katabatik Winter Solstice 2014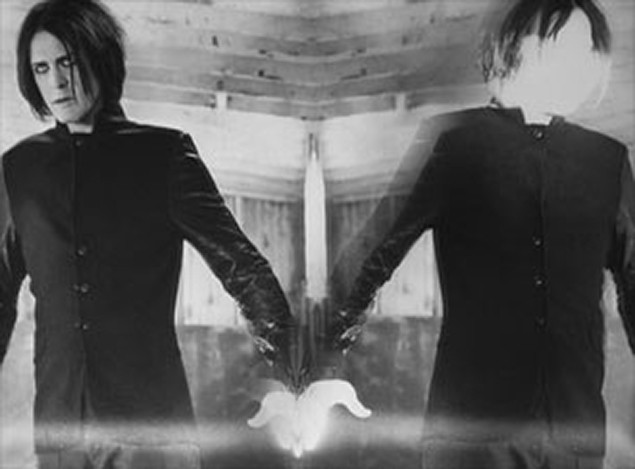 An institution among noise practitioners and electronic experimentalists, Katabatik is little known outside of the sect. Active for more than a decade, the booking enterprise, record label, and self-described "meta-communications platform" typically hosts seasonal events in unprintable locations. The Katabatik campout, for instance, occurs every summer in the woods a few hours outside of town, and earlier this year it featured about forty performers across three days. As attuned to the natural world as Katabatik's presentation appears, the industrial techno, throbbing modular synth exercises, and magnetic-tape manipulations it deals in don't square with the usual musical associations of pastoral environs. Modern primitives plugged in. At East Oakland's refurbished
Palace Theater
, Katabatik's Winter Solstice event on Saturday features a dozen acts, including the supple and melodious Group Rhoda, Brandon Nickell's viscous synth grooves, DJs, and a chill-out sideshow in the mezzanine featuring ambient house from Fluorescent Grey and others. Attend, just don't leave a trace.
— S.L.
Sat., Dec. 20, 9 p.m. $12 – $20. Katabatik.org


KPFA Crafts Fair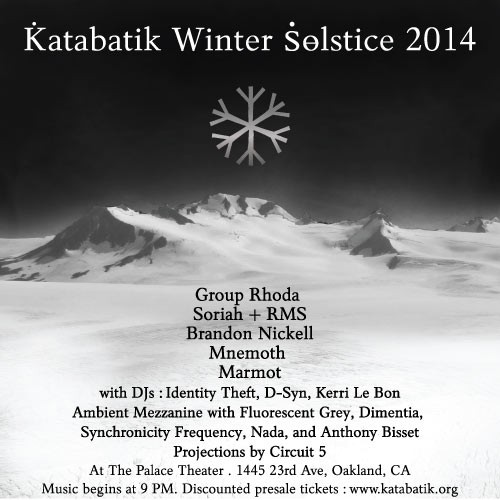 After being held in San Francisco for the past nineteen years, the annual KPFA crafts fair is moving back to the East Bay. The sprawling artisan event will fill up the
Craneway Pavilion
on December 20 and 21. The fair will feature a broad spectrum of handmade goods, including wearable textiles, ceramics, photography, block prints, paper goods, and jewelry. To organize the fair, producer Jan Etre and fellow jurors hand-picked more than two hundred arts and craftspeople based on the originality, quality, affordability of their work, in addition to artistic involvement and use of "green" materials. Often, the works being sold show an application of contemporary aesthetics to relatively traditional art forms. Beyond providing a marketplace for artists to sell their work, the fair is also serves to connect makers and consumers. That's why everything at the fair is sold by the person who created it. "It's rich interacting with the artist, knowing where the materials came from, and having a sense of the artist's vision," Etre said. "To a certain extent, mass-produced stuff is unavoidable and we understand that, but at the fair we will highlight the vast difference between that and the appreciation and enjoyment of art and artists."
— S. B.
Dec. 20-21, 10 a.m.-5 p.m. $10. KPFA.org/CraftsFair
If your pockets are feelin' light and you're still yearning for more suggestions, we've got a ton, and these ones are all 
FREE!
We're Hungry: Got any East Bay news, events, video, or miscellany we should know about? Feed us at
[email protected]