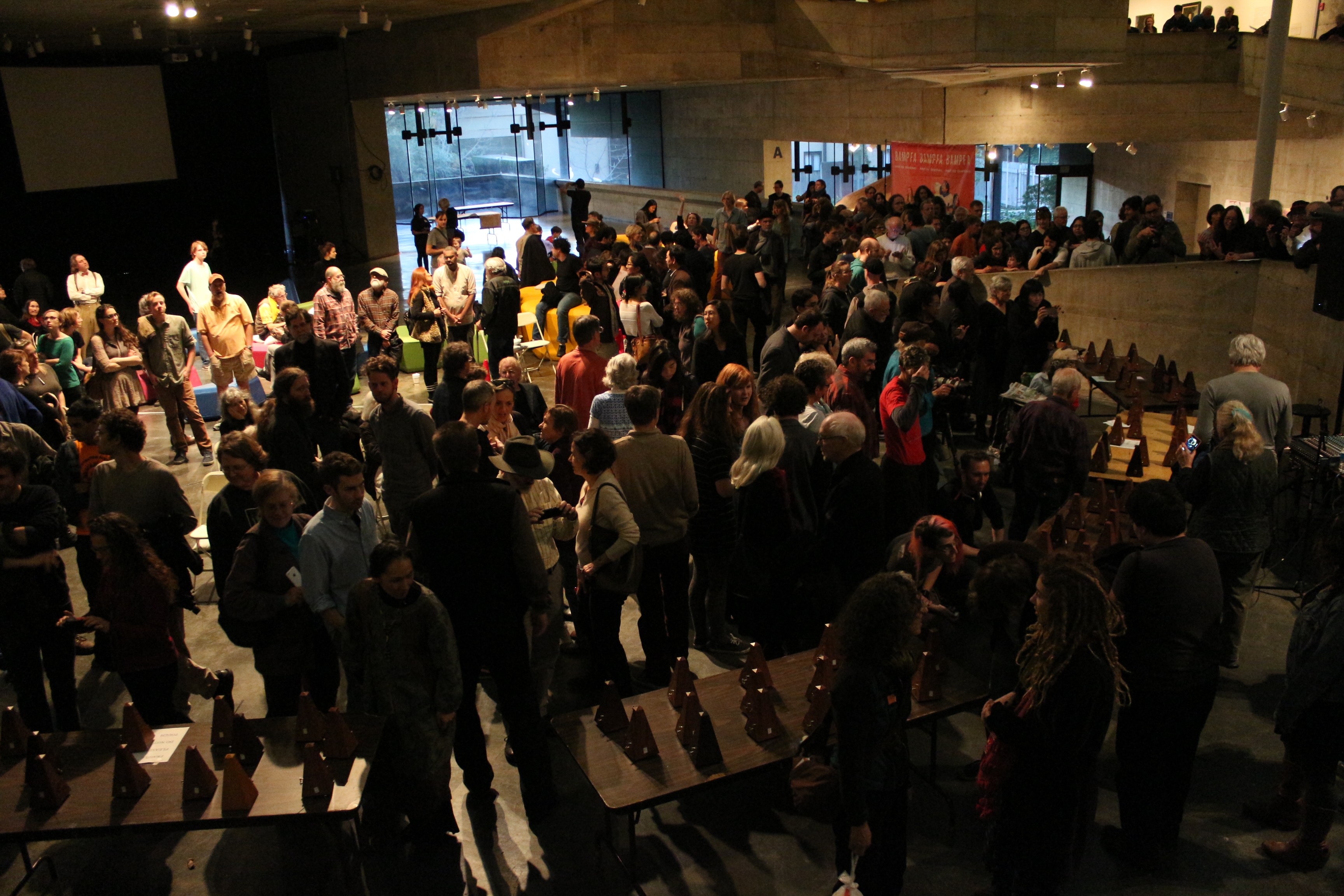 On Sunday, longtime
Berkeley Art Museum
programmer Sarah Cahill signaled for fifty staff members, performers, and supporters of the institution to wind up one hundred metronomes. Wood-paneled, pendulum time-keepers ticked away at Cahill's command, a jumbled chorus of clacks moving in and out of phase, flirting with synchronicity, and finally receding into the ambiance of chatter and resonant concrete. The ticks dwindled until a solitary, stubborn metronome kept time. It too petered out, eliciting weak smiles from the few attentive onlookers who remained.
[jump] The melancholy conclusion of
Poème symphonique
, a 1962 composition by György Ligeti for 100 metronomes, effectively marked the retirement of the Berkeley Art Museum's historic concrete home (a new space is under construction in downtown Berkeley). The farewell revel, an afternoon of performances open to the public for free, attracted a mixed crowd of luminaries and newcomers from the local realms of art, music, and performance.
To commemorate the building, which housed the Berkeley Art Museum since its construction in 1970, attendees illustrated and left notes on "memory cards," which hung on the walls. In lieu of a curatorial greatest hits, here's a selection of the performances and exhibitions deemed memorable by attendees on Sunday: Richard Misrach's photography depicting the Golden Gate Bridge; then-controversial photography by Robert Mapplethorpe; Ellen Fullman's long string instrument performance; a performance of Morton Feldman's composition
Rothko Chapel
; the William Winant Percussion Group's performance of Steve Reich's
Drumming
; an exhibit on the modern dance iconoclast Anna Halprin; and, as many scribes enthused, "Terry Riley!"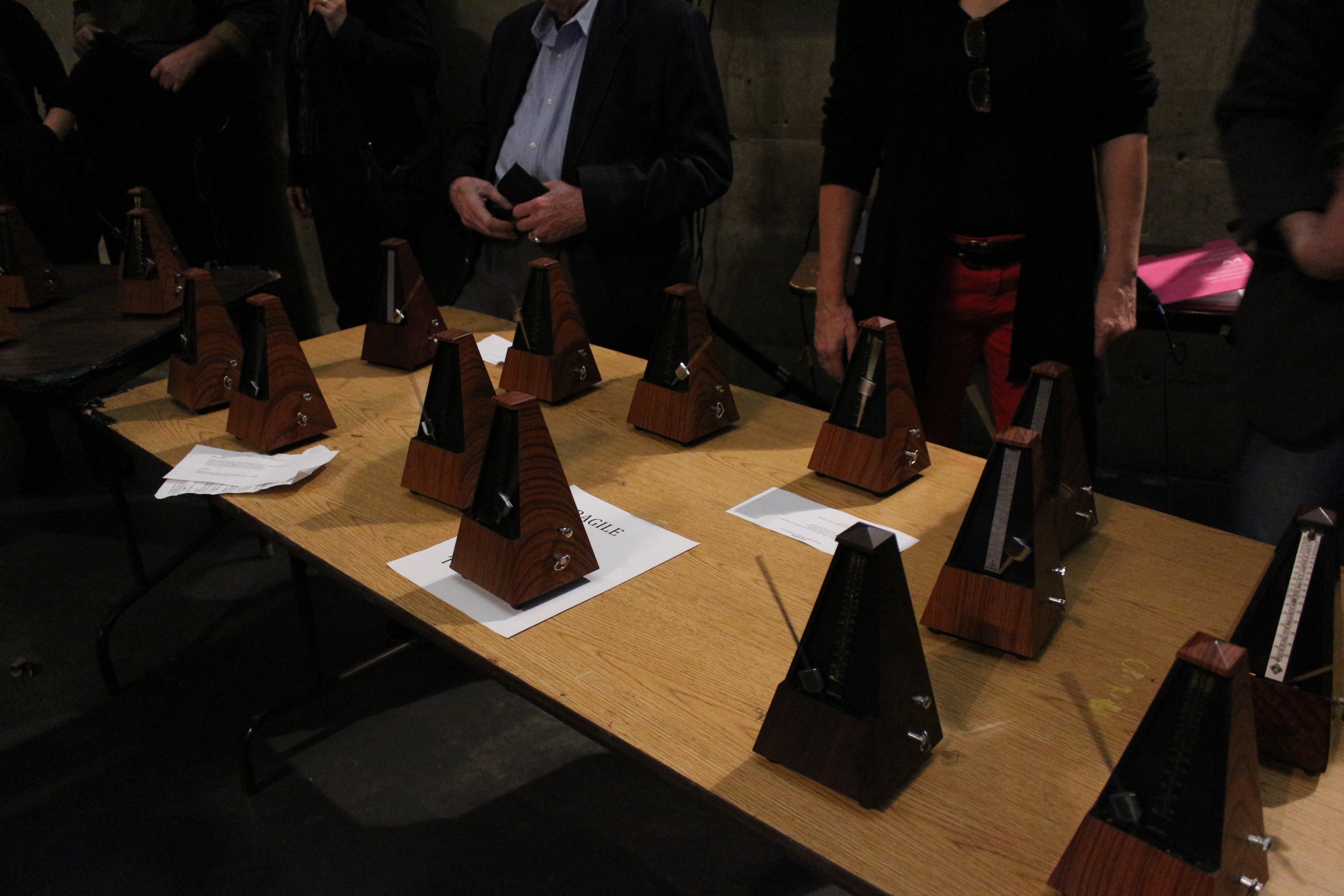 Four generations of one family were in attendance: the Ciampis, descendants of Mario Ciampi, who, along with Ron Wagner, designed the Berkeley Art Museum building and oversaw its completion. He passed away in 2006 at the age of 99.
The building looks like an imposing concrete hull from outside, its geometric parts distinct even from a great distance. Inside, cantilevered galleries thrust into the center of the room, like four fingers of a massive outstretched hand. Pauline Oliveros, the legendary avant-garde composer whose collaboration in the space with Thingamajigs Performance Group
the Express covered last month
, reverently referred to the building as a "monster." 
Oliveros' efforts to mind the space – moreover, to make it part of the performance's score – exemplify a common impulse performers have upon setting foot in the Berkeley Art Museum: to move around, incorporate the building's particular acoustic qualities, explore alternate visual perspectives, and encourage the audience do the same. Such was the case on Sunday, when the Kitka Women's Vocal Ensemble began singing in an upper gallery and descended monastically towards the ground level. Dohee Lee cut through the crowd while playing an ornamental flute and projecting rousing non-lexical vocables.
Speculation about the building's ultimate fate includes talk of demolition, sports, classrooms, offices, and a skate park (wishful thinking, maybe). A representative of the museum couldn't confirm anything, except that the UC Regents will retain control. Seismic concerns have persisted for years, and the recent storm revealed some leaks. On Sunday, water dripped down the wall by coat-check near the main entrance. Flatly, the attendant put it best: "The building is weeping."