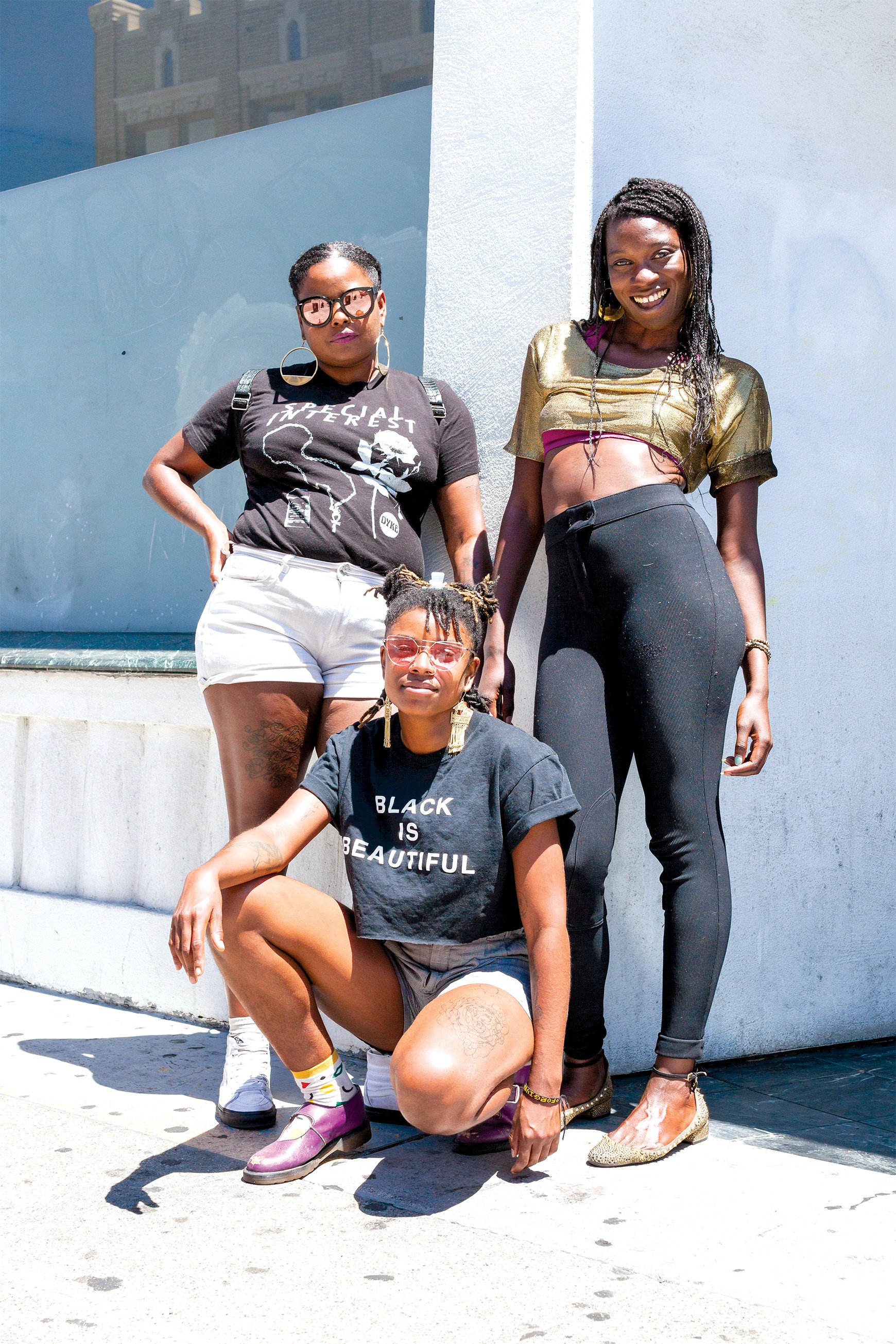 Grace Jones is lithe leather. A lodestar for all the self-proclaimed freaks living on the periphery, she has subverted gender and stood firmly in her Blackness for decades. In a 1979 issue of Ebony, Jones was described as "a question mark followed by an exclamation point." And aptly so: She brought the "other" to the forefront and hoisted it, elevating otherness from mere qualifier to a way of life.
It's no wonder Jones is a wellspring of wisdom for the organizers of
The Universe is Lit: A Bay Area Black and Brown Punk Fest.
The festival's core organizers are Shawna Shawnté, a DJ, party organizer, multi-instrumentalist, and member of the gospel, no-wave band Ugly, Titania Kumeh, a self-described mercurial journalist, and performance artist, and Jade Ariana Fair, visual artist and performer in noise duo Earthbound. In the words of Jones, the three aim to "let them know we're here!" Them being other Black and Brown musicians, artists, and freaks throughout history. The women, perched on their respective couches and reflecting on the moments leading up to The Universe is Lit, recognize themselves as future ancestors and have assembled a four-day event in observance of this proclamation.
Motivated by the series of festivals and events orchestrated by the Black and Brown Punk Show Collective in Chicago back in 2014, The Universe is Lit joins the ranks of other POC-centered processions happening globally. Spanning across the Bay Area, the inaugural showcase will feature live performances by local staples like the Younger Lovers (Oakland), but also visiting bands including Divide and Dissolve (Melbourne) and The Breathing Light (Chicago). In addition to the brimming musical lineup, the festival will boast a hearty menu of performance artists and DJs, an art market, film screenings, workshops, and panel discussions making for a balanced meal of all things punk and punk-adjacent.
Before recent efforts like The Universe is Lit, the punk world has always had a white superiority complex. Even Riot Grrrl, the underground feminist punk movement of the early Nineties with origins in the Pacific Northwest (Olympia, mainly) and D.C. had its share of problems —notably, its failure to consider intersectional feminism in a real, impactful way. As a result, punk feminist history is marked by women like Kathleen Hanna, Allison Wolfe, Corin Tucker, and Carrie Brownstein. All wonderful, but yes, all white.
Not to mention the surplus of all-male, all-white mainstream favorites like the Ramones who continue to dictate what the scene looks like, despite having dismantled or passed on decades ago. When Shawnté was first adjusting to the San Francisco punk scene in the early 2000s, the latter narrative ran rampant. She recalls receiving an email from a long time San Francisco punk, who implied that her presence would compromise the punk scene. "I felt it had to do with my being a Black girl, having hair product, and smell, and scent, and bathing as a ritual—something that was deeply important to me," she explained, "and they [ultimately] said, 'unlike the queer dance party scene, the punk scene isn't for everyone.'" A sobering reminder that there's racism in punks and anarchists club too.
Slowly but surely, Black and Brown punks are reclaiming what was always theirs. As Shawnté put it with an emphatic wave of her joint, "People need to start giving us our dues and respect right now!" And so punks of color begin to exalt once-lost bands like Death, the Seventies all-Black trio of brothers from Detroit, celebrate staples like Seventies English band  X-Ray Spex that was fronted by biracial female lead, Poly Styrene, and Bad Brains, the still-active all-Black band from D.C. with reggae and funk origins, and continue to support locals like Brontez Purnell who fronted the band Gravy Train!!! and currently fronts the Younger Lovers. Black and Brown freaks are re-carving a space for themselves in the punk scene. The intention is that the space will be safe for revelry of all forms and challenge the rest of the world to reconsider its limited understanding of what punk is supposed to look like.
Kumeh remembered her introduction to punk music as a teenager growing up in a suburb of Orange County. "[The] person who introduced me to Poly Styrene was this white girl, but she was introducing me to something that was already in my blood and heritage," she explained. Even though she didn't have access to the archives to prove it at the time, Kumeh was certain that her DNA was rich with this music that was being labeled as "white."
Similarly, Fair recalled the specific feeling of being the rare Black face at a punk show. "I remember always going to shows in high school and seeing other Black kids and there was always this sense like, if we acknowledge each other, it makes it too real that we're both Black in this space," she said, "and it means we'd be acknowledging that there's a connection here that's different from other connections that are happening here."
To young Black and Brown punks beginning to navigate these aforementioned spaces, some of whom will perhaps partake in these four cosmic days of POC freaks orbiting closer to each other, Fair suggests the following: "Just turn towards each other and see what happens."
August 3-6, Various locations and times, For details, visit: TheUniverseIsLit.com.