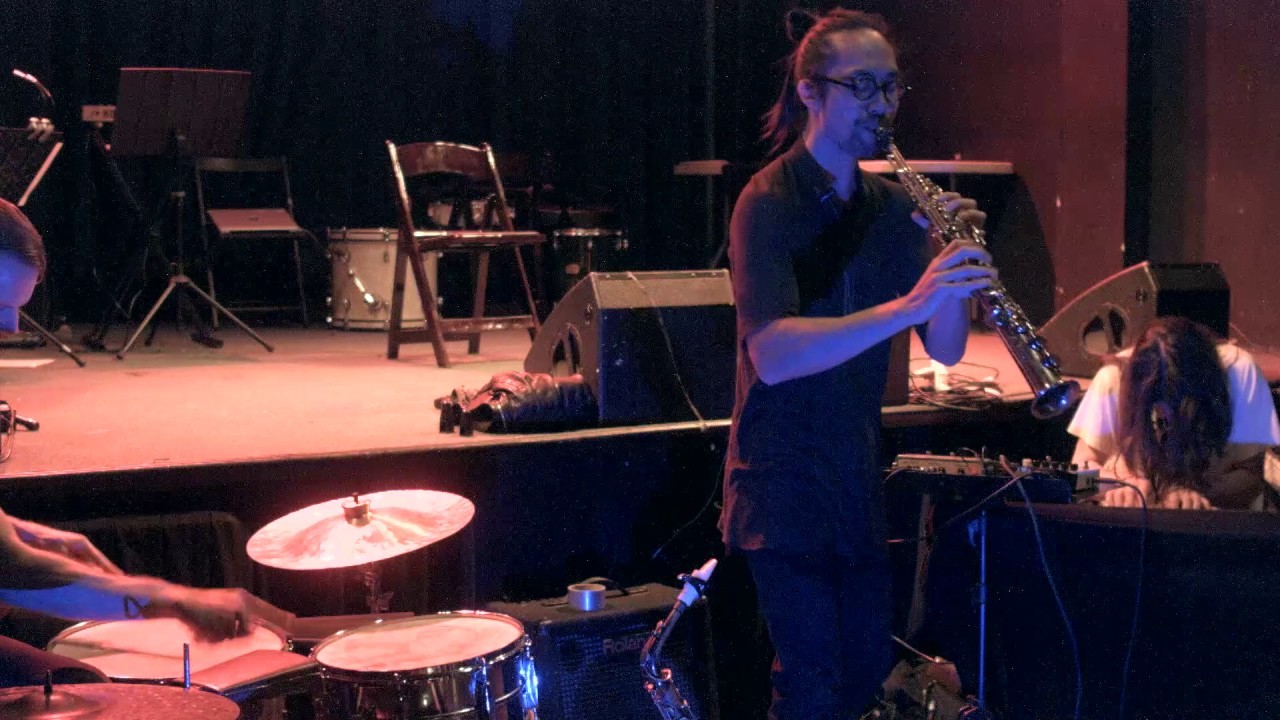 Norwegian guitarist Håvard Skaset dropped the steel ruler, which moments before he'd used to torture his instrument, and rifled through his pockets for spare change. He dumped the coins into the resonant hole of his acoustic-electric guitar, then titled and shook it as if trying to retrieve the eighty or so cents. And it sounded lovely — percussive clattering against thrumming feedback, rickety clacks against quiet noise.
Skaset sat on a stool on the dance floor, onlookers forming a semi-circle around him in the dark, red-lit venue. He finished casually, with a slight shrug and a nervous smile, and the evening's host, still slouched against a wall, introduced the next performers by their first names: Zach and Leila.
Such is the relaxed atmosphere amid strange, and sometimes austere, sounds at
ActiveMusic Series, an avant-garde showcase every second Tuesday of the month at Uptown Nightclub in Oakland
.
Skaset, who opened the gig last month, was followed by guitarist Zachary Watkins, familiar as one half of idiom-resistant improv duo Black Spirituals, in his first-ever collaboration with French cellist Leila Bordreuil. With some timidity, they stirred a soft storm; it felt like an extended greeting.
[pullquote-1]The series — which returns this Tuesday, August 8, with unusually high-profile headliners Jupiter Blue and D.Hotep of the Sun Ra Arkestra — features local improvisers and composers, often in unusual combos, who seem emboldened by an audience of their peers.
Volunteer run, sliding-scale cover, and with good chances that half of the attendees have played before — it's typical of the local no-brow experimental music community. Active is where conservatory trainees and autodidacts mingle on equal footing, one-off ensembles form to realize their friend's work, and homespun electronics usually augment acoustic resonance.
And, together with the similarly minded programming at Studio Grand and VAMP Records by organizers with the Oakland Freedom Jazz Society, Active is also a pretty good rebuttal to the view that jazz — considered as a set of durable principles, rather than as a style defined by its past — is dead or geriatric in Oakland.
Composer and saxophonist Aram Shelton founded ActiveMusic Series in 2008, at first as a recurring event at the Ivy Room in Albany. It then moved to the Uptown and, when the club closed in 2014, occurred at the Omni Commons in Temescal. Shelton eventually bowed out, leaving things to co-organizers Jacob Felix Heule and Crystal Pascucci, who today helm Active at the reopened Uptown with Robert Lopez.
"One thing we actively do is bring in people from different scenes, like people who play noise or jazz or improvisation," Lopez told the Express. "We're able to do that because each of the organizers are kind of kind of involved in different sectors of avant-garde music."
Referring to shuttered underground venues, he continued, "And yeah, I think that's the kind of thing that used to happen more at places like LCM or Mindgaze Hut."
Lopez, a percussionist, performs in several groups including art-rock outfit Grex, tUnE-yArDs multi-instrumentalist Nate Brenner's solo outlet Naytronix, and improvisational avant-rock group We Buy Gold. This columnist is lately absorbed by Las Sucias' new live album
Chúpate Estas
, which captures Lopez's accompaniment of the cracked reggaetón duo at a spellbinding performance last year at The Lab in San Francisco.
•••
A couple weeks ago at The Lab, Bill Orcutt sat on a white folding-chair and settled a strapless, mustard-yellow Telecaster on his knee. The rewardingly obtuse guitarist forewent the near-violence and tongue-speaking abandon that sometimes color his performance in favor of relative reserve. That means his fitful, swiping gestures conjured gnashing noise, yet peculiarly glinting prettiness shone through. "All right," he'd say as the sounds decayed. "That's enough."
The San Francisco artist was opening for globetrotting and contemplative guitar-and-percussion duo 75 Dollar Bill (which headlined a gig the next night organized by the aforementioned Oakland Freedom Jazz Society), and peddling copies of two new and stirring full-lengths:
Bill Orcutt
and, prepare for a delightful title,
An Account Of The Crimes Of Peter Thiel And His Subsequent Arrest, Trial And Execution
.