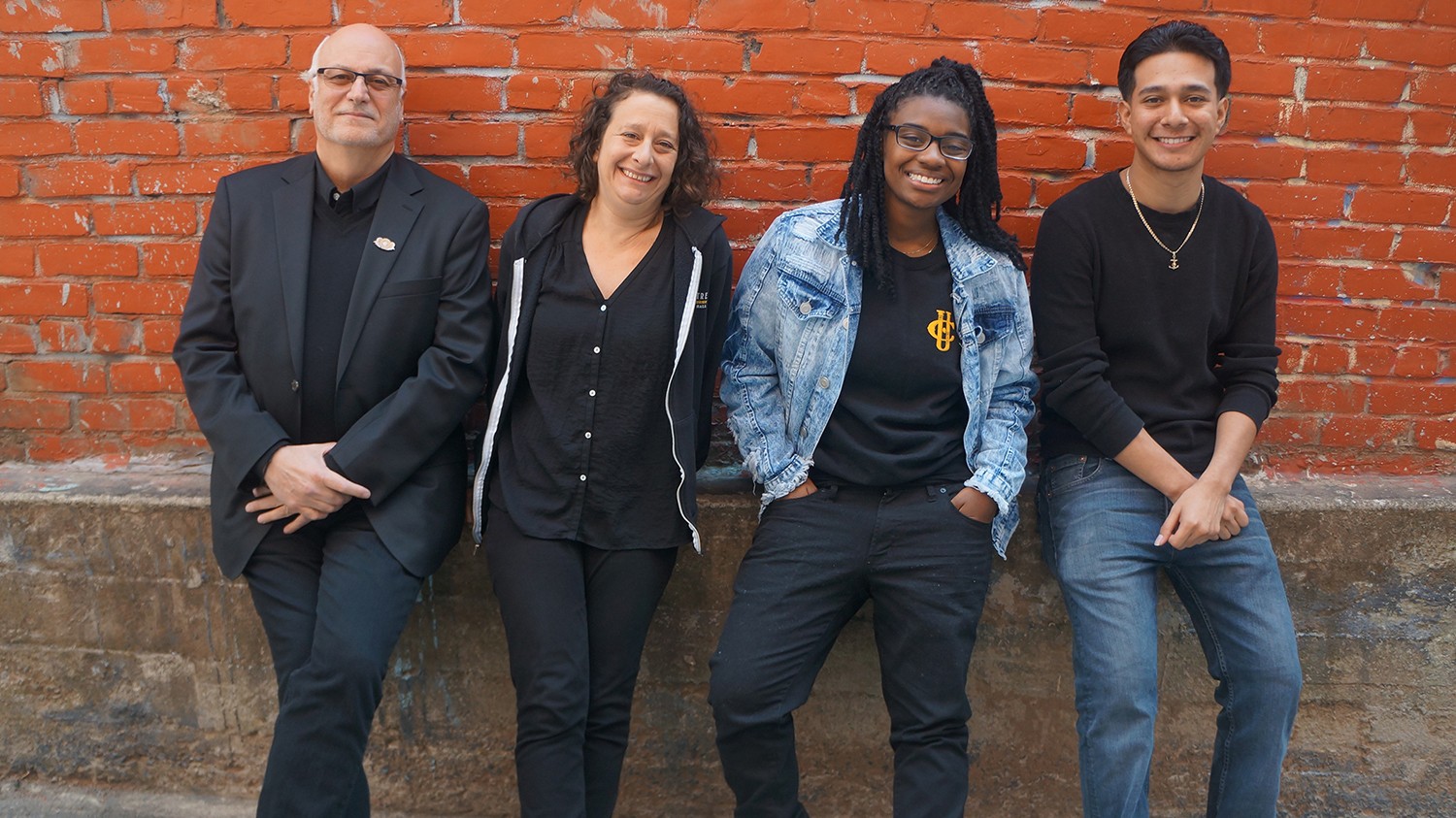 In January, the Annenberg Inclusion Initiative released a report revealing distressing statistics related to gender and race in the music industry. It studied 600 popular songs over five years and found that only two out of those song's 651 producers were women from an underrepresented racial or ethnic group. Of the 2,767 songwriters credited, a full 87.7 percent were male and 12.3 percent were female.
The UC Theatre's Concert Career Pathways program for people ages 17 to 25 is leading the way in the local fight for inclusion and diversity. The cohort started as an idea even before construction of the music venue began.
"When David Mayeri [founder and CEO] decided to shift gears from for-profit to nonprofit venture, one thing that was on his mind was to offer an education program," explained Robyn Bykofsky, education director of the Concert Career Pathways.
The process to renovate the historic Berkeley venue took over three years. Bykofsky came on board in 2015 while renovations were still ongoing and took over the redevelopment of what today is the Concert Career Pathways.
The nine-month program allows young people the opportunity to develop skills in several areas within the music business — from booking to box office operation to budgeting to live sound engineering. For Mayeri and Bykofsky, it was crucial that the cohort and the venue went hand-in-hand. "Even from [the] conception of the program, and as the venue was being built, it meant that [the program] was embedded in the foundation of the space," Bykofsky said.
The program's newest cycle started in August, and it continues to strive for diversity and inclusion with 55 percent women, 45 percent men, 75 percent people of color, and 20 percent LGBTQ youth in its current class. The need for diversity — and reaching youth from underprivileged areas — is vital to the success of the competitive program, which saw 102 applications for just 20 slots this year.
As it often is with programs run by nonprofits, the financial success heavily relies on donations. The cost per student is $12,000, with not one cent coming out of the participant's pocket — an enormous and encouraging incentive that motivates young adults to apply for the type of experience that those coming from low-income households could not be a part of otherwise.
Shakeea T. Smith, known by her stage name LaDy-Sn3ak, originally joined the program as part of the UC Theatre's youth advisory board to pilot and shape what is now the Concert Pathways program, and is now the education program coordinator. For Smith, this was an exciting opportunity to learn how to navigate the competitive and intricate music business even though the program itself was still just a vision.
At the time, Smith was working at Youth Uprising, where Bykofsky also worked before joining the UC Theatre and recruited Smith in the process. "When I came [for the meeting], we didn't know what was happening, but I saw a lot of people around my age willing to be part of it," Smith said. "I was like, OK, I'm going to stick it out and make it work."
Her openness to join something still in development paid off — Smith knew that there wasn't anything similar to what the Concert Career Pathways was offering people her age. She was eager but also scared to jump into the music industry without any guidance as a musician, songwriter, and rapper. "There were a lot of things that I learned that I couldn't even imagine before. I had been performing, but I didn't really know the business aspects of the music industry," she said, referring to workshops in marketing, promotions, and other subjects.
Young adults who have joined the educational program since folks like Smith paved the way are grateful for this once-in-a-lifetime opportunity.
For Joshua Sifuentes, a graduate of both Berkeley High School and the second Concert Pathways cohort, this opportunity quickly translated into employment. As a high school student, Sifuentes joined the theater tech program, and in the cohort, he focused on front-of-house operations. "At the time of joining, I really had to put myself out there because I was still shy," said Sifuentes. Despite his bashful personality, Sifuentes learned, impressed, and eventually got a job at the UC Theatre as part of the floor staff. He also landed a summer job at Stern Grove in San Francisco as a front-of-house production assistant. Now, Sifuentes has accrued enough hours to become an apprentice at two local unions, working on lighting for various live entertainment productions.
"I felt blessed to be able to be chosen," Sifuentes said of joining Concert Pathways. "It was a new door that was opened for me."
For the UC Theatre's Mayeri, listening to all of these success stories represents life coming full circle. Like Sifuentes, Mayeri is also a Berkeley High graduate and got his start in community theater.
"I'm very proud of what we created here. It's a team effort," Mayeri said. "The opportunity that I got was as a 16-year-old at Berkeley High. I was an intern at the Berkeley Community Theatre, and Bill Graham Presents was bringing shows, and I got paid 10 bucks cash to work 16 hours unloading the truck, setting up the stage, tearing down the stage, and packing up the truck again."
Mayeri went on to work for Bill Graham Presents for 35 years, ending his tenure as chief operating officer in 2004, where he ran roughly a dozen venues by the then-concert promotion company.
"That internship for me was a transformative experience in my life," Mayeri said. "The youth education program is all about giving back to the community."