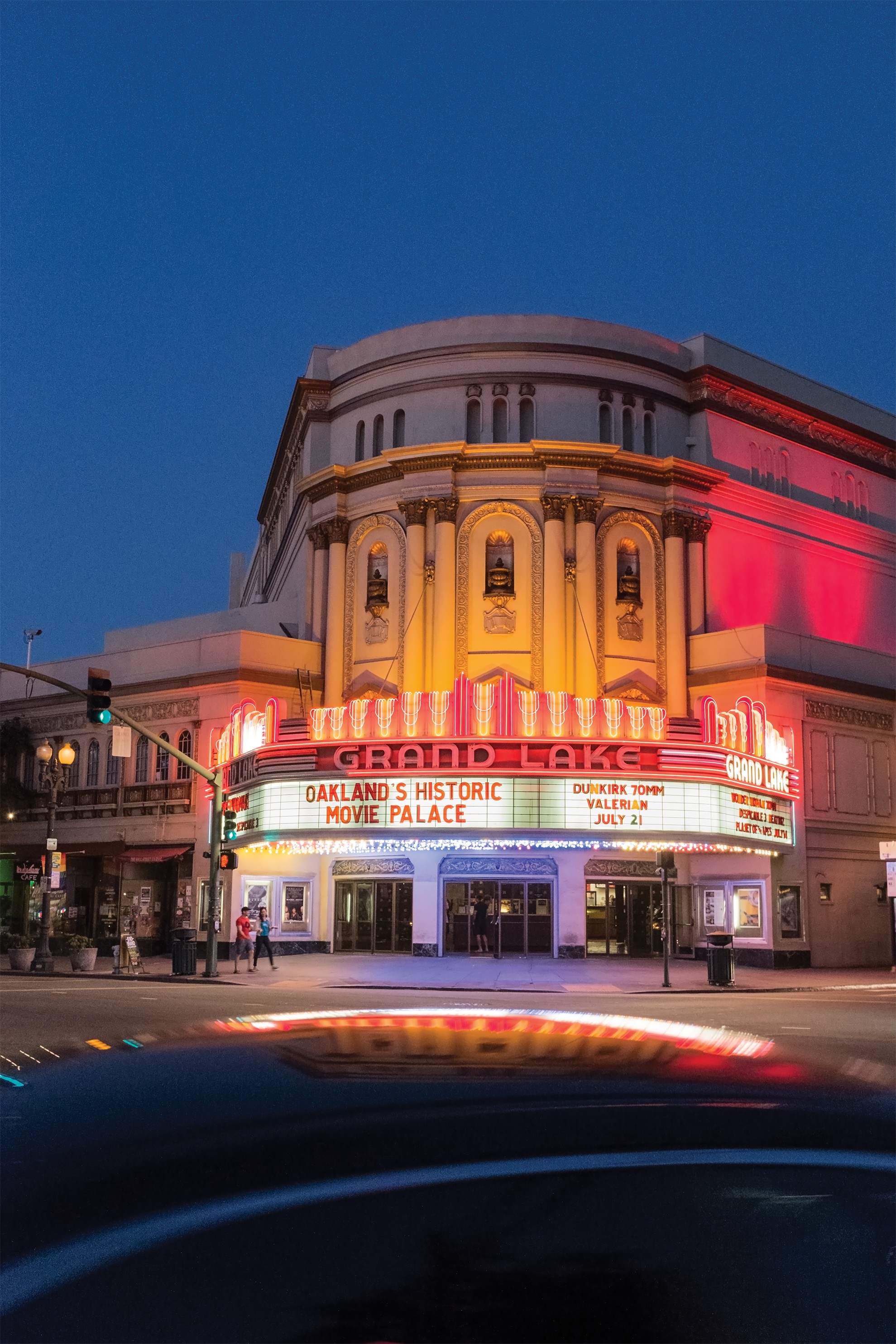 Pundits have prophesied the death of cinema ever since the invention of cinema. Whenever a technological advance emerges or a new media-delivery system asserts itself — or a semi-watchable season of
Master of None
uploads — the elegies start up all over again.
As we hasten toward technological singularity, the back-and-forth attempts to both bury and praise the theatrical exhibition model will only intensify. Yet the numbers are generally positive — for now: Overall box-office revenues and the amount of theaters both continue to rise, even as the frequency of movie-going continues to fall in almost every demographic.
Indicators are less encouraging, however, for smaller independent theaters with four screens or less. And, as ever, it's a tough time for cinema purists and art-house aficionados, both in the East Bay and beyond. One wonders if we'll even have an opportunity to snack on soylent green while watching 52-year-old ScarJo sip robo-Chardonnay and solve Sudoku holo-puzzles in a generational reboot of
Paris Can Wait
in the art-house theater of the dystopic future.
"People have more entertainment options, it's gotten more expensive to operate theaters, minimum-wage rates have gone up, and we've had to figure out how to adjust prices accordingly," explained Ky Boyd, proprietor at Rialto Cinemas, which operates theaters in Berkeley, El Cerrito, and Sebastopol. "It's a delicate game to figure that out."
Meanwhile, lickspittle tech journalists bark like hungry seals every time Netflix CEO Reed Hastings bashes theaters. And even David Lynch recently declared that "feature films are in trouble and the art houses are dead."
Big-box chains such as the brand-new AMC complex in Newark offer an emphasis on luxury recliner seating, expanded food menus, and beer and liquor sales — largely copying a game plan masterminded by art houses. Add in the industry-wide concern about video-on-demand services undermining movie theaters, and an always low-margin business has become razor-thin.
Are we headed for an extinction-level event, or are independent and art-house theaters simply businesses on the
recline
?
Boyd and several other local indie-theater operators are making it work despite the challenges, with some places even posting record sales, and others eyeing expansion initiatives. And in this lonely digital age, theater operators are also taking on key roles in their communities.
"Our niche is more creating a shared experience for people," is how J. Moses Ceaser, owner of the second-run New Parkway Theater in Oakland, described his business model. "I think that's something that people who say movie theaters are going to go away underestimate:
"The power of a shared experience."
Lean Back, Going Forward

Phfffffffp.

The chair leans back.
Twfffffft.

Up comes the leg rest.
These plush luxury loungers were installed less than one year ago, but when the chairs move and distorted fabric rubs against fabric, many already emit a noise akin to passing gas. Nothing too ostentatious, just a pinched, clipped, airy, borderline discreet sort of fart.
Perfectly executed, the noises could provide a hilarious heckle to the on-screen action — during one of the many laugh-free stretches of Baywatch, for instance — but it's almost impossible to get the timing right.
[pullquote-3]Noises aside, these seats are still more comfortable than any single piece of furniture in my house, and, as a film critic forced to see a lot of things I don't care about, I will admit that the recliners make bad movies much more tolerable.
Theaters are spending hundreds of thousands of dollars per auditorium to add luxury chairs that reduce seating capacity by up to 60 percent, which means they are selling fewer tickets while also hiking up prices. Major chains such as Regal, AMC, and Cinemark are ramping-up that recliner-renovation process across the country, and even the art houses are starting to follow suit.
"The whole expectation of a movie theater has completely elevated on every level, whether it's the straight commercial guys or whether it's the niche companies," explained Ted Mundorff, CEO of Landmark Theatres, the largest exhibitor of specialty films in the country. Landmark Embarcadero in San Francisco has several auditoriums with reclining seats, part of a 2014 remodel, and Landmark plans to expand the amenity to more theaters where it makes sense.
"Most theaters will be recliners at some point," Mundorff predicted. "People vote with their pocketbooks, and they have definitely voted that they like recliners."
Here in the East Bay, the Landmark's Shattuck Cinemas in Berkeley still bears the marks of a decade-old remodel, with low leather chairs that lean back but don't fully lounge. It's a reminder of how quickly things can change, the previous generation of comfort already rendered squeaky and obsolete.
The historic Alameda Theatre plans to install recliners in its multiplex annex later this year. But other operators are less optimistic about "recliner-plexing," especially for smaller theaters.
"You take a huge cut in capacity with these big, honking chairs, and I have questions about the value of that," Boyd said.
For small theaters, simple logistics make recliner seating and other modern amenities unattainable. The Roxie in San Francisco, for instance, could never convert to recliners due to its limited space (they can't even serve liquor or a full menu, because they don't have room for a kitchen). Old theaters offer historic value and neighborhood loyalty that more stylistically functional theaters can't match, but they also present challenges.
"A building like the Grand Lake sucks up money for maintenance and repairs," owner Allen Michaan told the
Express
. "We've put the money into the building to accentuate that part of the experience."
The harsh reality of Bay Area rent spikes is another concern for independent-theater owners. "We lease our space, and we're subject to one of those massive, San Francisco-style rent increases at any time, because we do not currently have a long-term lease," explained Dave Cowen, the Roxie's executive director. "There's always the concern about being priced out."
High rents don't exactly help when searching for employees to fill these historically low-paying jobs, either. "It's becoming increasingly hard to attract employees to work in San Francisco because so many of them have onerous commutes," Cowen added.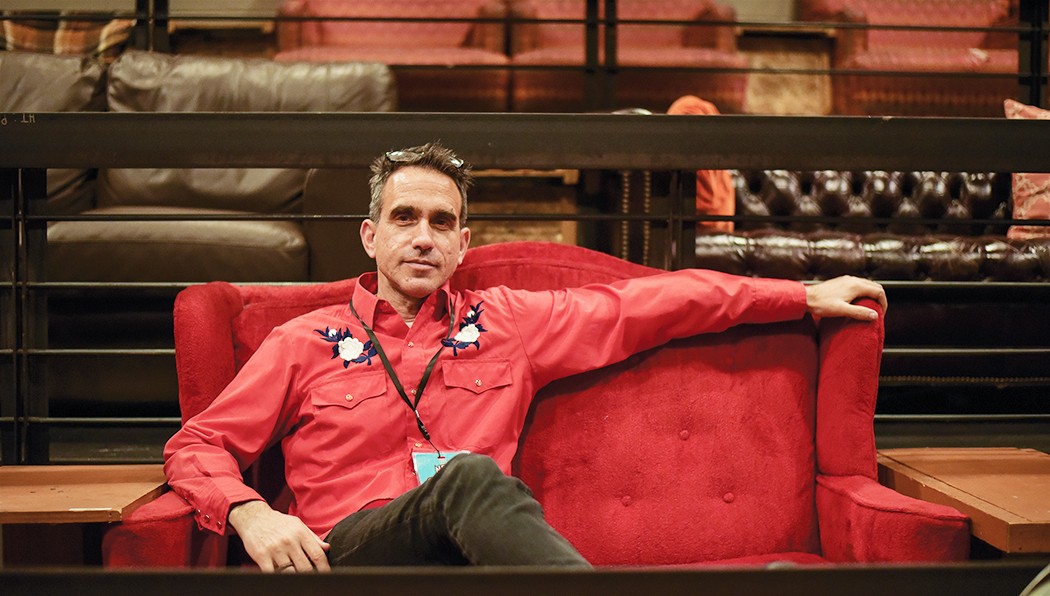 At the funky and iconoclastic New Parkway Theater in Oakland, a second-run flophouse with a distinctly familial vibe, owner Ceaser says he pays his employees a living wage, and folds tips into the food and drink prices.
"Our biggest challenge is that we operate on a razor-thin margin," Ceaser said. "That means we need to be smart about the programming decisions we're making. It means we need to keep waste down to an absolute minimum."
The New Parkway has successfully carved out its niche due to offering diverse programming in a unique setting, but at many art-house theaters, the waste usually ends up on screen.
The Vanishing Indie Movie

Art-house cinema has long served as the
Pride and Prejudice
to Hollywood's
Pride and Prejudice and Zombies
, but a quick scan of the "independent films" playing in the Bay Area reveals an alarming amount of redundancy.
Some combo of
Paris Can Wait
,
Beatriz at Dinner
,
My Cousin Rachel
, and
The Hero
played on nearly every art-house bill until June 30, when they were all joined by
The Beguiled
. When 47-year-old Rachel Weisz serves as the de facto whippersnapper, it's not hard to see who these films are for.
"Over the years, the independent product has targeted an older audience," Mundorff observed. "We don't get teens, and for the most part, they're not interested in the indie product until they get older."
With video-on-demand taking many of the more daring and less bankable indies off the market, art-house programming plays almost exclusively to an older, risk-averse base. These are the audiences unserved by the juvenile drivel of Hollywood, watching discarded stars like Richard Gere, Susan Sarandon, and Sally Field elongate their careers playing complex and often sexually active seniors in plum, above-the-title roles.
But will the next generation of seniors seamlessly segue into that art-house demographic, or is an entire generation weaned on The Avengers as the platonic ideal of cinema utterly hopeless?
In a National Audience Study of art-house patrons conducted last year by the Art House Convergence, the Roxie found that their customers skewed substantially younger than most art house theaters. Explains Cowen: "A a lot of repertory film being played at other theaters is not from an era that the younger audiences connect with. And when you look at theaters like Landmark theaters, they're booking films across the country and often are targeting an older demographic, because they're not programming for the community." By contrast, the Roxie concentrates on screening unseen gems, often with an "in-person element."
[pullquote-4] Like the Roxie, the Alamo Drafthouse on Mission Street in San Francisco secures its desired crowd of young hipsters with disposable income by screening the childhood "classics" that they hold dear. With its slate of second-run films and live-TV broadcasts, the New Parkway also attracts a younger audience (the season finale of
RuPaul's Drag Race
drew a sold-out audience), although not necessarily by design.
"I thought we would have more of that older crowd, but we tend to be very millennial-heavy," said Ceaser with New Parkway. "Part of it is the fact that we don't have parking. We're grittier than some other places, and people have to work a bit more to get here."
Traditional art-house theaters rely on awards-season product to boost their bottom lines, but this year's surprise champ Moonlight was already available on video-on-demand when it won best picture, even though it debuted commercially only three months prior. Moonlight got a minor bump from the win, but still grossed just $27 million at the domestic box office (2016 films that grossed more: When the Bough Breaks, Ouija: Origin of Evil, Inferno, Dirty Grandpa). Studios such as Comcast-owned Universal and AT&T-owned Warner Bros. yearn to carve that video-on-demand window even thinner.
Landmark dominates the mainstream art-house market in the Bay Area, but they're a sprawling chain co-owned by Mark Cuban. Ironically, the local independent theaters rarely play actual independent films, because Landmark theaters eat up all the desirable titles.
"When the prime specialty titles come along, the art-film distributors are giving everything to Landmark, and we can't afford them," Michaan with Grand Lake explained. "We don't want to play the leftover ones, so we're not really in the art market."
Meanwhile, larger Landmark theaters like the Shattuck often end up screening such anti-art house fare as
Cars 3
and
47 Meters Down
.
Brews, Gimmicks, and the 'Third Place'

It's a slow morning at MacGuffins. AMC theaters have been expanding their MacGuffins Bar program during the last few years, but the one in Emeryville is closed for the matinee shows. Later today, at a curved bar inside the lobby of this AMC Bay Street 16 cineplex, audience members will be able to purchase beer, wine, hard alcohol, and mixed drinks. The concept is apparently quite popular — but the tap list is disheartening, dominated by the likes of Blue Moon and Stella Artois.
At the SCENE Winebar Café inside the Rialto Cerrito, though, there are legitimate craft beers on tap from Ale Industries, Henhouse, and Benoit-Casper, with more available at the snack bar. They have a curved bar almost identical to MacGuffins, but the tap lists are obviously curated, with an unspoken bias toward Sonoma County breweries.
Over at the Alamo Drafthouse in the Mission, a Moonlight saison is served in a proper tulip glass, although the dinner-theater atmosphere made me weirdly self-conscious that I was distracting the sentient automobiles acting their animated hearts out onscreen. And at the Reading Cinemas-operated Tower Theatre in Sacramento, beer from local legends Track 7 is poured into a real, shatter-able pint glass.
More than ever, movie theaters are looking to the craft-beer boom to boost their bottom lines. "Beer helps keep us in business. … It's something that you're seeing throughout the industry, not because folks are suddenly latching on to that idea," Cowen with the Roxie said. "It has more to do with the revision of regulations."
[pullquote-2]Theaters in Washington, Utah, Missouri, and other states are lobbying legislatures and city councils to pass new laws and repeal old ones so that they can keep up with the beer-and-a-movie trend. But there is still a lot of variance depending on the state. In a relatively recent development, California is ahead of the curve.
"Twenty years ago, you couldn't serve alcohol in theaters," Mundorff recalled. "You could sell beer and wine in a theater for the most part, but not in the auditoriums. Over the last couple years, that changed in the state of California."
Now, the large chain theaters are scrambling to secure their liquor licenses, emulating a philosophy that originated in the art houses. It makes sense, since theaters have always made their money off concessions (studios take a sizable chunk of ticket sales, thus the severe snack bar markups), and family-friendly breweries and beer gardens have lessened the stigma of public imbibing.
Beer is an essential part of the business plan at the New Parkway, which also offers a full menu and delivers food to seats using table trackers. The historic Alameda allows moviegoers to order food online before the film and have it delivered to their seat. And more theaters are jumping on the bandwagon every day.
"The beer-and-wine thing is something that we're looking at, because it seems to be very popular," Michaan said. "I would hate to think that I'm losing customers because people are saying, "Let's go out to a movie tonight, but let's not go the Grand Lake because they don't serve beer and wine.'"
Theaters need to offer a signature experience; it's not enough to simply screen movies anymore, and liquor sales are becoming an essential part of that experience. "We believe in being a 'third place,'" Boyd said. "First place is your home, second place is your work, third place is where the communities gather and interact with each other."
Theme nights, giveaways, gimmicks, and community partnerships are also on the rise. The New Parkway's "Karma Wednesday" program allows customers to pay what they want, with a percentage going to local charities, while the Roxie and the Rialto Elmwood frequently host nonprofits.
"One of the joys of being an independent theater owner is that you get to say yes," Boyd said.
And the new business model is more than simply offering amenities; independent movie theaters that persevere entice people in with unique entertainment. "We can offer experiences that people don't have anywhere else, being 234 seats, not having recliners," Cowen said. "When we have Q-and-As, the audience can be involved in a way that they're not involved with their giant recliner seats that take them away from the stage."
[pullquote-1] It's a concept that has apparently taken root, as the Roxie has seen business grow by 40 percent since 2015. "People are coming out to see independent film in the theaters perhaps more than ever before," Cowen said.
Ultimately, the modern movie-theater business is about finding a need and filling it, maximizing attendance, and creating an experience that you can't get on your couch. That might mean the unique programming of the Roxie, the inimitable vibe of the New Parkway, the singular grandeur of the Grand Lake and the Alameda, or simple amenities like cold beer and comfortable seats.
Theater owners have historically proved adaptable to seismic changes in their industry, and local independent operators appear confident that, despite all the challenges, the movie-going experience isn't going away anytime soon.
Or, as Ceaser put it: "I think that everyone in the Bay Area and beyond should have the opportunity to have a movie-going experience that is not the big-box kind of experience."
Daniel Barnes is a freelance writer, member of the San Francisco Film Critics Circle, and a former surly art-house theater employee.