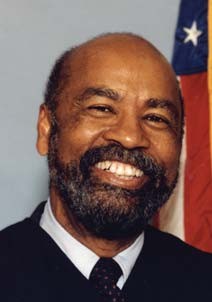 In an order issued this afternoon, U.S. District Judge Thelton Henderson required the City of Oakland to implement a list of reforms designed to ensure that future police misconduct and criminal cases aren't mishandled and kept secret from other city officials and outside authorities.
The reforms were recommended in a special investigation published earlier this month that revealed how key Oakland police commanders and officers mishandled the Celeste Guap sex exploitation case.
Henderson is requiring the city to file a report on the status of these reforms on September 15.
For any of the changes that aren't implemented by that date, the city must name the police officials responsible, and they could face contempt proceedings or other sanctions if they miss deadlines.
The required changes include:
Having OPD criminal investigators inform the District Attorney whenever there is reasonable suspicion an officer committed a crime, and training officers in this mandatory practice.
Having the department's special victims unit lead investigations into alleged police sex crimes, rather than allowing homicide investigators to lead these cases.
Requiring internal affairs investigators to involved the Oakland City Attorney's Office much earlier in police misconduct cases.
Requiring internal affairs to brief the mayor and city administrator on all major police misconduct cases on a monthly basis.
Jim Chanin, one of the civil rights attorneys who is party to the reform program, said the judge's order doesn't go as far as he and his partner John Burris would like. Chanin and Burris want all of the police officials responsible for mishandling the internal sex exploitation investigations in late 2015 to be identified, and for those responsible to be disciplined, if possible.
"I'm expecting that the city's report will include information such as who is responsible for any deadlines where people should have been investigated and disciplined if appropriate. That should be in the city's report for the judge to see."
But Henderson's order doesn't appear to require this, and the city didn't offer to identify all of the officers who were referenced in the Swanson-Barron report and impose discipline, if possible. Many of those officers have been identified by the
Express
over the past few weeks. At least two of them have been promoted to high-ranking posts in the department.
This is Judge Henderson's last involvement with OPD's 14-year-old consent decree. Following his retirement on August 11, the case will pass on to Judge William H. Orrick III.
"The Court would ordinarily reiterate that it remains fully prepared to use its powers to the extent necessary to ensure that Defendants finally achieve sustainable compliance," explained Henderson, "but the Court must instead leave this case to another judge."
The next court hearing will be held on October 2.
In parting words, Henderson wrote that the city must take action to bring about change. "Now, more than ever, is the time for action and not just words."
[pdf-1]