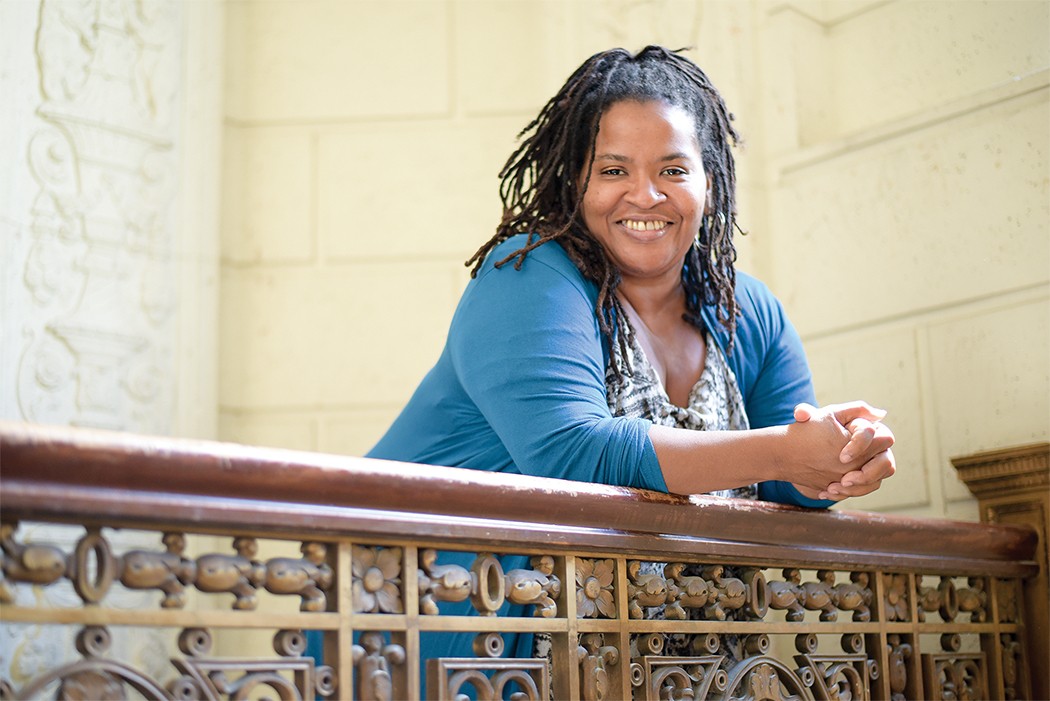 Oakland's skyrocketing rents are affecting more than just low-income households. Now, the same nonprofit organizations that serve low-income people are beginning to suffer from the high-rents harming their clients.
Though the problem is less extreme in Oakland than in other Bay Area cities, many local organizations that work to empower low-income communities and people of color are being disproportionately impacted. What's more, Oakland's city government appears to be exacerbating the crisis by not dispersing nonprofit funding in a timely manner.
"We're losing real community treasures — whether they're arts programs or workforce development — that contribute to Oakland's culture and to its uniqueness," said Regina Jackson, President and CEO of the East Oakland Youth Development Center (EOYDC).
A recent city report requested by Councilmember Desley Brooks found that while Oakland actually had a net gain of 278 nonprofit jobs between 2008 and 2015, bringing the estimated total to 4,581, the groups focused on serving vulnerable communities are having a hard time holding onto their spaces.
That's because between 2012 and 2016, the average rent for office space in Oakland increased from approximately $22 per square foot to $37. It's even worse downtown, where most of the city's nonprofits are located, and where the average rent is now $47 per square foot.
This trend has nonprofit leaders worried.
Oakland nonprofits that serve low-income residents and communities of color — which, according to a study by the Greenlining Institute, often receive little outside funding — are being disproportionately squeezed. A full 87 percent said that the booming real estate market adversely affects their organization.
According to a Northern California Grantmakers survey of 500 Bay Area nonprofits cited in the report, 23 percent of Oakland's nonprofits fear they may lose their current space within five years due to rising rents. In the Bay Area as a whole, the outlook is even worse: About half of nonprofits anticipate cost-related moves to cheaper areas.
"The issue is not so much about the volume of nonprofits being displaced — the way it might be characterized in San Francisco," said City of Oakland Special Projects Analyst Marisa Raya, who prepared the report. Rather, it's that the organizations Oakland is poised to lose provide some of the most critical services to the community here.
Councilmember Brooks claims that the city is making the financial situation even harder for local nonprofits by ignoring its own Prompt Payment Ordinance. Authored by Brooks and originally enacted on January 15, 2008 for contracts relating to the purchase and lease of goods and services, the ordinance was amended on November 18, 2014 to include grants to nonprofits. It mandates that money for grants and contracts be paid within 20 business days after receiving an invoice. These city grants form a large part of many nonprofits' operating budgets.
The problem, Brooks told the
Express
, comes from the fact that "we don't advance organizations their grant money. They spend the money, and then we reimburse them." But when the nonprofits are ready to apply for reimbursement, they're bogged down by red tape. Before an organization can even submit an invoice, for instance, it needs to acquire signatures from numerous people in multiple city departments, which can take weeks or even months. During this time, the nonprofits are spending funds they may not have to carry out programs or projects that are supposed to be paid for by the grants they were promised.
"Almost since the inception of the Prompt Payment Ordinance, the city has been figuring out ways to circumvent paying," complained Brooks.
Though the city does not currently have data on how often it has violated the Ordinance, the Oakland Private Industry Council, which provides job training services, has been hit especially hard. According to Richard de Jauregui, the group's director of planning, between April 2011 and December 2012, PIC submitted 22 invoices totaling $1,597,000, all of which were paid late. At no point during those 19 months was the city up to date on its payments, de Jauregui charges, and the money it owed PIC at any given time often amounted to hundreds of thousands of dollars.
"We — as a nonprofit organization already struggling — were forced to bridge the gap," said Robin Raveneau, PIC's workforce services director. "That created a larger and larger [financial] hole over time, and we're still suffering the repercussions."
At a recent city council community and economic development committee meeting, Raveneau told the councilmembers her organization, "can't cut rent, so what happens is that we have to cut staff. That cuts [our] ability to serve the very people that we're mandated to serve."
Like many other nonprofits, PIC will soon be forced to move to a less expensive location, probably far away from its current downtown office, where it started almost 20 years ago.
Natalia Mount, the executive director of Pro Arts, one of Oakland's oldest contemporary art nonprofits, said that her organization often receives late grant payments as well, but maintained that she doesn't blame the city, as federal grants are often paid late, too.
On the other hand, EOYDC's Jackson said the late payments are a serious issue. "The city government is here to serve. They need to tighten up [their payments], because these are people's lives that are being affected," she said.
Pro Arts and EOYDC are two of the dozen or so Oakland nonprofits that occupy city-owned property rent free — a situation that many, including Brooks, think could be a potential solution to nonprofit displacement. That is, if Oakland is able to find more unoccupied space to offer.
Dr. Jason Luger, who teaches city planning at UC Berkeley, said that this could "absolutely" be viable, particularly if a local proposition was passed. He added, "this could also extend to non-city-owned properties. For example, the city could work on an agreement with a developer to offer nonprofit or community space at [below]-market rent on the ground floor of a residential building."
EOYDC is one example of a nonprofit that the city has supported since its inception. It was developed in partnership with Oakland in the 1970s to offer artistic, educational, and cultural programs for children and young adults. The city owns the building the group occupies, located at the corner of International Boulevard and 83rd Avenue, for which EOYDC holds a 66-year lease at the rate of $1 a year. Jackson said that this arrangement is "everything," and that the nonprofit likely wouldn't be able to function without it.
Though Pro Arts is an independent organization, its gallery space is in an Oakland-owned building across the street from City Hall. Mount explained that when a fellow nonprofit, the city-run Oakland Art Gallery, shut down 11 years ago, Pro Arts took on several of its projects and eventually the space it had occupied.
However, the rent-free arrangement isn't permanent and Pro Arts is currently in negotiations with the city regarding rent going forward. Mount said that the negotiations seem to be going well, adding, "We contribute so much to the vibrancy of the art scene in Oakland, so we remain hopeful that we'll have the support of both the city and the community."
However, she admitted that even a below-market rate would be a financial strain on the organization's $300,000 annual budget. "If it comes to a point where we might be displaced," she said, "I hope the community will rally and will tell the city that this is not right."
Since the city of Oakland doesn't have nearly enough space to house every struggling nonprofit, many of these organizations are also relying on outside philanthropic firms — or even other nonprofits — for help.
John McGuirk, the Performing Arts Program Director at the William and Flora Hewlett Foundation, for instance, recently arranged for a $1.7 million grant to the Community Arts Stabilization Trust, in partnership with another philanthropy firm, the Kenneth Rainin Foundation. According to McGuirk, "arts and culture organizations have been hit particularly hard [by rising rents] because they need more specialized spaces" than can be found in a typical office building.
The Greenlining Institute, which fights redlining — the practice of denying services or loans to residents in predominately non-white areas — decided that the best thing it could do to help itself and other nonprofits was to buy a downtown building with the help of its backers and to offer space to several smaller organizations at a below-market rate, something EOYDC also does.
Greenlining President Orson Aguilar told the
Express
that while he doesn't expect commercial rents to deflate anytime in the near future, "there's still an opportunity, given real estate costs in the East Bay, for the funder community to step forward and purchase buildings, leveraging federal sources, as we did, to create permanent homes for nonprofits."
EOYDC's Jackson added, "The very essence of nonprofits is to serve those who cannot serve themselves, to provide resources to folks that don't have them. They need help now more than ever."