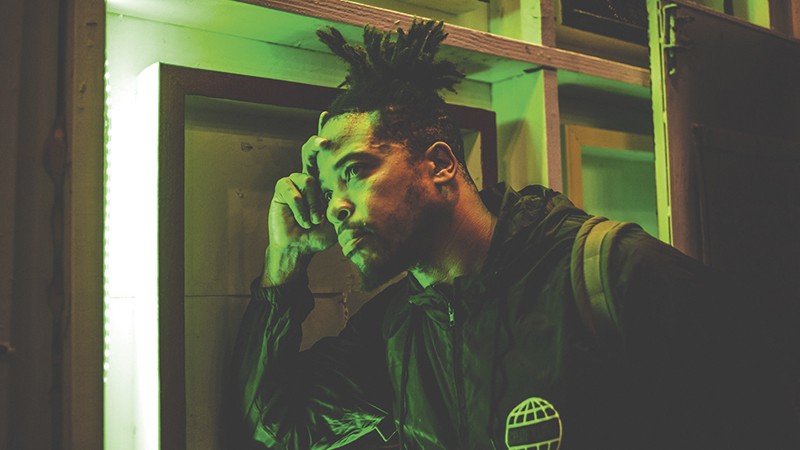 To most, Steve Gaines is known as Baba Zumbi — the prolific, underrated rapper who co-founded the Bay Area hip-hop group Zion I.
But on a Wednesday in December, Gaines was dealing with more practical matters: buying a car. A couple months ago, while the rapper was driving with his three kids, a wheel shot off his axle, causing the car to slide to a screeching halt on the side of a freeway onramp. Everyone came out of it OK, but the experience made Gaines give up used cars, which is why he was at the Honda dealership in San Leandro.
In between talking to insurance agents and negotiating with sales staff, Gaines found time to do an interview, shifting to deeply personal and philosophical topics, from why his raps are so positive to how tai chi keeps him sane.
"When I don't do [tai chi] on a consistent basis, I actually start to feel kind of sick — not sick like I'm coughing or a cold… but I just don't feel like myself," said Gaines. "I realized I have to do it to be who I am."
And then, when the dealership needed him to look over some paperwork, he switched back to his alter ego — the practical dad, shopping for a new car for his family.
"I apologize, dude, I gotta call you back again," said Gaines, before hanging up.
Such is life for a working-class rapper. In between juggling his family and rap career, it's no wonder that he has to do interviews while running errands.
However, he's not at all surprised with the way things have turned out for him. He always knew that his path as an underground hip-hop spiritualist wasn't about mansions and Bentleys. He gave up on what he calls the "ego monster" rap star dream long ago.
In the early '90s, his former rap group, Metaphor, which also included producer Amplive, had a brush with fame, earning a co-sign from legendary hip-hop label Tommy Boy. But, due to creative differences, the duo quit the label in search of a more authentic outlet for their unique brand of hip-hop.
Instead, they started Zion I, which paired Gaines' love of unbridled lyricism with Amplive's knack for exploratory beats. On their 2000 debut album, Mind Over Matter, Gaines' rhymes straddled between the humdrum of everyday life and a higher, spiritual pursuit. Heady tracks about systemic racism like "Koncrete Jungle" exist next to "Mysterious Wayz," an ordinary tale about flirting with a girl on public transportation. From the drum 'n' bass futurism of their debut to the synth-heavy, electronic flourishes of 2009's The Takeover, Amplive's beats provided Gaines the space for experimentation, separating the group from other socially conscious hip-hop acts like Talib Kweli and Mos Def.
And for almost 15 years, Oakland was the backdrop of his whole operation. But in 2015, all of that changed. Early in the year, Amplive left Zion I, ending a creative partnership that lasted more than two decades. And not long after the split, the rapper's landlord decided to sell his East Oakland house, forcing him and his family to move to San Leandro. Gaines shot the video for his song "Tech $" as his family moved out — a stark, visual reminder of how Oakland was being gentrified.

"It was just a lot to juggle at one time, man," said Gaines. "And I wrote that song pretty much out of frustration with everything going on but really just like not believing that, with all the shit going on in my life, I also had to move from the city I love so much."

And if that weren't enough, soon after the rapper's father died. By the end of the year, he had also lost his grandmother, as well as his good friend, CNN reporter Lateef Mungin. The events sent Gaines into a depression.
"I tried to channel it into the records, but it was even hard to make records," said Gaines. "When my pops passed, man, it took me like a month to write a song. The night he died, I wrote a song that night, and then I was just so torn up, I couldn't even get on the mic without crying."
His bout with mortality came to a trippy peak one late night in his recording studio. He said he was playing beats, freestyling, and smoking weed when he experienced something between a hazy vision and a gut feeling: He felt as if his deceased friend Lateef was sitting right beside him in his studio.
"I started to trip out, like, 'Woah, I'm bugging out,'" said Gaines. "I wasn't talking to anybody physically, but I felt like in my mind, I was having a conversation with him…. He was like, 'You're still alive, you've got shit to make happen. If you're not gonna let that happen, then you might as well join us.'"
The experience left Gaines with a feeling of cosmic connection that the people who had died were still around him, in some form or another. And he felt like they were rooting for him.
"It turned into like a really grounding feeling for me," said Gaines. "I've opened up to this, now I see it — now I can never deny the fact that I know that the spirit world is always present, and I always have to acknowledge it from here on out."

[embed-1]
In typical Baba Zumbi style, Gaines explained his trials with a spiritual metaphor. He said 2015 was like a deep hibernation, and in 2016, he was just waking up. Two years later, he's starting to feel like himself again. He's adjusted to a rap life without Amplive and is learning the basics of production: how to pick beats, sequence tracks on an album, and work with different producers. His rhymes sound hungrier than ever on his 2016 album The Labyrinth, especially over the boom-bap thump of "What We Gone Do." And he's working on a new project that should drop in the spring as well as going on a national tour.

"Now, I feel like I'm out in the world — I'm breathing; I'm living," said Gaines. "I got producers I like — I'm enjoying rapping; the shows are fun again. I just feel more bright about life in general, I think, and I'm excited for people to hear what's going on."
But, most importantly, while he's still working through his grief, he's found an infinite source of happiness and inspiration in his wife and family. One of his greatest joys is playing music for his kids. Sometimes it's Michael Jackson or the Commodores, and other times it's Disney songs. ("Since they like it, I like it.") Whatever the song is, his house often transforms into an impromptu party, with his baby shaking a shaker while the other two children dance around the room.
"It's everything that I've ever prayed for and hoped for," said Gaines, who ended up buying a hybrid.