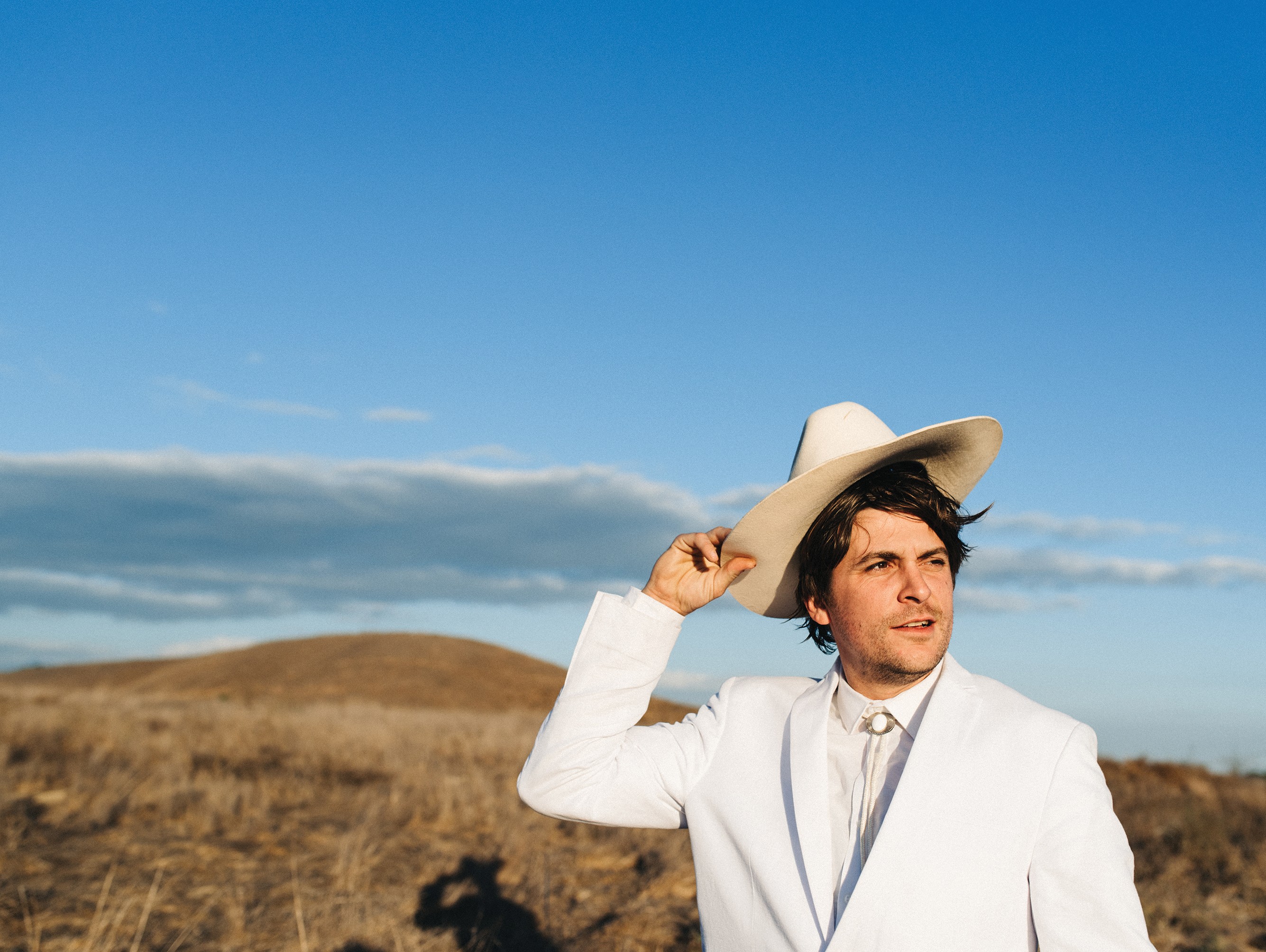 Oakland songwriter Nic Russo, who performs as Dick Stusso, rose at dawn one day last winter to go work in Contra Costa County, where he cuts down trees for a living. His partner, Grace Cooper of the Sandwitches, stayed in bed. Shortly thereafter, someone entered the living room of the one-bedroom Temescal apartment they've shared since 2011 and left with several thousand dollars' worth of home-recording equipment. "I'd cracked the door for the cats," Russo recalled recently. "Grace slept through it, and then I started getting texts from her — 'Where's your computer, and why's the door open?"
The visitor nabbed the only copy of a near-finished recording of In Heaven, Russo's stirring first full-length for Hardly Art Records, the Sub Pop imprint that's also home to Shannon & the Clams. Dick Stusso is Russo's outlet for his cynicism, a failure-prone fantasist in a cowboy hat who, on his 2015 debut, Nashville Dreams/Sings the Blues, sang about drunken self-defeat atop bleary-eyed ballads and teardrop twang, ragged fidelity heightening the drama. Russo's misfortune, in other words, was the sort of misfortune that might befall Stusso in a song — a disastrous setback on the cusp of a career coup.
"Hardly Art were skeptical of me recording the album myself, but I talked them into it. They got me a nice preamp." He deadpanned, "I guess they were right to be skeptical." Russo released Nashville Dreams/Sings the Blues grudgingly, urged by his friend and now-bandmate Rob Miller, who helms Vacant Stare Records. He was surprised, even put off, to soon find himself courted by high-profile indie labels. Stusso, his alter ego, might've taken the theft of In Heaven as a sign that he should withdraw back into obscurity. But he decided instead to re-record the album at The Creamery, the studio helmed by Greg Ashley — who'd recently had an even lousier time than Russo.
Ashley, a songwriter known for fronting the Gris Gris and for his dynamic solo catalog, was evicted in May 2016 from Ghost Town Gallery, the storied West Oakland live-work complex where he'd resided and operated his recording studio since 2006. Panicked, Ashley impulsively flew to Texas, where he's from, with a mind to moving to Austin. There, he even demoed a new song about San Pablo Avenue called "Goodbye St. Paul Street," a kiss-off freighted with bitterness and anger. "But I realized over the course of my month in Austin that it's almost expensive as it is here — plus it's Texas," he said.
Ashley ended up moving his studio, The Creamery, to a former church around the corner from Ghost Town Gallery. One of the first things he recorded was his own album, Pictures of Saint Paul Street. The back cover shows a San Pablo Avenue street sign repainted to read "Saint Paul Street." He was surprised that it only took a month to get corrected. "I thought it'd take like five years," he said. "It felt good to come back and make that record here. Half of the songs are about this neighborhood." The album version of "Goodbye Saint Paul Street," re-recorded after his return, doesn't bite like the demo.

[embed-1]

Russo was nervous about recording in a studio, but Ashley's scrappy analog set-up felt familiar, and the two songwriters were similarly relaxed and spontaneous. "Greg was inviting as far as happy accidents, and Nic thrives on that," said Miller, who played guitar on much of the album, often invited to the studio with little-to-no notice. "I think because Nic lost those recordings, he ended up reimagining some of these songs in the studio."
In Heaven, which they recorded between March and May last year, loosely follows up the theme of drunken music-industry misadventures from Nashville Dreams/Sings the Blues, with songs about the ethical quandaries and self-doubt of a songwriter with a "little bit of success," said Russo. "The Big Car Commercial Payout," which sets sleazy, down-pitched voices against the breathy refrain It doesn't matter anymore, is about money corrupting creativity, while "Terror Management" is inspired by the idea that society is organized around a pervasive fear of death. By the time you get to the shuffling, pedal steel-glinted closer, "In Heaven," you'll wonder if it references happiness or surrender.
The album's production is unsurprisingly slicker than the home-recorded Nashville Dreams/Sings the Blues, but the difference is more so in the songwriting. In Heaven features little of its predecessor's madcap amphetamine chatter, and more of its introspective balladry. Dick Stusso is already in his reflective crooner era, holding court in a murmuring, dim-lit club, but Nic Russo still rises early for work. "My boss, who's kind of legendary for climbing trees other people won't, says I'm at a crossroads — trees or music," he said. "And he wants me to climb trees all day and knock off the music stuff." 
Says Nic, "I'm leaning towards music, even though it'd maybe be healthier if I didn't."
Dick Stusso will perform on Thursday, Mar. 1, 6 p.m., free, at Econo Jam Records (2519 Telegraph Ave., Oakland).