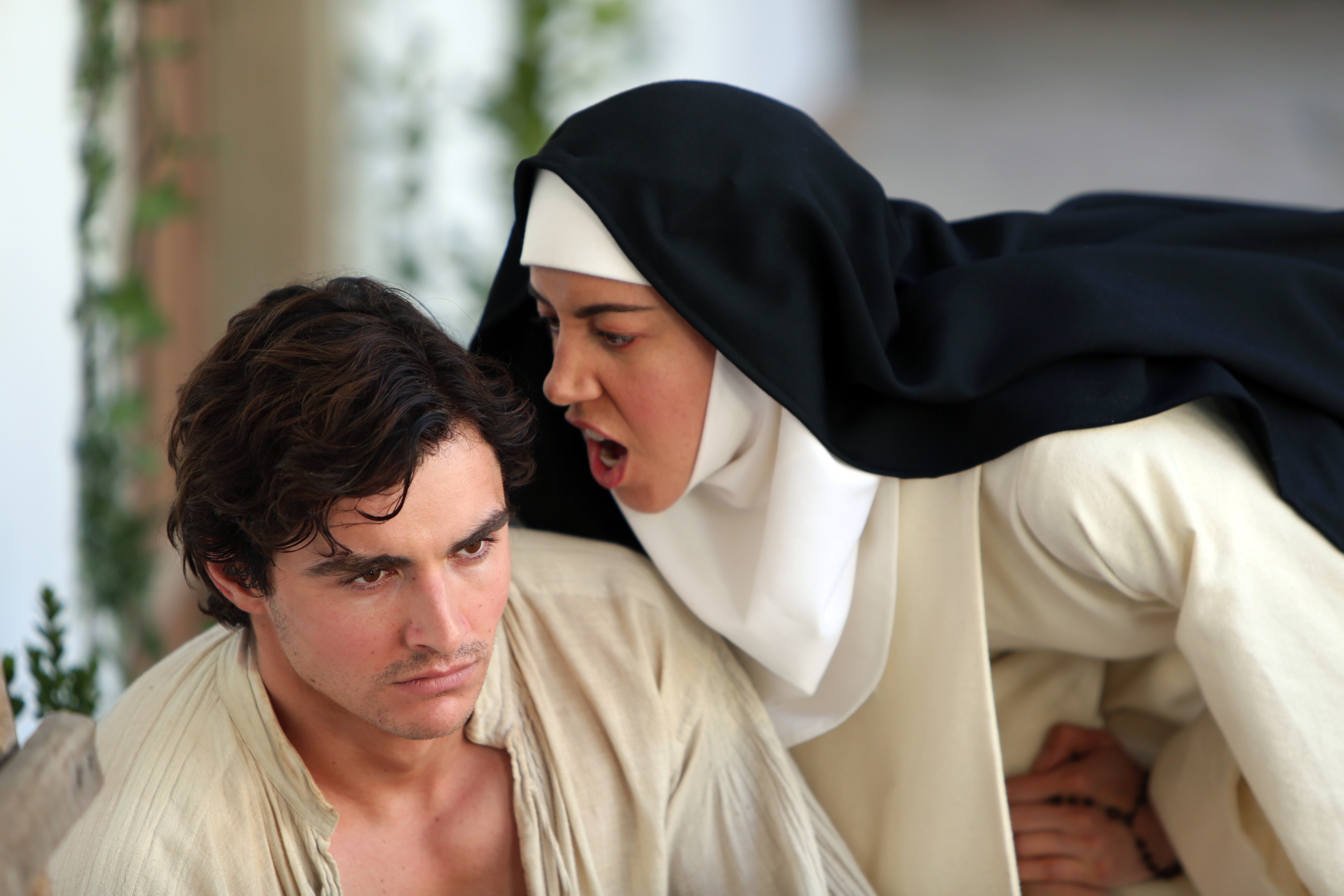 Go, and sin some more: Dave Franco and Aubrey Plaza in
The Little Hours
.
Aubrey Plaza has a terrifying face. It's her eyes, chiefly. When the script calls for it – which is fairly often in her career – Plaza's expression can switch from mildly uncommunicative to venomous in a second. We're not talking ordinary hostility here but ferocity, more on the order of a Barbara Steele or Mercedes McCambridge. Hellfire. Run for your life.
Plaza's volatility helped make her one the leading female personas in the now-passé subgenre of mumblecore, sort of the flip side of good-natured Greta Gerwig (the two actresses coincided in Whit Stillman's
Damsels in Distress
). Gerwig's brand of aggression was made for the college dorm or the hipster club, benignly passive, quirky but sociable. Plaza's customary screen temperament, on the other hand, belongs in a moonlit forest of predators. Strictly nocturnal. Guttural groans and foaming at the mouth. Keep your distance.
Keeping your distance is a pretty good strategy for viewing Jeff Baena's
The Little Hours
, starring Plaza as a medieval nun getting into mischief in an Italian convent. Filmmaker Jeff Baena's main gag – really the only joke – is that Sister Fernanda (Plaza), Sister Alessandra (Alison Brie), Sister Ginevra (Kate Micucci), Father Tommasso (John C. Reilly), and the rest of the religious characters are absolutely nothing like the typical meek, mild, saintly Christians from old-fashioned epics. In fact, the holy sisters here more closely resemble a squad of bad-tempered, vain, deceitful, lust-crazed 21st-century valley girls – especially when the young and handsome hired man Massetto (Dave Franco) arrives at the nunnery.
It's fun for about the first ten minutes. Writer-director Baena was evidently in need of a vehicle to suit his girlfriend Plaza's special talents, and he chose to adapt
The Decameron
, Giovanni Boccaccio's 14th-century collection of satiric tales about naughty nobles and clergy.
The Little Hours
has the setting of a subdued medieval allegory by Bresson or Pasolini, but the writing, acting, and even the music track are strictly from Exploitationsville.
The references pile up: last year's
The Witch
, Monty Python, Ken Russell's
The Devils
, the British shocker
The Blood on Satan's Claw
, anything by any Argento, the Japanese sex romp
School of the Holy Beast
, etc. Reilly plays the kindhearted priest, with the always reliable Nick Offerman as a blockhead lord – together they supply some much-needed comic latitude. Meanwhile Plaza's Fernanda circles the drain vigorously. She and Baena show a slight bit more imagination than they did in their 2014 zombie pic
Life After Beth
, but
The Little Hours
is nothing more than a basic "bad old days" farce, ripe with on-location camera work (by DP Quyen Tran) but basically out of fresh ideas. This convent smells like a mall.