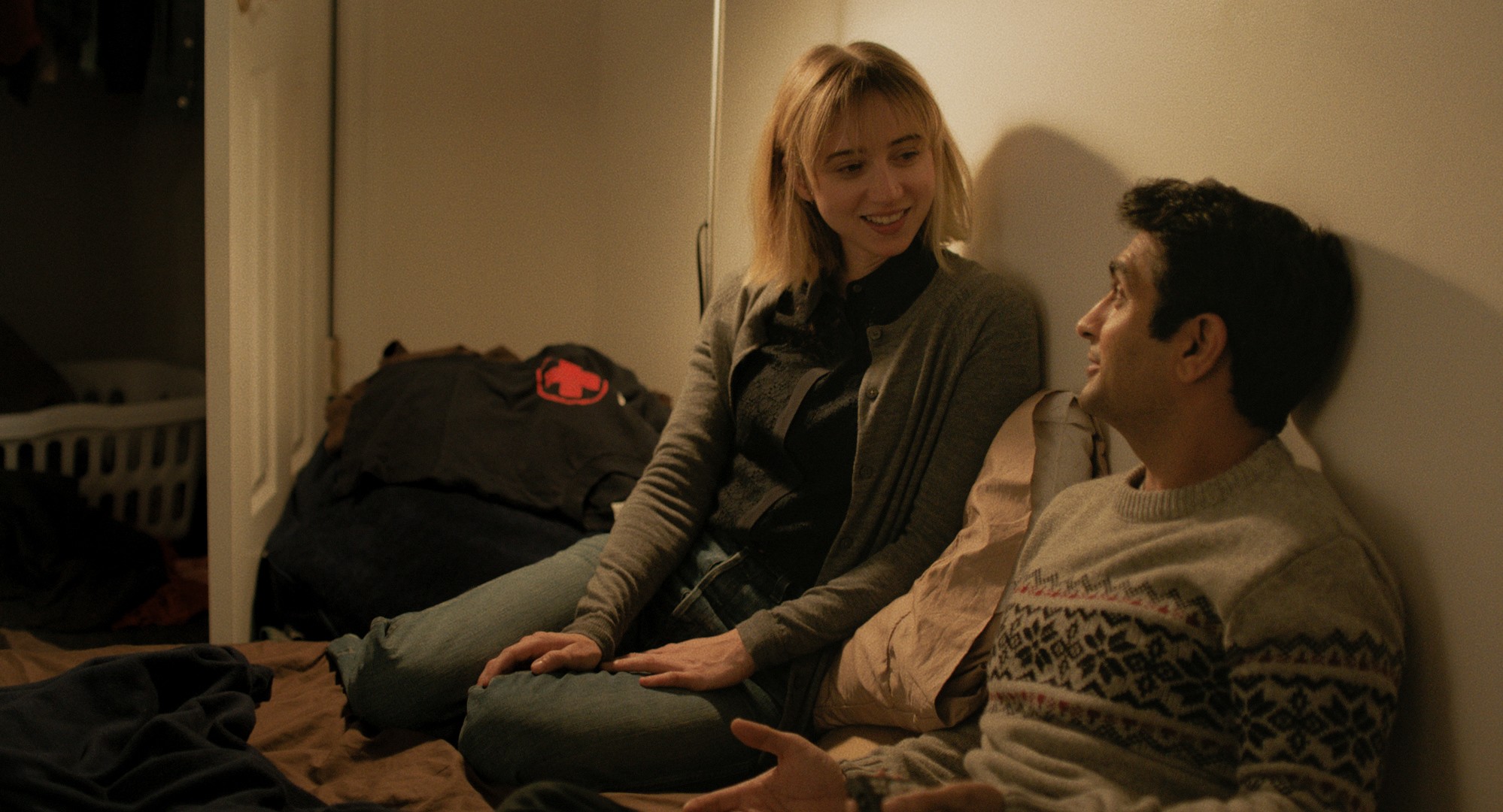 Zoe Kazan and Kumail Nanjiani trade punch lines in
The Big Sick
.
In
The Big Sick
, standup comic Kumail — played by Kumail Nanjiani, co-author of the film's screenplay – drives for Uber daytimes and spends his evenings performing at comedy clubs. His shtick relies heavily on his experience as a Pakistani immigrant, which is understandable given his extremely close-knit family, with a mother ceaselessly trying to fix him up with a nice Muslim girl. Kumail's situation is the classic first-generation ethnic maverick riff, hardly a novelty. But the guy has a congenial loser's personality, so he's got that going for him.
Then one night he gets heckled from the audience and falls in love with the heckler, a white grad student named Emily (Zoe Kazan). Cue predictable reactions, mostly inside Kumail's head because he's afraid to tell his family. We could easily guess the rest of director Michael Showalter's lightly likable romantic comedy – written by Nanjiani and Emily V. Gordon and co-produced by comedy guru Judd Apatow – except that Emily suddenly goes into a coma and nearly dies. That major plot wrinkle is telegraphed in the movie's title, so we can't say we weren't warned.
What follows is more or less what we'd expect from a comic urban slice of life in 2017: A few laughs, a few tears, an affectionate look at nagging old-country immigrant relatives, Kumail's dilemma of choosing between his budding career and his obligation to stand by Emily, and plenty of snappy comeback lines from a cast of eager second bananas. The entire scenario could have been written on the back of a parking ticket. But that doesn't mean it's inherently worthless.
Kumail is quick on the uptake. As someone who occasionally hears "Go back to ISIS!" from drunks in the audience, he's always prepared to throw out a defensive laugh line, à la "We hate terrorists!" as needed, while waiting in a fast-food restaurant line. But the friction is clearly wearing him down. He doesn't want to lose Emily nor be disowned by his parents, but there doesn't seem to be a third way. As for Kazan's Emily, she's also trapped by her affection for Kumail and her parents' hostility toward him – they think he's some sort of Middle Eastern playboy trifling with their daughter's affections.
It's not really Kazan's movie. Emily is the object of affection whose main job is to simply be there. Doesn't matter if she's in a medically induced coma or turning cartwheels on a nightclub floor. The appeal of these two bashful lovers is based on their standard-brand non-threatening attitudes and their "regular people" looks. The lack of glamour is refreshing. How could we stand by and see such a cute couple broken up by trivial misunderstanding?
Cute couple, cute movie, cute writing — the situation is based on the screenwriters' own lives. Keep your eyes on Kumail. Holly Hunter, Ray Romano (those two as Emily's folks), and Kurt Braunohler (Kumail's failed-comic roommate) help smoothe out the rough spots. See it now, don't wait for it to become a cable TV series. A comatose love interest is definitely anti-episodic.