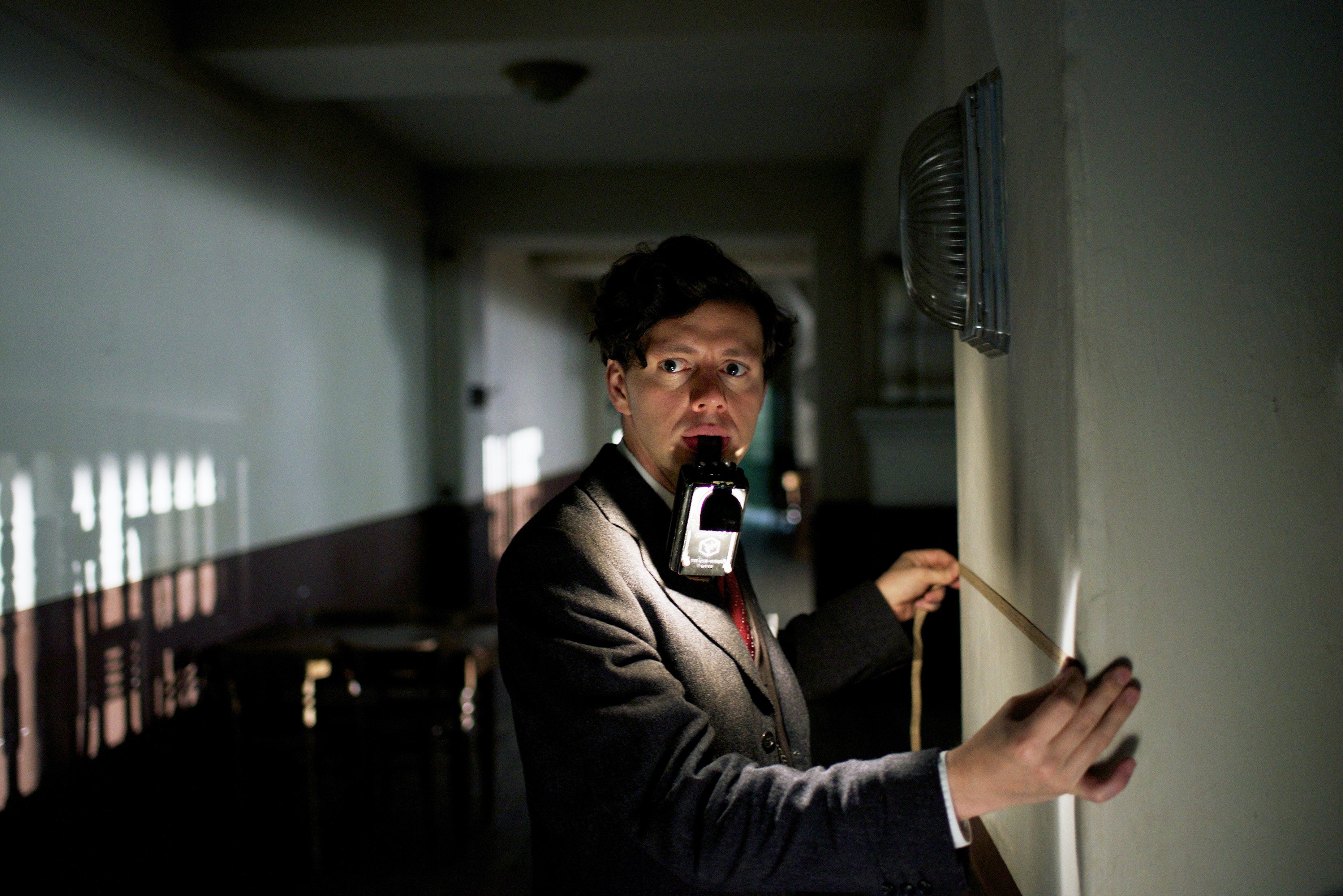 Boom time for Hitler: Christian Friedel in
13 Minutes
.
The title
13 Minutes
refers to the gap between the time that Adolf Hitler left the Bürgerbräukeller beer hall in Munich on the night of November 8, 1939, and the moment when a powerful bomb intended to destroy him exploded, killing eight people but missing Germany's Nazi dictator completely.
Instead of turning this real-life event into one of those movie "nail-biters" in which the audience has to somehow ignore history in order to create artificial suspense, filmmaker Oliver Hirschbiegel chooses to tell the background story of the man who made and planted the bomb, and why he did it. It turns out that Georg Elser, an unassuming carpenter from a small town in Southern Germany, was one of the unsung heroes of the 20th century.
As portrayed by actor Christian Friedel, the boyish-looking "Georgie" enjoys playing his accordion and flirting with the young women in his hometown, but also possesses a strong sense of social justice to go along with his family's Catholic faith. Maybe that's why he frequently has run-ins with the town's Brownshirts, always spoiling for a fight with Georgie's "Red" factory worker friends. And then there's the matter of his not-so-secret affair with Elsa (Katharina Schüttler), the much-battered wife of a local Nazi bully. To them, Hitler is Germany's bully-in-chief, trampling on peace-loving folks and leading the country to ruin. And so something needs to be done.
Scenes of Elser's early life appear as flashbacks during his prison ordeal, after being arrested at the Swiss border. Under the command of the Reich's top policeman, Arthur Nebe (Burghart Klaussner), and Gestapo head Heinrich Müller (Johann von Bülow), Elser is tortured for days in an effort to make him name his collaborators. But there are none. His interrogators, from Hitler on down, refuse to believe he acted alone – they prefer a foreign conspiracy to the idea that a pacifist German worker, acting out of moral conviction, would try to save his country by murdering its leader. "It's obvious you Nazis don't support the people," Elser defiantly tells his tormenters. "You have to do what's right."
Writer-director Hirschbiegel (
Downfall
) wisely relies on the acting of his leading man Friedel, whose down-to-earth performance, alongside those of Klaussner and von Bülow as the torturers, gives
13 Minutes
the feeling of a documentary on an overlooked human-rights hero. But the question nags us: Do we really need another movie about Hitler and the Nazis? They are of course a cinematic staple – in fact, director Klaus Maria Brandauer's
Seven Minutes
, a 1989 English-language production, already chronicled Georg Elser's courage from a similar point of view.
The answer comes in
13 Minutes
' flashbacks, as fascism creeps into Georgie and Elsa's lives like a dirty fog. Those lovers, despite their faults, don't want to start wars or liquidate entire populations or enshrine hatred. Nazis do. Now just as much as in 1939, that's a reality we can never afford to forget. And so this film is entirely relevant.