The Golden State Warriors' motto last year — "strength in numbers" — was designed to celebrate the size and loyalty of the team's fanbase. The motto appeared on TV promos, billboards, and canary-yellow T-shirts draped over every seat at Oracle Arena for certain home games.
Numbers also offer one of the best ways to demonstrate how historically dominant the Warriors have been of late — and how extremely popular they've become.
By the time last year's playoffs rolled around, the jersey of reigning National Basketball Association MVP Stephen Curry was already outselling everyone else's in the league, including that of LeBron James. Warriors' shooting guard Klay Thompson ranked fifth, and forward Draymond Green, 15th, while the Warriors had taken over the top spot for total team merchandise sold.
And as the Dubs amassed 83 wins last year (regular season and playoffs), third-most in NBA history, merchandise dividends exploded like a dunking Harrison Barnes over Dwight Howard last week in Houston. The Warriors' online commerce leapt to more than five times the amount it enjoyed a year earlier, when they were already doing brisk business. In-arena product revenue more than doubled during the same time.
In short, the Warriors' accomplishments, both on and off the court, have been nothing short of astounding. And the team has done it without the benefit of what is widely viewed these days the basic necessity for success in sports: a new stadium. Indeed, the Warriors' achievements at Oracle Arena, a facility that by modern sports standards, is considered old and out of date, provides perhaps the strongest evidence yet that a professional sports franchise can thrive in the current era without a new facility — and can do so in a city and region that some pundits have dubbed (erroneously) a "small market." The key, rather than fancy new digs (although the Warriors' owners covet that, too), is having the best players, a great coach, and a brilliant general manager.
The numbers speak for themselves. The NBA's commercial website, for example, currently features 1,200 different Warriors' items, including a Golden State "Camo Crossover" lightweight full zip jacket ($89.99), Warriors' plastic-face elves ($14.99), and Warriors' women's light blue suede pumps ($79.99).
And the team's bandwagon promises to only get bigger. This year, counting preseason games — but not playoff games — Golden State is slotted to make a franchise-record 28 appearances on national television, or about 28 more than as recently as a half-decade ago.
At the Oracle, the Warriors have packed them in for years — even when they weren't very good. And in their current streak, they've sold out every game since December 18, 2012 — good enough for the top seven in the league. That's a major reason for why the team realized the NBA's second best regular season home record last year (39-2) in 69 years — and a major reason for why 98 percent of season ticket holders renewed this year. In fact, 17,000 fans are now on the Warriors' season-ticket waiting list. A club record 9,000 fans swarmed an open practice at Oracle on October 14.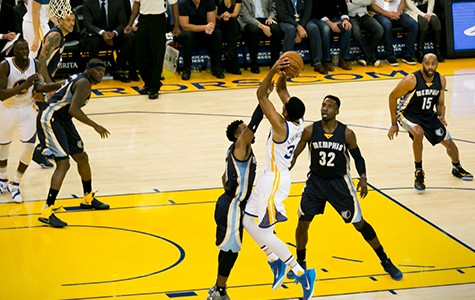 And when the Warriors go on the road, their brand of basketball is almost as popular as it is in Oakland. Only the Cleveland Cavaliers trumped the Warriors average road attendance of 19,596 — or the 96.2 percent rate for complete sell-out crowds — last year. And as they've opened the 2015-16 season 4-0, on yet another hot streak, the Warriors are not just the best, they're beloved.
The Dubs also rank among the top NBA teams in engagement metrics across Facebook, Twitter, and Instagram — with a total of 9.1 million combined followers. The team is also a master of old-fashioned hand-in-hand community engagement. Last season, Warriors' personnel logged more than 150 health, fitness, education, and literacy events around the Bay Area, arranging hospital visits, basketball camps, fan festivals, and food and toy drives, among other activities.
Warriors co-owner Peter Lacob, whose tenure with co-owner Peter Gruber celebrates five years this month (and a 224-170), recently talked about one of the secrets of Golden State's success — it's people — with former Warrior and current announcer Tom Tolbert. "We've got a team full of really good, high-quality people," Lacob said. "I have people come up to me and say, 'I just love your team.' But you know the other thing they say? It's, 'I just love your guys, who they are,' and I think it matters to people — [that] you have high-character people they can identify with and really root for."
And rooting for the Warriors in 2015–16 is easier than ever. It started with more history for Curry. In game one against New Orleans last week, the Warriors' unstoppable point guard became the first MVP to drop 40 points to start a season — beginning with a molten-lava 25 in the first quarter that led TNT commentator Chris Webber (and former Warrior) to call Curry "a human video game."
Then came a resounding 20-point win against another Western Conference playoff rival, Houston, as the Warriors held Rockets superstar James Harden, who continues to whine that he should have been the NBA's 2014­15 MVP, to 4-of-18 shooting.
Then in game three in New Orleans, the second consecutive road game against a playoff team in as many nights, Curry rained down 28 points in the third quarter alone, on the way to 53 overall, and shot 8 of 14 from 3-point range.
The power of his popularity even transcended the Big Easy: New Orleans' staff brought Curry, the star of the team that de-clipped the Pelicans in last year's playoffs, a bag of gourmet popcorn the size of a small silo.
After the Houston blowout, Curry talked about his and the team's winning philosophy. "Every year, you get smarter, you get more experience, you see things better, so it slows down a little bit," he said. "It's staying within yourself, trusting teammates to make plays and being confident and aggressive. The best players in this league learn every year to get a little bit better, to be a little more efficient."
The best franchises do, too. And the numbers tend to reflect it.