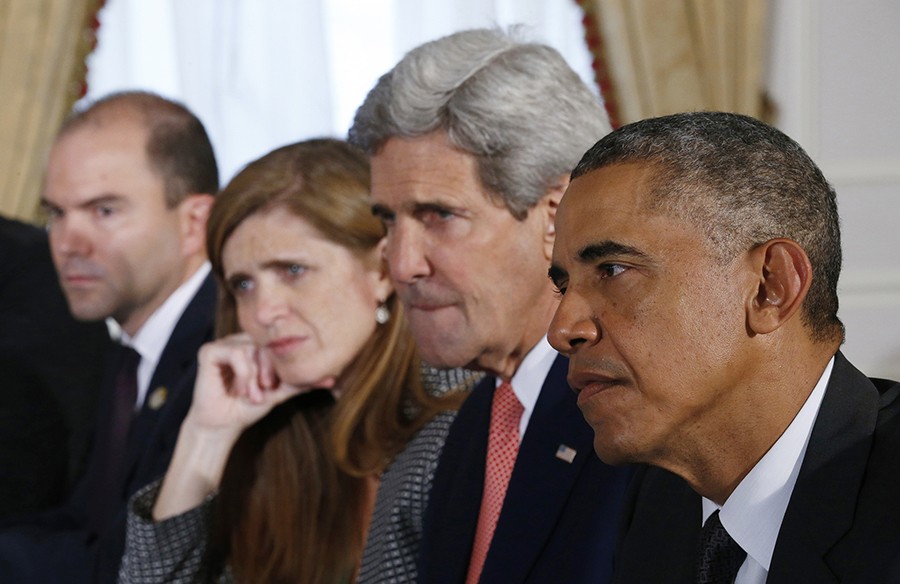 For admirers of political documentaries, a thoughtful profile of the last 12 months of any presidential administration is a potential treat, but supporters of Barack Obama might be wary of walking into Greg Barker's
The Final Year
without bringing along a box of Kleenex. We know how it will end, and the prospect of sitting through it all again is daunting.
But there's a silver lining to Barker's un-narrated, fly-on-the-wall account of Obama's foreign policy team as they tirelessly hit the road during 2016. These people look like anything but lame ducks. Hanoi, Hiroshima, Laos, Beijing, Nigeria, Egypt, Cameroon, and back again to the West Wing. Secretary of State John Kerry, United Nations Ambassador Samantha Power, Deputy National Security Advisor Ben Rhodes, and National Security Advisor Susan Rice represent an uncommon aggregation of political and intellectual ability as they essentially scour the globe on a mission to "repair America's standing in the world" (in Power's words) and "lift suspicion and fear," as their boss puts it. Their goal is essentially the same as their modus operandi: to practice diplomacy and foster democracy.
What a difference a year has made for those lofty objectives. Barker (
Manhunt: The Inside Story of the Hunt for Bin Laden
) and his camera interview their subjects on the run, as if they're already practicing damage control for the foreign policy disaster that lies ahead. Power, shown in the midst of her family, is the portrait of "no-nonsense," in contrast to the Republicans' all-nonsense women policy makers, à la Nikki Haley and Betsy DeVos. Power's estimation that "All the trend lines on democracy [in the world] are going in the wrong direction" is frankly chilling. Meanwhile, former novelist Rhodes muses disappointedly that military force seems to be America's default way to demonstrate its seriousness on foreign affairs issues.
Before the doc reaches the end of its tether, we'll join Rhodes as he sits, alone outside in the cold November air, trying in vain to describe his feelings at having realized that everything he, his teammates, and his president have tried to accomplish is now about to be flushed down the drain. These people did not just disappear; they didn't get imprisoned or go into exile. Not yet, anyway. But we're reminded that they are some of the very best we have, and that now, suddenly, they're on the outside looking in, and that the people who replaced them are barbarians. The reality finally arrives. Obama is gone, and yet is still among us. As the man himself has counseled, "Don't boo. Vote."


The Final Year
Directed by Greg Barker. Opens Friday.