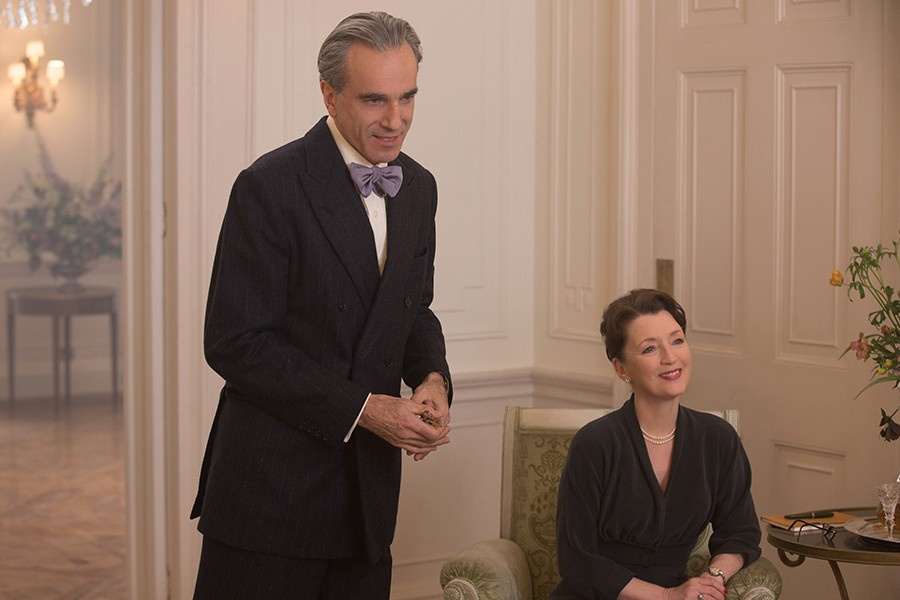 French cuffs. Ascots. Lapsang souchong tea. A handmade Bristol automobile. The world of the fictionalized fashion designer played by Daniel Day-Lewis in Paul Thomas Anderson's
Phantom Thread
throngs with precise, costly details as befits the professional life of a man who influences his peculiar corner of current events by dressing the princesses and dowagers who come to his elegant London townhouse/workshop.
From the enormous breakfasts to costume designer Mark Bridges' outfits, each and every object our eyes fall on is chosen with care to reflect the taste of the house of Woodcock. The same goes for Radiohead guitarist Jonny Greenwood's genteel soundtrack music. You could save yourself a visit to the Victoria and Albert Museum for its collection of art objects from the 1950s — just see this movie.
There's always the risk, in a film about haute couture and its adherents, of looking silly while trying to appear sophisticated. The Day-Lewis character's name, Reynolds Woodcock, comes perilously close to Huntley Haverstock or Gussie Fink-Nottle — a handle tailor-made for a booby. But Day-Lewis dispels our derision with sheer force of personality. Woodcock rules his domain, a Victorian pile teeming with seamstresses, with all the force and charisma of a railroad baron or a member of the House of Lords. However, this latest romance with one of his employees thoroughly disturbs his fastidious routine.
Warren Beatty once defended his film Shampoo by asserting that even promiscuous people can fall in love. Writer-director Anderson and his recurring leading man — Day-Lewis starred in Anderson's There Will Be Blood — seem intent on making that same point for the sort of man who fusses over women's dresses for a living. Woodcock is the embodiment of aesthetics as a way of life, and after he meets Alma (radiant Luxembourg native Vicky Krieps) and installs her as his eventual right-hand woman — displacing his sister and longtime aide Cyril, unforgettably portrayed by Lesley Manville as perhaps a distant cousin of Judith Anderson's Mrs. Danvers in Rebecca — a subtle yet dead-serious contest develops between Woodcock and Alma. Who will control whom?
Anderson's eighth narrative feature is a remarkably satisfying change of pace both for him and Day-Lewis. With his calm, firm, hushed vocal tones, Woodcock casts a spell of refined obsession over the drama. Even his pauses command attention. What a change from Let There Be Blood's maniacal oil prospector, let alone the bloodthirsty butcher from Gangs of New York.
Anderson paints the fashion milieu as a different sort of battleground, in which taffeta and lace are the weapons and humiliation lurks for patrons such as the rich customer, ashamed of her "ugliness," who is adjudged unworthy of the masterpiece she is wearing. And yet the scenario — described by the filmmaker in interviews as "gothic" — is not without its sense of humor, nor its unexpected sense of spectacle. And always, the imperative pursuit of beauty. All this in the background of a love story between two people whom we're unsure are actually capable of love. Phantom Thread is as puzzling and tantalizing as the subject of beauty itself, a movie quite unlike anything else we'll see this year.
Phantom Thread

Written and directed by Paul Thomas Anderson. With Daniel Day-Lewis and Vicky Krieps. Opens Friday.