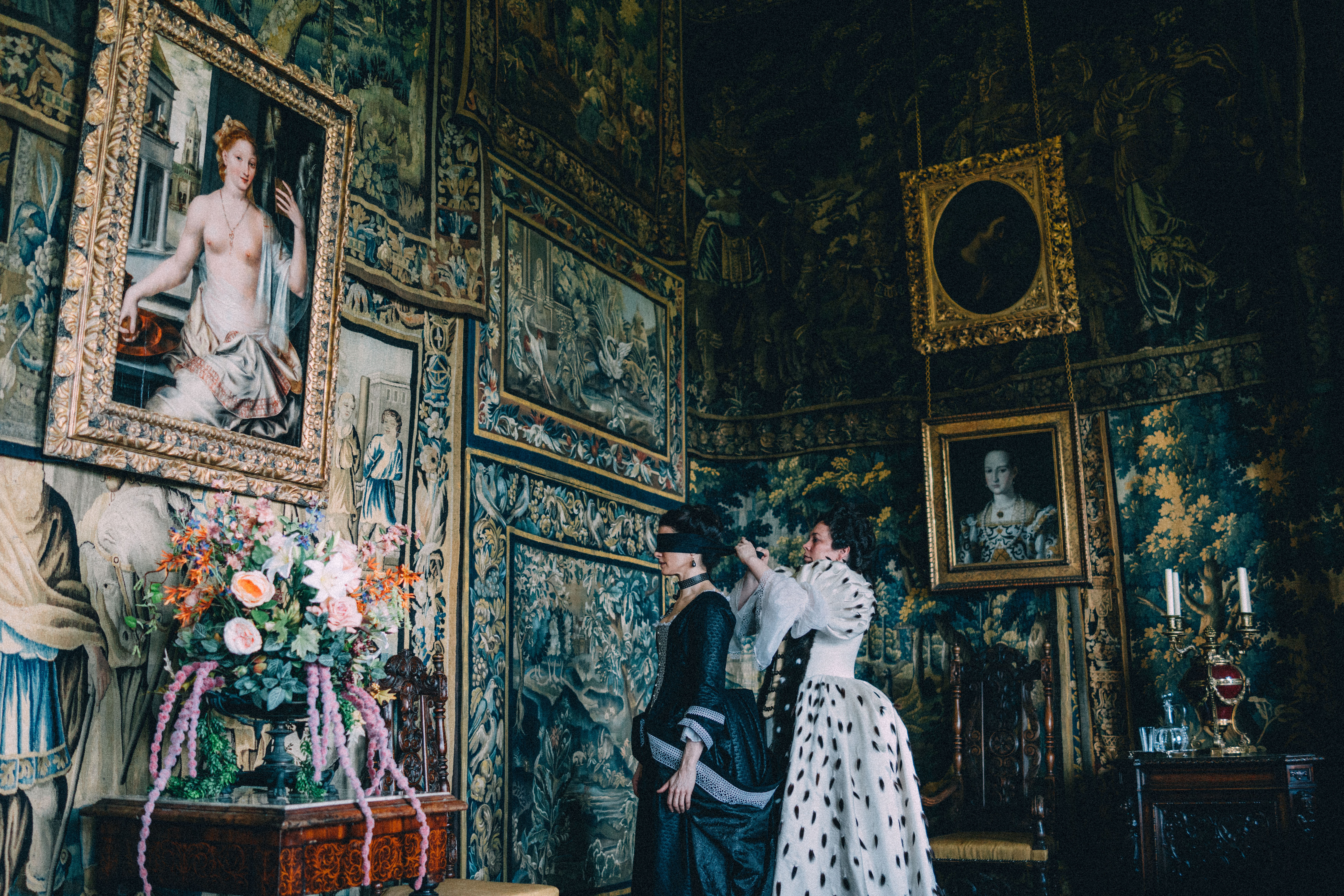 For those of us completely bored with treacly, overblown, just plain stupid historical "epics" that rely on sumptuous scenery and iffy writing to compensate for an irritating, pseudo-romantic sameness — take heart, help is on the way.
The Favourite
is here.
A joint product of director Yorgos Lanthimos (The Lobster), writer Deborah Davis (her screen debut), and veteran TV scribe Tony McNamara (Doctor Doctor), the film's operating concept is brilliant in its simplicity. Take the true story of one of England's dullest monarchs, fill her court with envious ladies in waiting and obnoxious toadies, have them behave like the foul-mouthed boors they probably were, give them every opportunity to make fun of themselves, and then luxuriate in one of the brightest entertainments of the season.
Queen Anne of the House of Stuart (played by Olivia Colman), plagued by ill health and given to unprovoked rages, is inordinately fond of her numerous pet rabbits. Devoted to sweets despite their causing her to vomit after eating, the queen seems uninterested in the affairs of state — she has to be reminded that her country is currently at war with France. She thus allows her consort, Lady Sarah Churchill (Rachel Weisz), to effectively govern in her place. The two women's relationship extends to lesbian canoodling after hours, and Lady Sarah jealously guards her own access to the throne. In their private moments together they use pet names — the queen is Mrs. Morley, Lady Sarah is Mrs. Freeman.
Into this situation comes Abigail Hill (Emma Stone), Lady Sarah's poor relative, who arrives as a lowly domestic and gradually, by her wit, rises to the position of Maid of the Bedchamber. Sarah treats Abigail like dirt, but the country cousin has tricks up her sleeve — as does almost everyone else in the royal household, including foppish Mr. Harley (Nicholas Hoult), stately Earl Godolphin (James Smith), and the bewigged louts who amuse themselves by hurling fruit at one of their naked comrades, like a gaggle of 18th-century frat boys.
In all too many palace dramas, the characters speak to each other in highfalutin language, perhaps to match their embroidered costumes. Not so here. There is much talk of cunts, arseholes, and fucking, from the queen on down, and we're astounded, at this late date, by the open cruelty of the era's class warfare. These people are openly mean to each other, especially to their presumed inferiors. With its salty sexual dialogue,
The Favourite
qualifies as the bitchiest historical chick flick of the year.
Hats off and huzzah to the three main actors. Colman (she previously portrayed both Elizabeth II and her mother, the Queen Mum) walks away with highest honors as the gout-ridden, none-too-eloquent monarch, whom we suspect of playing dumb on purpose and occasionally dabbling in poison when it suits her purposes. Weisz's Lady Sarah, handler of such matters as British Empire treaties and taxation on her own say-so, is the quintessence of cutthroat careerism — cross her at your own risk. Stone's Abigail does just that, with a smirk on her face, amid a hailstorm of often anachronistic humorous tidbits. The nasty dialogue sparkles bitterly in all of their mouths.
Filmmaker Lanthimos hits his stride early with his satirical dissection of European politics. These are fallible, earthbound creatures, scraping and clawing. His use of a fisheye lens is reminiscent of Stanley Kubrick (maybe intentionally so), and the metronomic musical continuo that floats over each scene gently reminds us that while the queen's retinue is playing with duck races, the British Crown is steadily consolidating its imperial ambitions toward Ireland, Wales, Scotland, France, Spain, recalcitrant Roman Catholics, and its English subjects. Just to put it in perspective.
[embed-1]