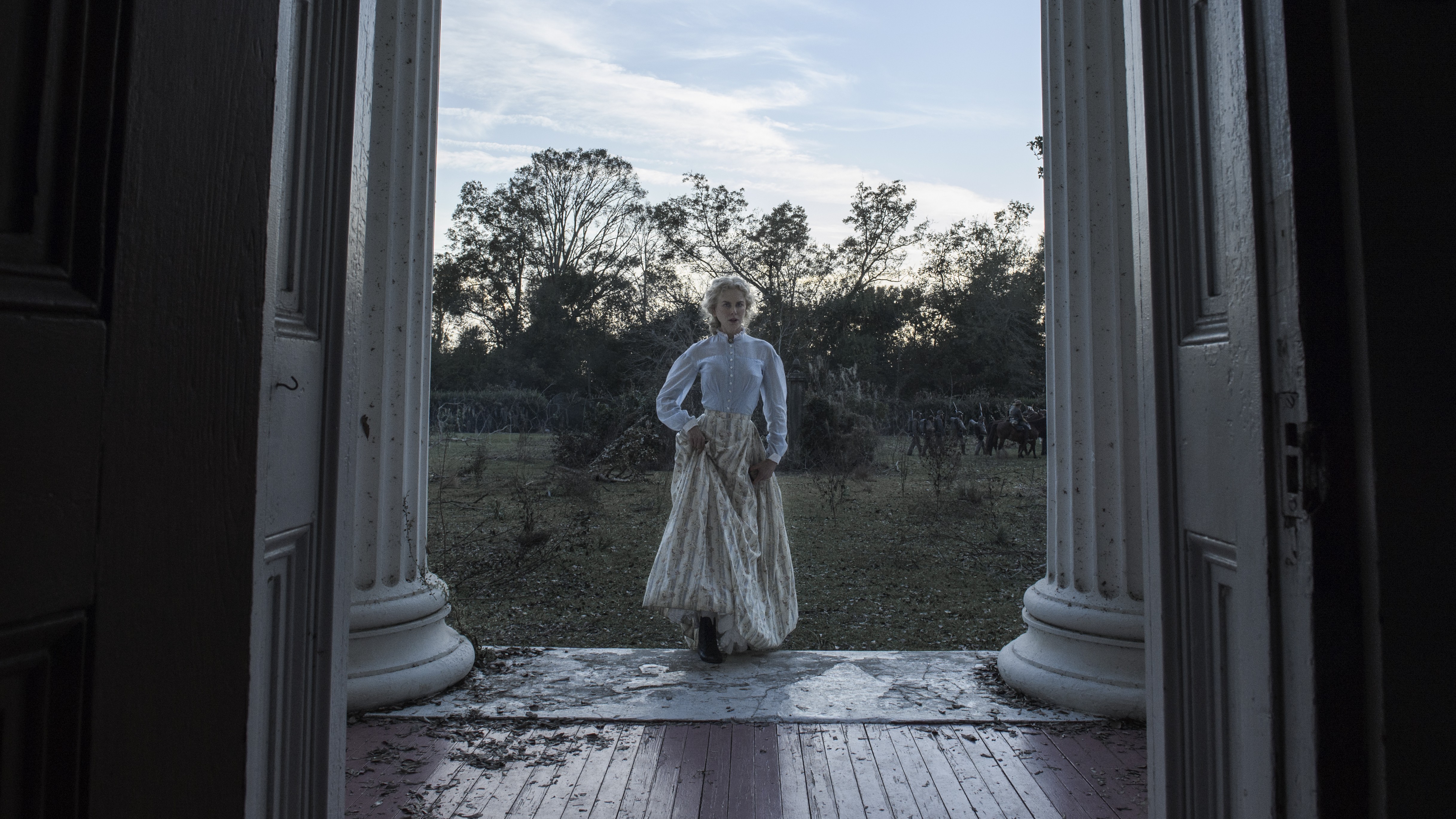 Angels top Yankees, 7-1: Nicole Kidman in
The Beguiled
Sofia Coppola is working her way through the genres, giving her due diligence to the job of being an aware, thoughtful filmmaker. She's already done a youth-market thriller (
The Virgin Suicides
), a costumed "historical" mash-up (
Marie Antoinette
), a true-crime yarn (
The Bling Ring
), and even a token "art" project from the Terrence Malick reject file (
Somewhere
). Her best film so far is the one that doesn't fall neatly into its slot, the sly Bill Murray-Scarlett Johansson character study
Lost in Translation
.
Now it's time for the youngest member of the Coppola dynasty to further perfect her chops by tackling something slightly out of her comfort zone. Enter
The Beguiled
, a solid, no-nonsense, arguably stylish remake of Don Siegel and Clint Eastwood's 1971 "southern" about a wounded Union soldier adopted by a house full of Confederate-sympathizer females during the closing days of the Civil War. It's fairly pointless to closely compare the Siegel version with Coppola's, other than to say that the earlier film's combo of director, actors, and screenplay – by a tag team of writers adapting Thomas Cullinan's novel – is one of Siegel's finest films, and likewise Eastwood's. And so Coppola is wise to refrain from excessively meddling with the property; in fact she deserves praise for choosing it in the first place.
As touched up by Coppola, the story has the distinctive ironic structure of an ancient Greek myth, one in which a brave but devious warrior, temporarily helpless from his wounds, blunders into a house of beautiful young women. We instinctively fear for the women, but in fact it is the warrior who is in danger, ensnared in a web of repressed sexual tension and jealousy. Corporal John McBurney (Colin Farrell) is living the infantryman's dream – tended to by Martha, head mistress of the young ladies' academy (Nicole Kidman); a romantically inclined teacher named Edwina (Kirsten Dunst); Alicia, the sensually curious "bad girl" (Elle Fanning); and significantly, the school's youngest and most innocent inmate, the girl who saves McBurney's life, little Amy the mushroom picker (Oona Laurence). The gothic-romance suspense is laid on as thick as treacle. Gowns rustle and hoot owls cry out midnight warnings. The corporal is doomed from the moment he sets foot inside the mansion.
Farrell, Kidman, Dunst, and Fanning are particularly well cast as 19th-century stereotypes. The plantation atmosphere, to some a former vision of romance à la
Gone with the Wind
, is now, in the aftermath of
Twelve Years a Slave
and Nate Parker's
The Birth of a Nation
, a potential kingdom of horrors on the big screen, a place of violent injustice masquerading as gentility. It's with that in mind that we zoom in on one of the seemingly minuscule deviations that Coppola makes from the original Albert Maltz-Irene Kamp-Claude Traverse screenplay. (Footnote: Writer Maltz's screen credit is listed under his "front" name of "John B. Sherry." Maltz was one of the Hollywood 10, blacklisted as a communist during the "Red Scare" of the late 1940s.)
One of the 1971 version's most insightful touches is the character of Hallie, the slave housekeeper at the girls' academy, played by actress-singer-film producer Mae Mercer, who went on to make the 1972 documentary
Angela Davis: Portrait of a Revolutionary
. Hallie's scenes with McBurney have a different dimension than his interactions with the Anglo-Saxon females – more knowing and ironic, more historically poignant. For some reason Coppola omits the character of Hallie from her version, and is now under fire for flunking the Bechdel Test (a device for measuring gender inequality in pop culture) as well as for cutting the lone Black character out of a Civil War movie.
Of course Coppola has the right to depict the Civil War as a fight between purple antenna-headed Martians and San Fernando Valley teenage jewelry thieves if she wants to – that might even be more interesting to watch. But to shrug off her choices and dismiss the cultural conversation is bad form no matter who does it, or why. We could still enjoy her latest project strictly on its own terms without taking the flak seriously, but now that we know, it's impossible to unlearn. That's the only problem with Coppola's
The Beguiled
, a psychological melodrama about a conflict that still burns on, 152 years later.