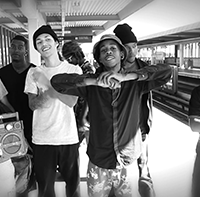 Many trans-bay commuters may be vaguely familiar with the group of young men who turf dance on BART while it is speeding beneath the bay. But it's likely that few actually know the names of the performers, why they perform on public transit, or what this graceful, Oakland-grown style of dance is all about.
[jump] This morning,
Youth Radio
 — a media production company based in Oakland that trains youth in the ways of digital media and journalism — released a mini-doc that answers those questions, and captures some of the mind-blowing moves of the "BART Street Show." Read more from Luis Flores on the
Youth Radio website
, and watch the video, produced by Flores, Chaz Hubbard, Ike Sriskandarajah, and Michael Prizmich, below. 
[embed-1]