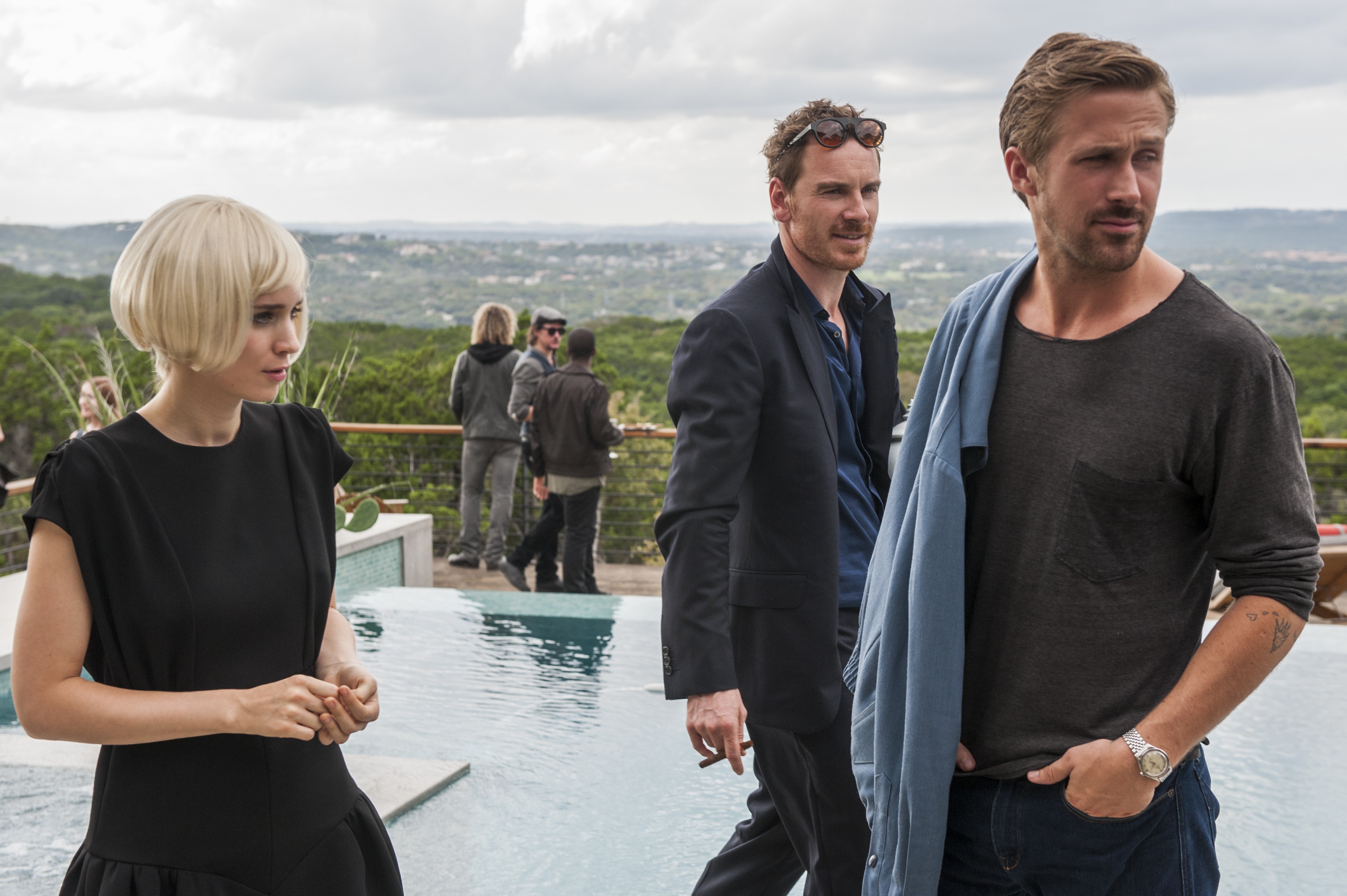 Rooney Mara, Michael Fassbender, and Ryan Gosling (left to right) put the "sex" in SXSW in
Song to Song
.
The investigation into Terrence Malick's fall from grace continues with his latest,
Song to Song
, a film very much like Malick's previous one,
Knight of Cups
(2015). The overall narrative scheme goes back even further, to
To the Wonder
(2012). All three are thwarted love stories about people who find it impossible to sustain a relationship. They tell their tales in an expressive, free-flowing style that leaves us to fill in the gaps of exposition by relying on Malick's dreamlike images, which are open to interpretation. The verdict on
Song to Song
: It's more of the same. We're back to Square One. Malick has to prove to us all over again why we should care about him.
The plot revolves around Faye (Rooney Mara), an Austin, Texas musician. Against the background of the South by Southwest Music Festival, Faye comes into the orbit of an imperious music producer named Cook (Michael Fassbender), the type of hard-charging businessman who can go home with any woman he wants to. Cook also takes under his managerial wing BV (Ryan Gosling), another struggling musician. At one point, Cook also begins a romance with a waitress, Rhonda (Natalie Portman), leaving BV free to cuddle with Faye. Then Amanda (Cate Blanchett), Zoey (Bérénice Marlohe), and Lykke (Lykke Li) breeze through town, mingling and flirting. Eventually Faye and BV want more out of life. And so on and so forth.
The characters do not conduct their business in the old-fashioned way, by coming into a room, stating their intentions, then storming out to act on their impulses. This is a Terrence Malick movie – they stay in that room, pirouetting in tempo with the European classical and roots-American R&B soundtrack music, indicating their relationships and their off-screen actions obliquely, rather than going out and actually doing them. Malick has famously been devoted to this particular type of storytelling – the voiceovers, the establishing shots, the poetic digressions, etc. — ever since his brilliant 1973 debut feature,
Badlands
.
The thing that makes
Song to Song
so different from that film (and from Malick's masterful 1978 followup,
Days of Heaven
) is that now the dreamlike connecting scenes of characters expressing their often confused emotions have become virtually the only scenes Malick shows us. So instead of, say, depicting Cook at his office making deals, or BV playing a gig in an Austin saloon, all we get is Cook (or BV) canoodling with Faye (or Rhonda, et al.) in a series of interiors, the plush furnished rooms movie stars are accustomed to. In spots, BV's music-making scenes suggest a sequel to
La La Land
– we could call it Blah Blah Land. The film resembles a collection of outtakes, as in the recurring, loving closeups of Rooney's bare midriff.
In a nutshell: Malick tried a new approach in
The Tree of Life
, got away with it, and now is engaged in justifying his choices in each new movie by following his most dubious instincts — in this case using four main actors, none of whom has a very inviting presence onscreen. If you weren't tired of Fassbender before this, you will be by the time it's over. There's far too much standing around posing. One of the many frustrating faults of Song to Song is that in demonstrating the suffocating lifestyles of its characters, it triggers claustrophobia. What a relief when they finally venture outdoors.
Does the camera look up into the trees? Yeah. Are there platitudes in voiceover? Uh-huh. As usual, the dialogue is incidental. How can you make a movie with Ryan Gosling, Rooney Mara, Natalie Portman, Michael Fassbender, and Cate Blanchett that turns out such a bloody bore? Not even Patti Smith or Iggy Pop can offer much help. Malick seems at odds with the modern world. With
Badlands
,
Days of Heaven
,
The Thin Red Line
, and
The New World
in mind, here's a theory for the perplexed: When Terrence Malick got away from the past, he got lost. Whether you loved or hated
The Tree of Life
, you'll feel exactly that same way about
Song to Song
. If you've ever fallen under the spell of
Days of Heaven
, however, you'll feel like crying.