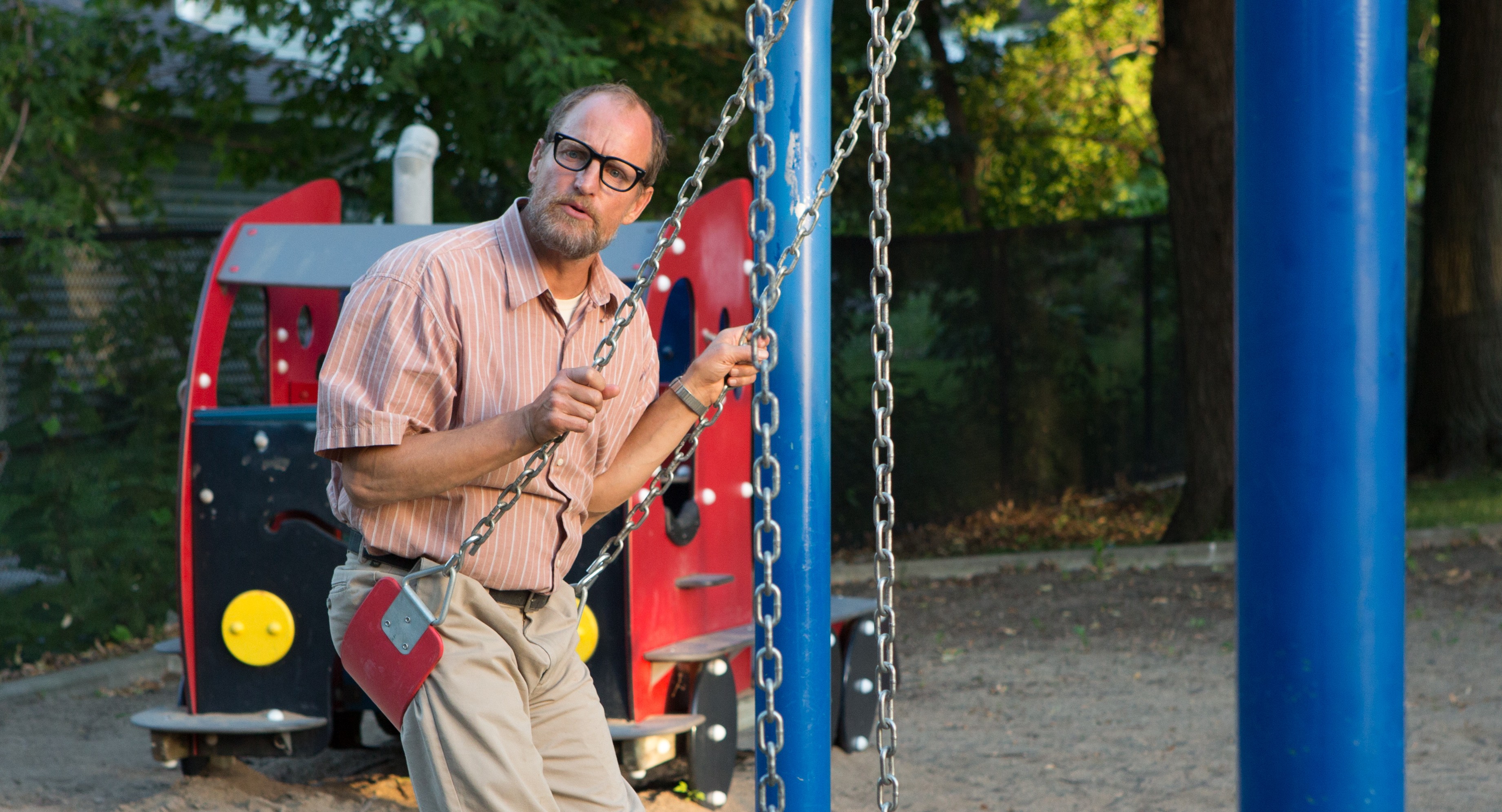 The grain of sand that produces a pearl: Woody Harrelson in
Wilson
This may come as a shock to fans of
Ghost World
and
Art School Confidential
, but Daniel Clowes is now certifiably middle-aged. The well-traveled cartoonist (b. 1961) long ago began turning his comic books and graphic novels into screenplays, but his latest big-screen burst of creativity focuses on a character well past the hazy post-collegiate age bracket usually inhabited by Clowes' dreamers and dropouts. Wilson (Woody Harrelson), the eponymous everyman protagonist of the graphic novel
Wilson
, may behave like a newly minted slacker, but to most of the people he meets he bears a definite resemblance to a cranky old coot.
Aside from his little dog Pepper, Wilson lives alone in his past, often blurting out to total strangers on the street random thoughts about his ex-wife or his recently deceased father. Some people grow into the condition of "middle-age crazy," but we get the feeling that Wilson has always been this way, latching onto anyone who crosses his path and never letting go. He's desperately lonely, of course. And naturally he despises Yelp, suburbs, mobile phones, happily chirping young women, i.e., all the usual things that irk old grumps. His occasional attempts to reach out to other human beings are invariably awkward. He can't even get along on a blind date with Margo Martindale. The futility is overwhelming.
So it's a relief when Wilson somehow reunites with his ex, Pippi (Laura Dern), a "former" — more likely current — drug abuser who matches up ideally with Wilson in the ne'er-do-well department. They've both been there and done that. The pairing of Harrelson and Dern is inspired. They were made for each other. Seeing them together onscreen, riffing on Clowes' dialogue and their own body language, serves as a quick reminder of both actors' filmographies – the once and future faces of outlaw America, R-rated multiplex-friendly style.
For some audiences Harrelson represents
Cheers
, but to his main-vein customer base he's the throw-down hoopster of
White Men Can't Jump
, loco Mickey Knox in
Natural Born Killers
, the Hustler-in-chief of
The People vs. Larry Flyn
t, or the wise-talking hit man who came in second to Javier Bardem's Golem in
No Country for Old Men
. That is, a brash, in-your-face Texan unafraid to dangle off the Golden Gate Bridge (for a cause) or tiptoe through
The Hunger Games
. Every role he plays seems to be for the hell of it. Wilson is the logical extension of that persona, now grown tired and philosophical.
Dern's image has typically been a blond, Southern, opportunistic, female facsimile of the same impulse, in
Wild at Heart
,
Rambling Rose
,
We Don't Live Here Anymore
,
99 Homes
, etc. When Pippi walks into Wilson's life after a long absence, we immediately flash back to her character Ruth Stoops, the reluctant abortion poster girl from Alexander Payne's hilarious
Citizen Ruth
. And then we learn that
Wilson
was originally set up as a project for Payne (he backed out), and it all clicks into place. No wonder certain scenes remind us of
About Schmidt
. The situations have a Payne-like intensity even at one remove. When Dern and Harrelson interact as former partners who never really got along with each other, we shouldn't be surprised when they appear to actually be butting heads.
Designated director Craig Johnson (
The Skeleton Twins
) tends to his actors in a workmanlike fashion. It's not his fault that Clowes' screenplay fails to advance along previously established lines in the Grumpy Old Men subgenre – but that goes with the territory. By this time Harrelson and Dern are probably beyond reproach. Character actors Judy Greer, Cheryl Hines, Bill McCallum, and Tom Proctor (as a surly convict) succinctly fill in the details of Wilson's checkered existence. The nicest surprise in
Wilson
is juvie actress Isabella Amara as Claire, the missing piece of the emotional puzzle Wilson constructs for himself. If we consider Wilson as the grain of sand that produces a pearl, his built-in irritating qualities acquire a gratifying new meaning. As Claire phrases it: "I always wondered how I got like this."