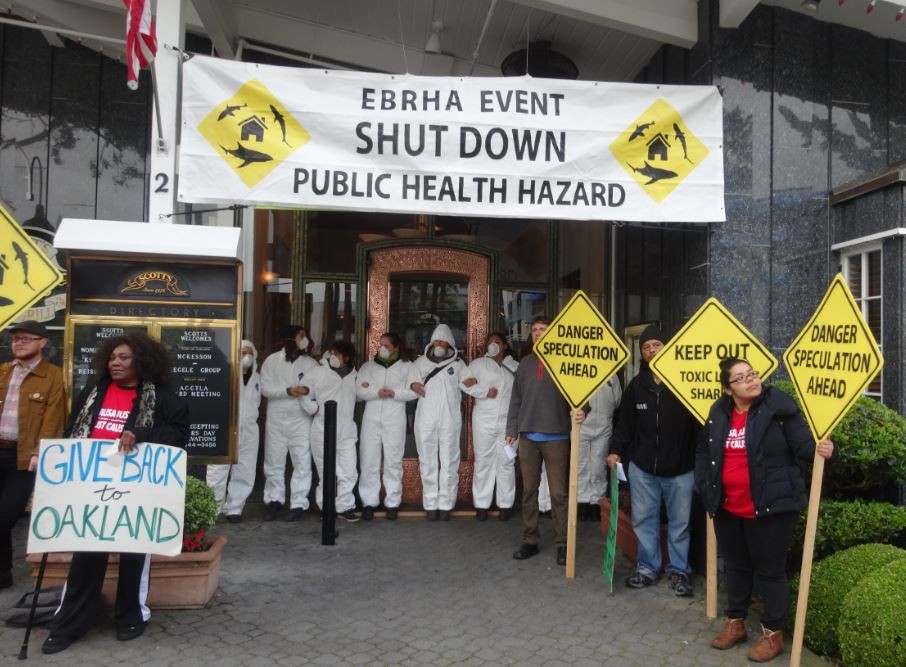 The East Bay Rental Housing Association's
economic and legislative forum
was scheduled to begin today at 8 a.m. at Scott's restaurant in Jack London Square, but protesters blockaded three doors to the restaurant in an effort to shut down the event. Landlords and real estate lawyers arrived looking confused, and the event's hosts scrambled to find a way to sneak them through the lines of protesters.
The East Bay Rental Housing Association has 1,200 members who own and managed approximately 18,500 rental units in Alameda and Contra Costa Counties. Scheduled to speak at today's event were Ron Kingston, the chief state lobbyist for the EBRHA, and Daniel Bornstein, a lawyer with the Bay Property Group who specializes in landlord-tenant law, along with other landlords, brokers, and lawyers.
Activists say the EBRHA is pushing a policy agenda to weaken tenant protections in the East Bay. A group of protesters dressed in biohazard suits hoisted a banner above the front entrance to Scott's stating that the landlords' agenda is a "public health hazard" for renters.
[jump]
"The East Bay Rental Housing Association is working to make sure all the landlords have the best lay of the land so they can make as much money as possible off housing," said Maria Zamudio, an organizer with Causa Justa/Just Cause. "They're going to be talking about what are the best neighborhoods to flip housing, and how to get rid of 'pesky' tenant protections that are in their way."
Rents have been soaring in Oakland
for several years now
. Many Oakland landlords have been
fighting rent control measures
, and over the past year
rents have increased more in the Bay Area
than any other metropolitan region in the country.
Romero Castro, an Oakland landlord, waited out front hoping to find a way into the event this morning. "Landlords are not at fault," said Castro, who said rising rents are due mainly to a shift in the housing market that includes spillover from San Francisco. "There's a changing demographic, and a burgeoning tech sector, with techies coming in."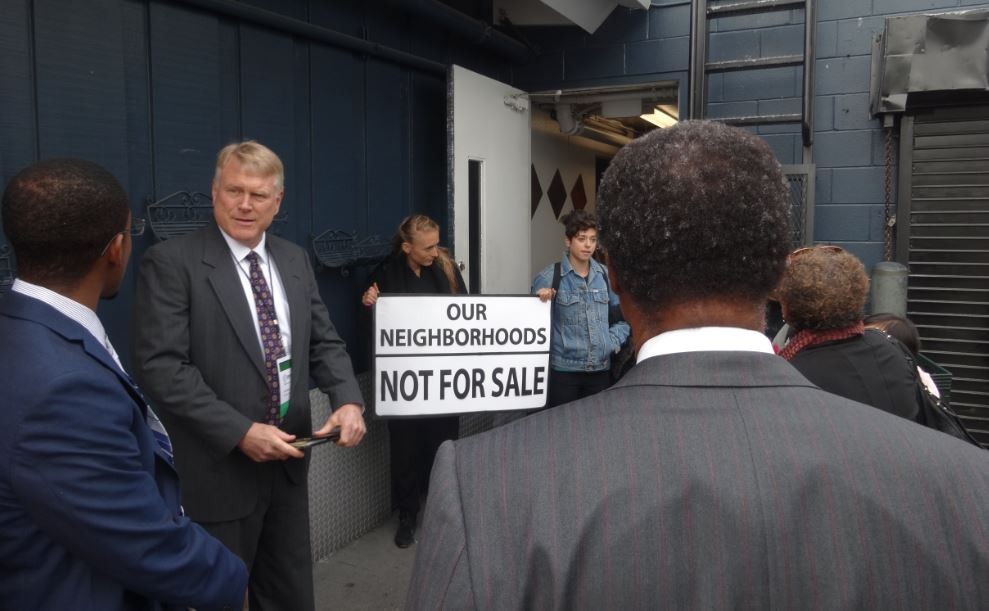 EBRHA event organizers eventually found an entrance to the restaurant behind its loading dock. Landlords and lawyers slipped through the protesters and walked through the kitchen into the dining room.
KPFA reporter Marie Choi and I followed one group of landlords to seek comment from the conference organizers, but Jill Broadhurst, executive director of the East Bay Rental Housing Association spotted us in the kitchen and told us the event was closed to the media, and that EBRHA would comment later.
James Kilpatrick, president of the real estate brokerage NAI Northern California, told me outside that the protest was "funny."
"Our event will happen," said Kilpatrick.
Correction: The original version of this post misspelled James Kilpatrick's last name. It has been corrected.