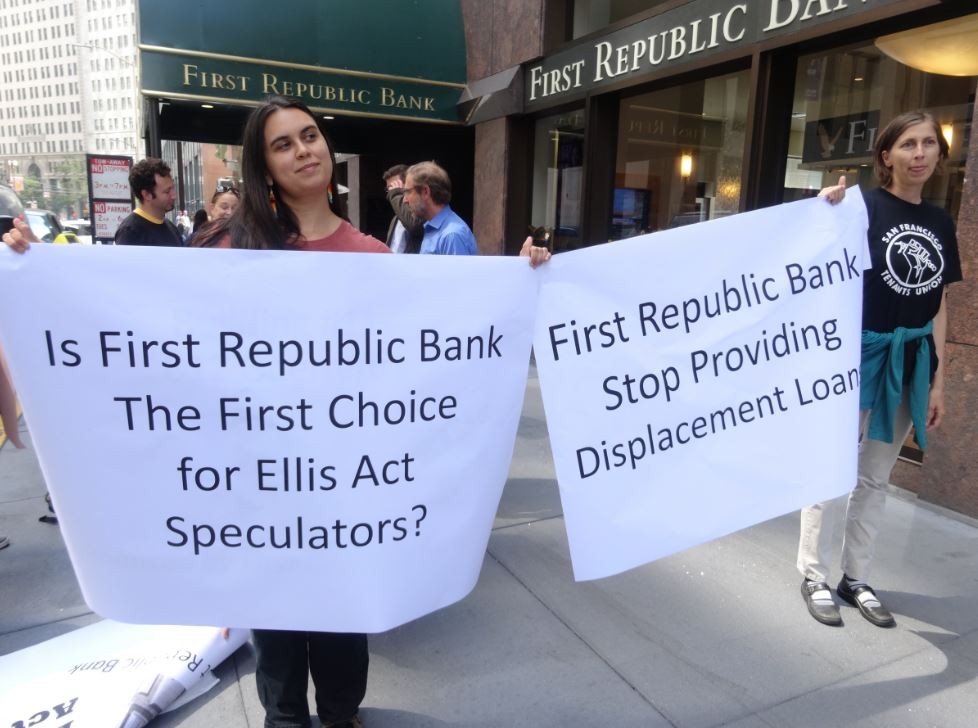 Protesters picketed outside the downtown San Francisco headquarters of First Republic Bank this afternoon, alleging that the prominent financial company is fueling the city's displacement crisis by lending to real estate investors who evict tenants and eliminate rental housing. Using the Ellis Act, landlords who purchased buildings with loans from First Republic Bank have evicted tenants and sold the apartments as tenants-in-common homes (TICs) to affluent buyers.
[jump] "I have lived in this building and this community for 50 years," said Martiza Osorio, a San Francisco resident who is being evicted by the owner of her apartment building at 300 Coleridge Street in Bernal Heights. Osorio's landlord purchased the property with a loan from First Republic Bank and is evicting everyone in the building under the Ellis Act. "Banks who lend to speculators are not investing in our community or city," said Osorio. "Instead, they are helping remove people from it."
Tenants in common (TICs) have grown in popularity in San Francisco because they provide a loophole for investors and wealthier residents to circumvent the city's strict rules regarding conversions of apartments into condos. An investor who has purchased an apartment building can evict all of the tenants and then sell the property, unit by unit, as TICs, taking advantage of a legal device that allows multiple people to own percentage shares of an undivided parcel — usually a building. (Unlike condominiums, TICs are not separate units mapped within a parcel. Rather, they are percentage shares in an undivided parcel.) TIC owners within a building sign a separate agreement to divide the property for their sole and exclusive use.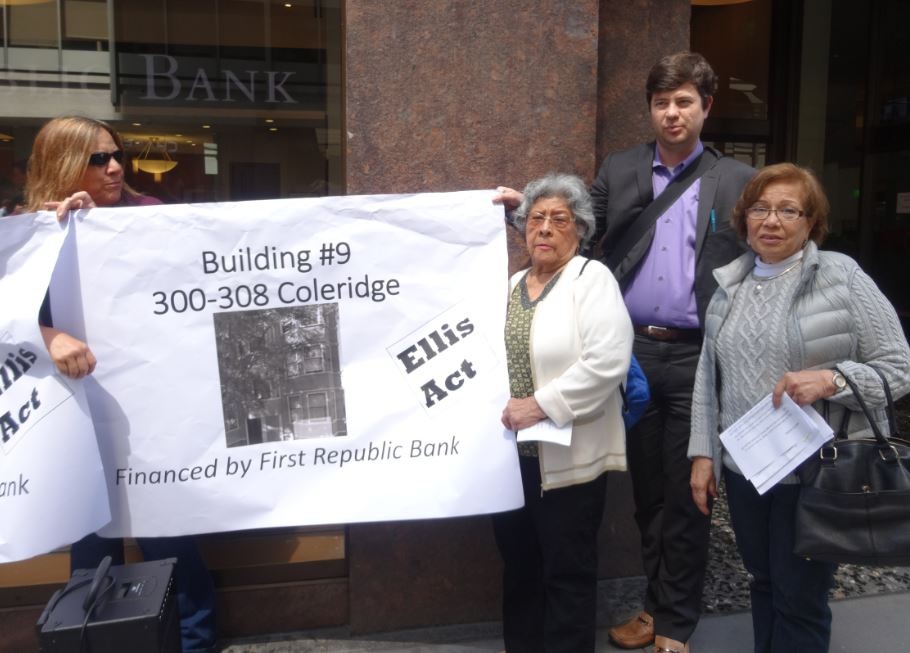 First Republic Bank is one of the largest TIC lenders in San Francisco, according to research conducted by Tenants Together and the Anti-Eviction Mapping Project. The groups say that investors couldn't buy the properties and evict the tenants without First Republic Bank's knowledge and assistance.
"First Republic is directly responsible for providing financing to speculators who are using that financing to buy buildings, evict seniors and other low income tenants, and then re-sell the units to wealthy home buyers," said Paulina Gonzalez, executive director of the California Reinvestment Coalition, in a press release. "The bank's behavior directly contradicts its responsibilities under the federal Community Reinvestment Act, which requires the bank to support the credit needs of all San Franciscans — not just wealthy investors."
Greg Berardi, a spokesperson for First Republic Bank, said that it was never the bank's intention to make loans to landlords who evicted tenants and converted their buildings into TICs.
In a statement issued today, First Republic Bank said that it is changing its lending policies to prevent Ellis Act evictions. "If we are aware that the owner intends to utilize the Ellis Act before a loan is made, we will not make the loan," the statement reads. "On our loan applications, we will now ask each borrower whether the loan is intended to be used to repurpose the property under the Ellis Act."
Berardi said, however, that of all Ellis Act-affected property in San Francisco, only a very small fraction — approximately two percent — had received loans from First Republic Bank.
The Federal Deposit Insurance Corporation, which regulates First Republic Bank's compliance with federal financial laws, including the
Community Reinvestment Act
, gave the bank a "low satisfactory" rating with respect to its lending activities. Referring to First Republic Bank's focus on high-income and wealthy clients,
the FDIC wrote
, "the distribution of borrowers reflects poor penetration among retail customers of different income levels and business customers of different revenue sizes, given the product lines offered by the bank."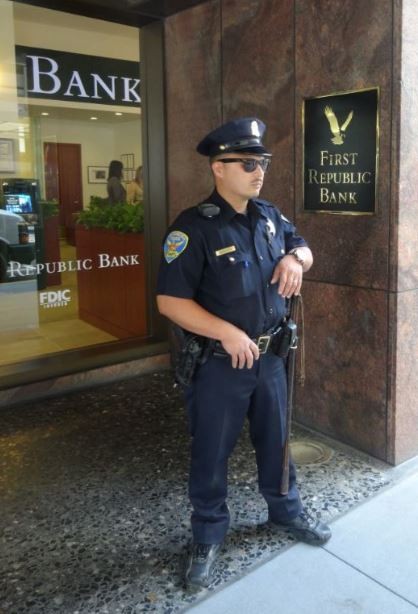 First Republic Bank was founded in 1985 and
specializes
in banking services for wealthy clients. The bank counts Facebook CEO Mark Zuckerberg and Oakland's elite, private Head-Royce School as clients, according to its website.
In addition to financing TIC mortgages in expensive housing markets such as San Francisco, First Republic Bank has also financed several large investors who in recent years have bought up foreclosed single-family homes in the East Bay and converted them into rental properties.
For example, first Republic Bank has
lent millions
to the Sullivan Management Company, a major Oakland landlord that through at least four LLCs has bought 284 houses and apartment buildings, mainly in West Oakland.
First Republic Bank has also financed
Waypoint Homes'
acquisition of foreclosed properties. Headquartered in Oakland, Waypoint is one of the giants of the foreclosure-to-rental industry.
Furthermore, Thomas Barrack, Jr., the chairman and CEO of Colony Capital and
Colony American Homes
, is on First Republic Bank's board of directors. Like Waypoint, Colony American Homes bought up thousands of single-family houses during the foreclosure crisis and rents them out.
Companies such as Sullivan Management and Waypoint
have been criticized
by community organizations that allege they have elbowed low-income home buyers out of markets, among other harms.