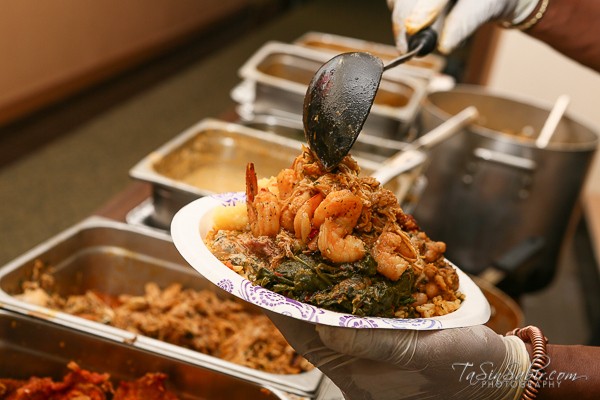 The first, and best, West African meal I ever ate
was handed to me from the dim recesses of a crowded Oakland bar — a paper plate piled as high as you can imagine with smoky fried tilapia, ginger-spiced yams, stewed black-eyed peas, fragrant jollof rice, and the peanut-spinach stew (
ndole
) that is Cameroon's national dish. Malong Pendar, the man responsible for the delicious spread, has been bringing his Taste of Africa pop-up to bars and clubs all over the East Bay ever since the Cameroonian restaurant that he'd operated under the same name in South Berkeley closed in 2010.
If you haven't had the good fortune of stumbling upon the pop-up, or aren't inclined to hang out at nightclubs, here's excellent news: A few weeks ago, Pendar opened a
Taste of Africa brick-and-mortar restaurant
at 6638 Bancroft Avenue, not far from the Eastmont Town Center in East Oakland.
See Also:
Your Tuesday Night Food Adventure: Cameroonian Food at Room 389
Best Food in a Parking Lot
[jump] Pendar described the new restaurant as a bit of a "scientific experiment" — in part, he said, because it's located so far away from his primary customer base in North Oakland and Berkeley. (In addition to the now-shuttered Berkeley restaurant, Pendar has sold food at the Ashby Flea Market on the weekend since the early Nineties.) So he's testing out new menu items in an effort to appeal to his new neighborhood, where, according to Pendar, customers are accustomed to eating a lot of barbecue. He's serving fish and chicken sliders and something called an "Afrito," which Pendar says is the world's first African burrito, stuffed full of rice, black-eyed peas, plantains, yams, and a choice of chicken, fish, or shrimp. (To be fair, the Senegalese restaurant Bissap Baobab may have
beaten him to the punch
.)
The restaurant — a former Salvadoran-Mexican eatery — has a small, 20-seat dining area, but a big kitchen, so Pendar said he can offer more specials than he has been able to at his pop-ups. On occasion, he'll serve crispy black-eyed pea fritters (aka
akara
) and a few different varieties of banana-leaf-wrapped,
tamal
-like steamed cakes, including his personal favorite, Nigerian 
moi-moi
, which are made with shelled black-eyed peas.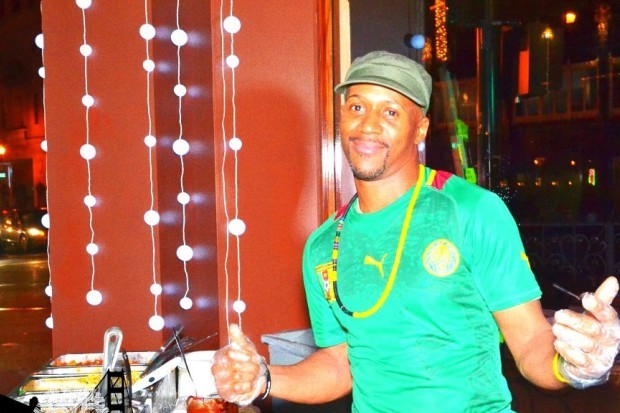 But the foundation of the
menu
will be the combination plate that served as my introduction to Cameroonian cuisine — an abundant, vegan-friendly base to which meat eaters can add their choice of protein: chicken, fish, shrimp, lamb, or oxtails. As for longtime customers who might be wondering if A Taste of Africa's weapons-grade smoked habañero hot sauce will still be available: "Come on," Pendar said. "Without the hot sauce, I can't even eat."
The restaurant launch caps off an impressive comeback for Pendar, who nearly had to shut down his business entirely last summer when a series of financial calamities — an impounded car, unexpected health department bill, and overdue rent payment — hit all at once. But supporters
donated nearly $5,000
in just three days through a crowdfunding campaign started by one of Pendar's friends, allowing the chef to get back on his feet.
"The community is like my heartbeat," he said.
Now Pendar is hard at work extending that community to East Oakland. He said he dreams of bringing a positive change to the neighborhood by introducing people to his healthy, mostly vegetable-centric West African cuisine.
A Taste of Africa is currently in soft opening mode and only serves dinner Tuesday to Friday, from 3 to 8:30 p.m. Eventually, the restaurant will open for lunch and on weekends — for now, Pendar is still keeping up his flea market and pop-up business, at least until the restaurant becomes a little bit more established. He hopes to have a grand opening celebration sometime next month.