Good news for people who love Taiwanese food and who, like me, have watched with excitement as the cuisine has gained traction in the East Bay (the
sad departure
of Berkeley's Taiwan Restaurant last month notwithstanding): Uptown Oakland lunch box specialist
Taiwan Bento
(412 22nd St.) is now open for dinner.
[jump] The restaurant's current hours are Monday through Friday, from 8:30 a.m. to 8 p.m., with a number of new dishes only available after 5 p.m.
According to owner Stacy Tang, most of the new menu items are her versions of popular Taiwanese street snacks: fried oysters, salt-and-pepper popcorn chicken (served, as is customary, with fried basil), and oyster vermicelli (aka
oa mi sua
) — a soupy noodle dish that features shucked oysters and very thin wheat noodles.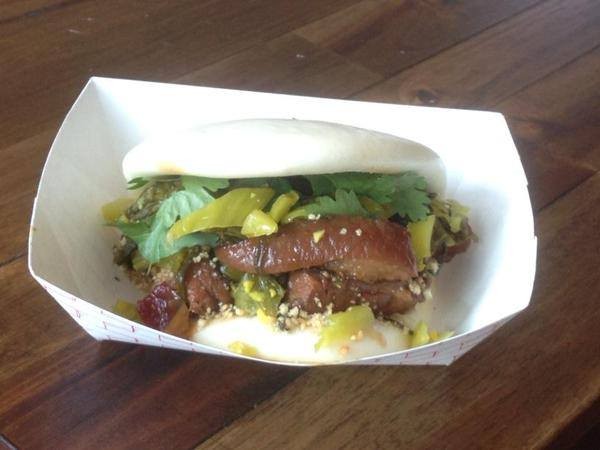 What I'm most excited about, though, is another relatively recent menu addition: Taiwanese
gua bao
, or steamed pork buns. In the US, this style of pork bun — featuring braised pork belly and a folded, sandwich-style steamed bun — has been popularized by the Korean-American celebrity chef
David Chang
and by food trucks such as the San Francisco-based
Chairman
. But by rights the dish is Taiwanese in origin, and it looks like Tang is serving an authentic Taiwanese version with the traditional toppings: preserved mustard greens, cilantro, and ground peanuts.
The restaurant's usual selection of Taiwanese-style
bian dang
(lunch boxes) and noodle dishes will also be available during dinner hours.
Taiwan Bento is also one of the more than 80 restaurants participating in this week's
Oakland Restaurant Week
promotion, which means now is as good a time as any to check out the new menu. The
$20 Restaurant Week dinner prix-fixe
includes one bento or noodle dish, one "snack" item of your choice (such as the aforementioned popcorn chicken or fried oysters), miso soup, and a drink.