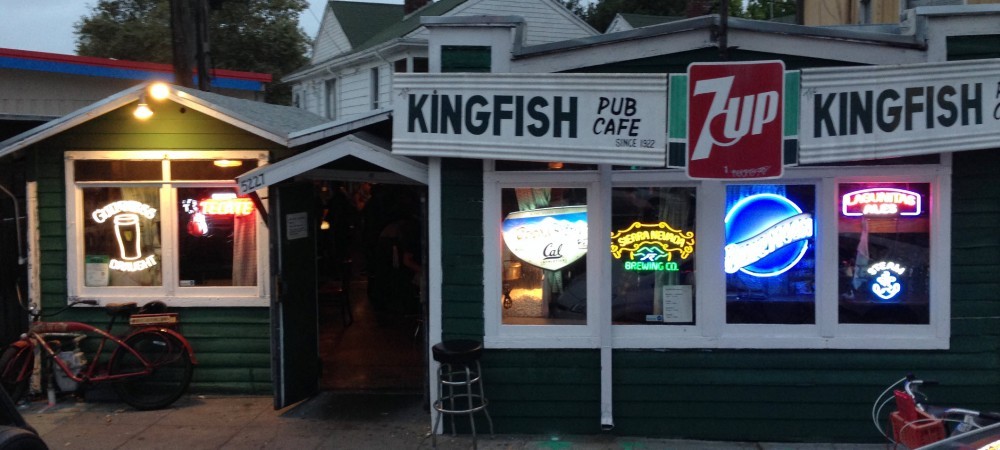 Welcome to the Mid-Week Menu, our roundup of East Bay food news.
1) Back in May, we reported that the
Kingfish Pub
(5239 Telegraph Ave.), Temescal's tiniest and most beloved dive bar, would be
moving
— literally, getting picked up and moved down the street. Well, this week, it happened!
Inside Scoop
has some great photos of the move, and Bay Area News Group even posted a short
video
. The bar's owners are hoping that they'll be able to reopen sometime in March.
[jump] 2) As
previously reported
, Merritt Bakery has taken over the old Kwik Way location near Lake Merritt in Oakland. Though it took longer than initially planned, the Merritt Bakery Kwik Way (500 Lake Park Ave.) has been open for a little over a week now, and more or less offers the bakery's full menu, including the fried chicken and the wide range of cakes (including, but not limited to, ones shaped
like hamburgers
). In the meantime, Merritt Bakery's original location on East 18th Street is temporarily closed for renovations.
3)
TrueBurger's
long-awaited new location at 4101 Broadway is finally open for business,
Inside Scoop
reports.
4) The latest addition to Old Oakland's Swan's Market — fast becoming as vibrant a dining destination as anywhere in the city — is
Deep Roots Oakland
and
Henhouse
(907 Washington St.), which opened last week. According to
Inside Scoop
, one feature of the wine-focused restaurant and bar (which has ties to Emeryville's Periscope Cellars) is a line of "specialty drinks" that are just as potent as a cocktail, even though the restaurant only has a beer and wine license.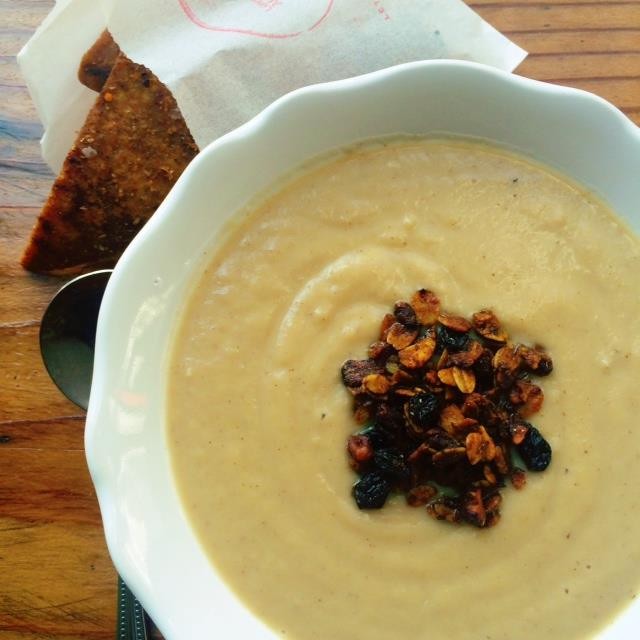 5) Elsewhere in Oakland,
Liba Falafel's
 Uptown brick-and-mortar shop (380 17th St.) is now open for dinner Monday through Thursday, from 5 p.m. to 8 p.m.,
Tablehopper
reports.
6)
Diablo Dish
reports that
310 Eatery
, a Los Angeles-style street food restaurant that's based in Walnut Creek, is slated to open a new location on Solano Avenue in Albany.
7) This week in chefs giving back:
Eater
notes that James Syhabout is kicking off a new Dine About Oakland Public Schools initiative this month. Five percent of total proceeds at all four of Syhabout's Oakland restaurants (Commis, Hawker Fare, Box & Bells, and The Dock) will be donated to one of three Oakland schools — Claremont Middle School from January 11 to 17, Cabot Elementary from January 18 to 24, and Oakland Tech from January 25 to 31.
8) Oakland restaurants continue to get creative as they look ahead to an impending minimum wage increase.
Inside Scoop
reports that legal concerns prompted Duende and Camino to drop their planned 20 percent service charge, which they'd intended to use to pay for the wage hike and also to even out the pay disparity between servers and kitchen staff. Instead, the two restaurants will move toward a no-tip, all-inclusive pricing model, raising their prices — by 20–25%, in Camino's case — in order to cover the cost of employee wages. In Berkeley, Ippuku has implemented its own
unique, Japanese-inspired model
, with an 18 percent service charge, sales tax included in menu prices, and a $3 per person "table charge" that comes with a small appetizer. No tipping will be permitted.
9) This year's
Good Food Awards
were announced this week, and, as usual, Bay Area food makers did pretty well for themselves.
Berkeleyside Nosh
has a rundown of East Bay winners, which included Local Butcher Shop and INNA Jam.
10) Finally, in case you missed it,
Haven is closed temporarily
while the restaurant prepares for a conceptual reboot, and I gave my picks for the
best deals of Oakland Restaurant Week
(which starts tomorrow). And if it has been a little quiet in these parts lately, it's because I was knee-deep writing a 6,000-word
cover story
about the challenges facing the Bay Area's small-scale Dungeness crab fishermen. If you'd enjoy eating local crab beyond February or March, you should
read it
when you have the chance!
Got tips or suggestions? Email me at Luke (dot) Tsai (at) EastBayExpress (dot) com. Otherwise, keep in touch by following me on Twitter @theluketsai, or simply by posting a comment. I'll read 'em all.