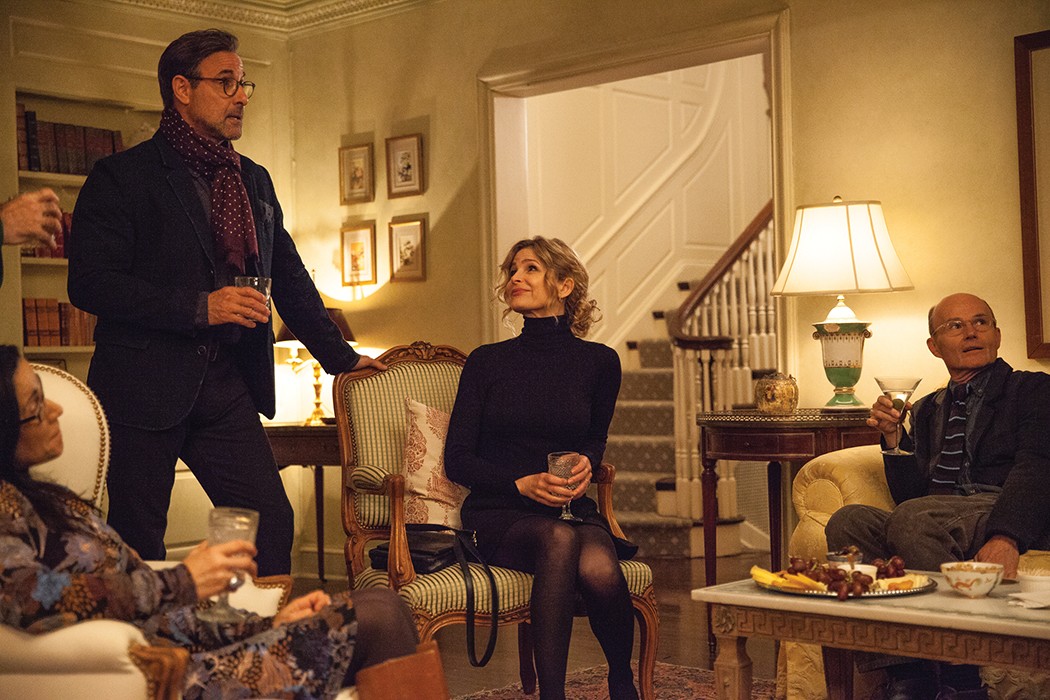 A college professor tries to have sex with one of his students and pays the price. If that bare outline were the only thing Richard Levine's Submission had on its mind, it would still have the advantage of up-to-the-minute topicality. But director Levine's ultra-contemporary drama, which he adapted from Francine Prose's novel, is not just an account of an open-and-shut case of sexual harassment. It's also a bit more complicated than a simple cautionary tale.
In a combination of Prose's writing, Levine's trip-hammer procedural direction, and actor Stanley Tucci's skill at conveying the lead character's compulsive self-destruction, Submission lays out the cultural question of the day on a table and watches it quiver, never quite offering help yet probing it, as if with a large fork, in excruciating detail. What is this thing called sexual harassment? Creative writing prof Ted Swenson (Tucci) assumes the role of pitiful example willingly, almost reflexively, the instant he calls on Angela (Addison Timlin), the brightest student in a classroom full of schlubs.
By most standards, Ted is already a failure before we even meet him. With one very modestly received novel under his belt and its follow-up undergoing a difficult gestation, Ted is hiding from his publisher at an out-of-the-way, "lower-tier" small college in New England, with his wife (Kyra Sedgwick) and university-age daughter (Colby Minifie) in tow. His writer's block gives every indication of being insurmountable. That, and trying to teach the writing of fiction — let alone critical thought — to his students, is slowly driving him toward a desperate act. We know all this because Ted tells it to us in voiceover. Angela, too, shares her thoughts that way, in smaller doses, once we reach the point of no return. Through Ted's interior monologue, we see the root of his complaint.
Prose titled her novel Blue Angel, evidently for its similarities to Der blaue Engel, the Josef von Sternberg-Marlene Dietrich film about a stuffy old professor's ruinous fascination with a young cabaret performer. Seen from here, Ted's predicament has more in common with Oleanna, David Mamet's two-character, teacher-pupil histrionic slugfest, a brilliant victim-predator paradox. Or perhaps Irrational Man, in which a philosophy prof's midlife crisis takes a lethal turn, made by Woody Allen, who has his own set of difficulties with younger females. Vladimir Nabokov's Lolita also comes to mind, in both its Stanley Kubrick and Adrian Lyne versions. We can imagine those films gathered together in a mini-festival celebrating middle-aged male folly in uptight academia, alongside Hart Bochner's irreverent 1994 comedy PCU, with political correctness played for youth-market laughs.

[embed-1]

The subtext of Ted's story, so-called political correctness, has by now been reduced to the status of tiresome rhetorical punching bag. No one, not even the most vicious rightwing political prankster, owns it and no one especially wants to. But that doesn't prevent veteran TV hand Levine from devoting Submission's juiciest scene to Ted's embarrassing performance at a faculty dinner party. It's the film's funniest scene, the moment of his downfall. Brought to a suitable lather by Marmite hors-d'oeuvres, general academic pettiness, and his colleagues' incessant moaning over the student body's "coddled" shallowness — the profs are shocked to learn that students object to studying the work of a child molester, Edgar Allan Poe — Ted's inner demons run loose. After that, the poor guy's bumbling encounters with Angela are a foregone conclusion. The room falls silent, and another clueless fool slides into the pit.
Tucci, Sedgwick, and all-purpose millennial Timlin (Like Me; Fallen) handle their emblematic roles with precision. If Tucci's Ted (nice hairpiece!) represents the sacrificial goat, then Timlin's honey trap Angela, with her tell-all confession of a phone-sex provider, is the post-literate innocent who inherits the earth. Angela keeps her eye on the ball, Ted doesn't. The archly titled Submission is an equal-opportunity panorama of folly, a fictional quagmire to help keep our minds off the real one all around us.

Submission
Directed by Richard Levine. With Stanley Tucci and Addison Timlin. Opens Friday.