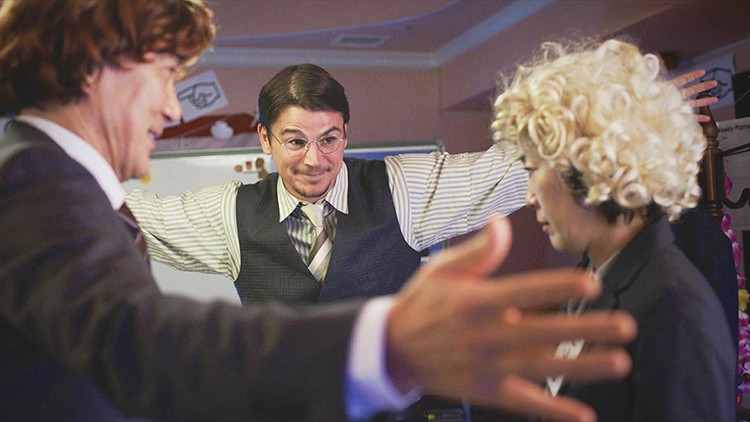 Oh Lucy! has a familiar outline, especially for audiences who responded to David and Nathan Zellner's oddball travelogue Kumiko, the Treasure Hunter. In that 2014 film, a quirky female office worker from Tokyo develops a far-fetched obsession that compels her to embark on a mission, all by herself, to the backwaters of the U.S., where predictably strange things happen to her. Oh Lucy! has an eerily similar plot, up to a point.
The Zellner brothers' drama takes an ultra-indie point of view that follows its protagonist to the eerie side of the rainbow. There's a little of that in Oh Lucy!, but the debut feature of San Francisco-based writer-producer-director Hirayanagi Atsuko adopts what we can only call a kinder, gentler approach to what could easily be another pathetic trip to that magic kingdom, so much wilder and more unpredictable than Japan.
Setsuko (played with a gleam of expectation in her eye by Terajima Shinobu) is a single, fortyish Tokyo office worker living a dull, frustrating life. She's a hoarder with a messy apartment who has trouble quitting her smoking habit. She also has a tendency to act up at inappropriate moments. On the advice of her niece Mika (Kutsuna Shiori), Setsuko takes Mika's place in a beginner's English class, where she adopts the "American name" of Lucy and puts on a blond wig.

[embed-1]

The class is pretty much worthless — it occupies a space in a seedy massage parlor — but Lucy does meet a sympathetic fellow student (played by movie star Yakusho Kôji) and John, the huggy American teacher (Josh Hartnett) who is charmingly exotic. But then, without warning, Mika and John abruptly depart for Southern California, whereupon Lucy and her sister Ayoko (Minami Kaho), Mika's mother, go off in search of them.
Road trip flicks too often take the overloaded-with-incident route, loudly outfitted with crime and overacting. Lucy's journey is different. Filmmaker Hirayanagi is determined to explore Lucy/Setsuko's quiet, rather meek aspirations on their own terms. From the opening scene of a suicide jumper on a commuter train platform, we're made aware that Lucy's midlife crisis might be a bit more than just empty complaining. En route, she loosens up, California style. Driving lessons. A joint and a beer. Sexual flirtation. But it's clear that the most important road trip is the one going on inside Lucy's head. In Kumiko, the Treasure Hunter, the pathetic Kumiko's guiding spirit was her pet rabbit, Bunzo. No such delusions for Lucy. As we follow her through this gratifyingly restrained character study, it becomes clear that her saving grace takes the form of other people, approached gently. Oh Lucy! adopts the bold strategy of taking away, as opposed to piling on, and it works.

Oh Lucy!
Directed by Hirayanagi Atsuko. With Terajima Shinobu and Josh Hartnett. Opens Friday.