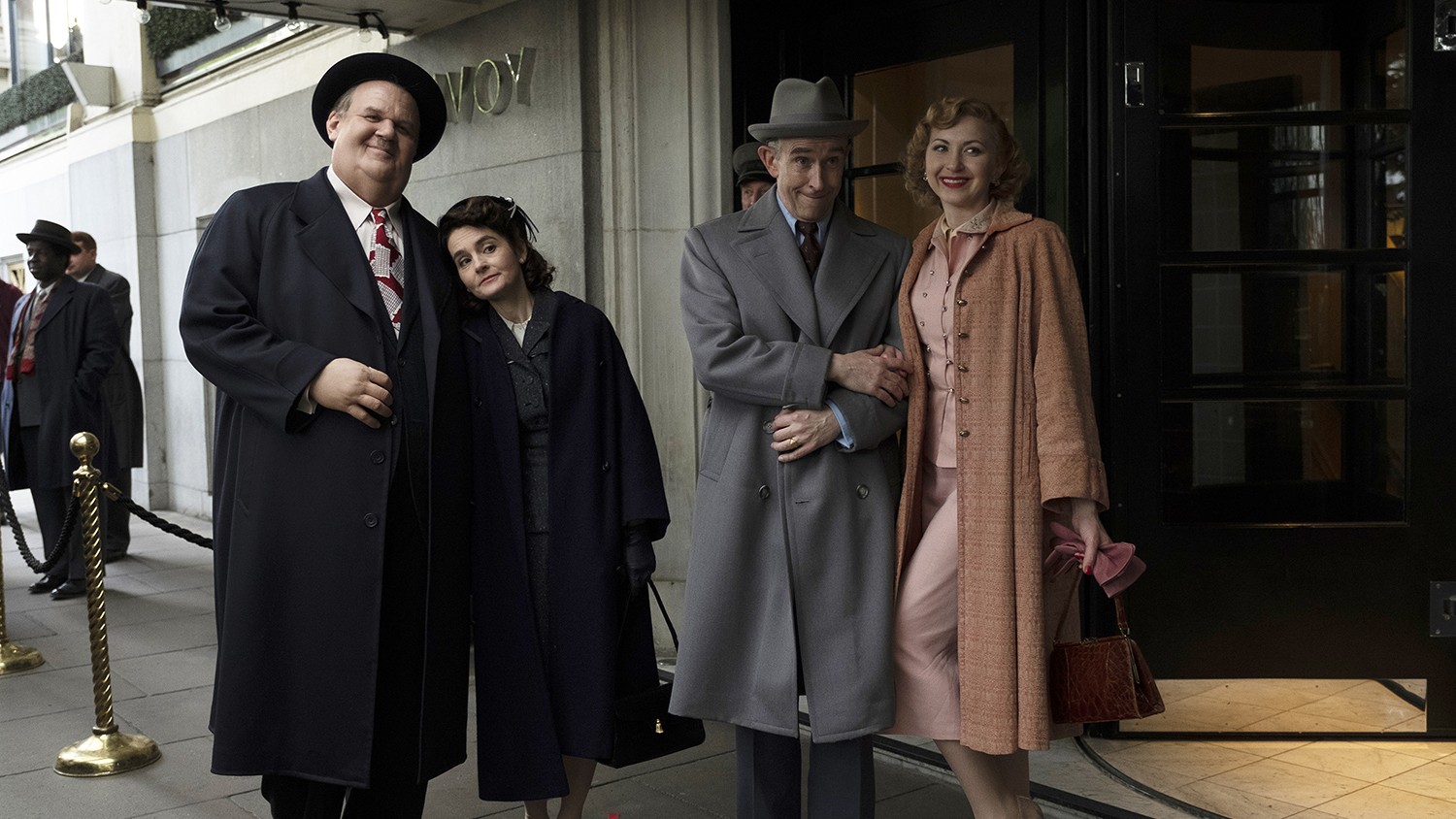 Steve Coogan and John C. Reilly are so captivating in their roles as, respectively, Stan Laurel and Oliver Hardy in
Stan & Ollie
that they sweep us into a cinematic never-never land.
The way British director Jon S. Baird and screenwriter Jeff Pope imagine it, we drop in on the duo in the 1950s, 30 years after their silent film heyday as Hollywood's most successful comedy team. Stanley and Oliver, a bit grayer and heavier, are attempting to revive their act in a series of stage shows in the United Kingdom, with the long-range goal of a return to movies.
The poignancy of their situation is that the act has outlived its box office appeal. But the "boys" persevere, playing ramshackle provincial theaters while touring with their wives. Actors Shirley Henderson (as Lucille Hardy) and Nina Arianda, as Stanley's comic Russian wife Ida Kitaeva Laurel, lend the perennial L&H spousal friction, and Danny Huston takes a nice turn as movie impresario and the team's former employer Hal Roach in flashback. But it's Coogan and Reilly who take the pratfalls with a smile and lift the proceedings to the heights of sentimental warmth.
Coogan is especially good as Laurel, behind-the-scenes architect of the team's slapstick humor and portrayer of classic cinema's ideal bumbling, simpering, good-natured fool. Coogan's resemblance is remarkable. Frequent movie tough guy Reilly lacks Hardy's babyish helplessness but pitches in wholeheartedly with Ollie's funny fat man persona. Their re-creation of L&H's soft-shoe dance routine from
Way Out West
is a showstopper, now as then.
If we have a quibble about
Stan & Ollie
, it's that in its effort to send the boys to heaven as sweetly as possible, the latest version neglects one of the most essential elements of L&H's appeal: their comic violence. In the pair's hilarious "retribution" scenarios —
Big Business
,
Two Tars
,
Tit for Tat
, etc. — the boys' anarchic score-settling achieves a poetic-heroic-kinetic vision of exaggerated mayhem that Jim Carrey or Jackie Chan could only dream about.
Stan & Ollie
does not provide its own James Finlayson or Billy Gilbert to act as temperamental foils. Still, in its genuine admiration, this affectionate look at Laurel and Hardy may send a few new fans into the vaults in search of the originals' unique personalities and their enormous back catalog. There's always room for "another fine mess."