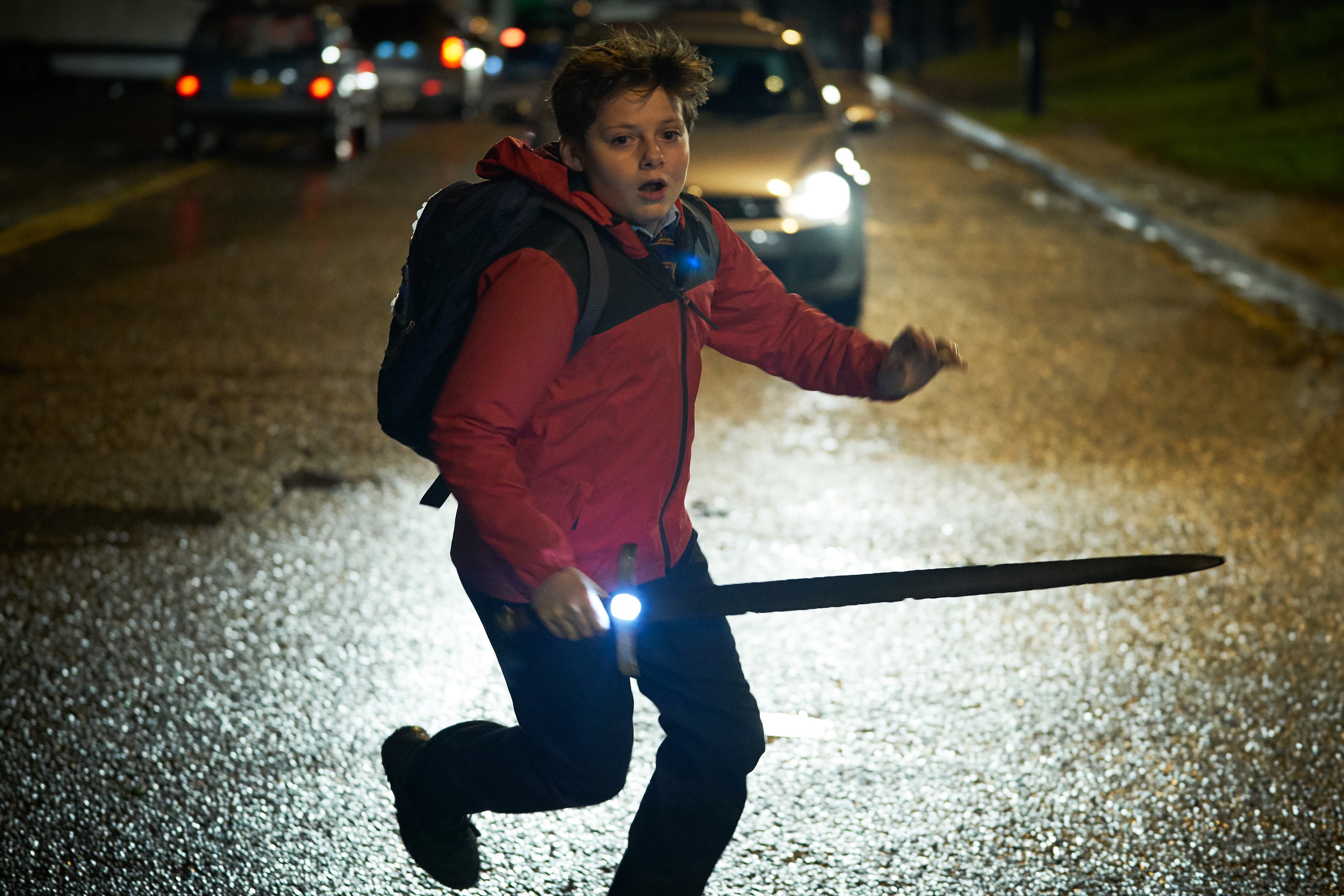 In writer-director Joe Cornish's agreeably old-fashioned children's adventure,
The Kid Who Would Be King
, a modern-day schoolboy with self-esteem and family problems (Alex, played by Louis Ashbourne Serkis) accidentally discovers King Arthur's legendary sword, Excalibur, in a demolished building and then goes on to save "divided, lost, leaderless" England from its current national doldrums by battling underground forces of evil left over from Medieval times.
Quite an afternoon's work. And we're so happy that Serkis, son of busy actor Andy Serkis, has apparently decided not to follow down his father's path, impersonating goblins, apes, and eccentrics. Plenty of those on hand anyway in the characters of Morgana the sorceress (Rebecca Ferguson) and everyone's favorite benevolent Arthurian wizard, Merlin, in a dual personification by Patrick Stewart and Angus Imrie. The younger Serkis' Alex, a studious pre-teen whose magical visions cause his schoolmates to laugh out loud at first, is a bit too young to use his newfound powers to impress a girlfriend, so he and his friends — a nerd (Dean Chaumoo) and two ex-bullies (Tom Taylor, Rhianna Dorris) — have plenty of time to tromp around the British countryside fighting ghostly armies.
At two hours, the movie runs on a tad too long. At one point, after what seems like the ultimate showdown with the evildoers, we learn that another, bigger battle is in store for Alex and his mates at their school, with fireballs and eruptions. For filmmaker Cornish (
The Adventures of Tintin
;
Ant-Man
) that sort of overkill is obviously par for the course. But leave it to Stewart's wise old magician Merlin to put the growing-pains allegory into proper perspective: "The world is not going to change. It's you who has to change."
The Kid Who Would Be King
is an amiable young person's fantasy that adults will probably relate to more than kids, Brexit analogies and all.
The Kid Who Would Be King
Written and directed by Joe Cornish. With Louis Ashbourne Serkis. Opens Friday.