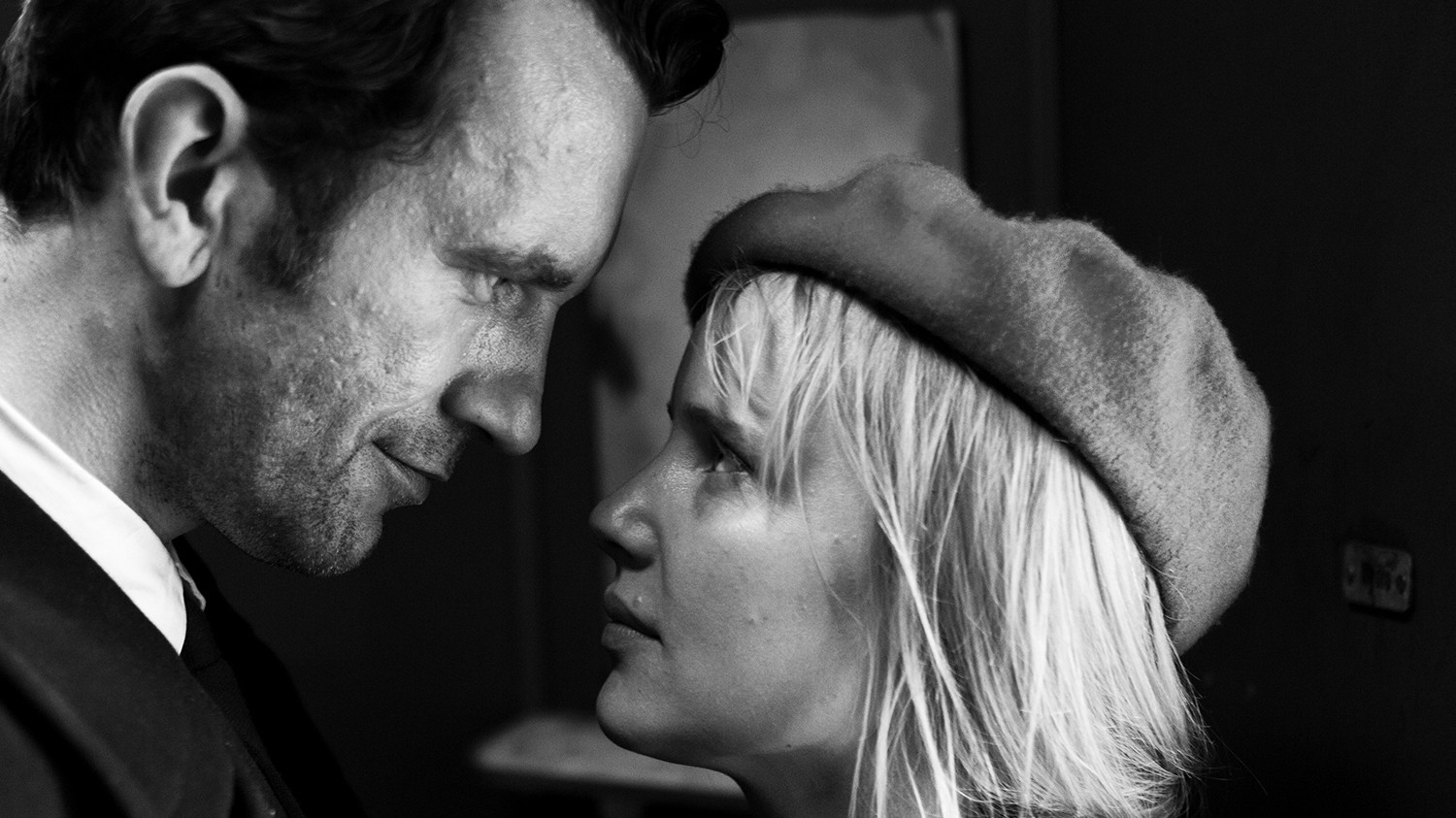 The lovers in Pawel Pawlikowski's
Cold War
don't spend much time g azing into each others' eyes searching for meaning or sitting alone in a bar drunkenly commanding a musician to "play our song." In fact, they're far more likely to be performing their own music on stage, while trying to carve out an existence in a disillusioned Europe after World War II. Singer Zula (Joanna Kulig) and pianist Wiktor (Tomasz Kot), who meet as part of a postwar communist government program to promote Polish folkloric music and dance, have undoubtedly seen enough suffering in the past few years and now want to change the subject. But it's easier said than done.
Director Pawlikowski (
Ida
) — in a screenplay he wrote with Janusz Glowacki and Piotr Borkowski — shows Poland in 1949 as still in shock, after liberation from the Nazis has led to domination by the Soviets. Among the survivors is angelic blond vocalist Zula, whose stage presence vaults her to stardom from the ranks of her folk-dancing comrades; and hipster Wiktor, Zula's accompanist, who longs to play jazz in the caves of Left Bank Paris. Wiktor and Zula are hot for each other, but hotter still to ditch the gray, wintry Polish landscape — shot in gorgeous black and white by cinematographer Lukasz Zal (
Loving Vincent
) — in favor of the wised-up, treacherous terrain of the capitalist West, where seemingly everyone is scrambling for a dollar.
Filmmaker Pawlikowski must have watched
Breathless
and
L'Avventura
incessantly in his youth. He gives
Cold War
not only the grainy black-and-white visuals and emotive film editing of Jean-Luc Godard and Michelangelo Antonioni art house favorites, but peppers the soundtrack with a glorious variety of music: Polish folk melodies sung in the Lemko dialect, classical mazurkas, cool hard-bop jazz, kitschy show tunes, and Marcin Masecki's sullen soundtrack score.
The camera is as nervous as the émigrés, ricocheting off figures on the dance floor and stalking through a Parisian house party like a paparazzo looking for just the right face for a magazine cover. But the gleeful French New Wave vibe gives way to a numbed-out realization that freedom isn't all it's advertised to be. Combined with the missed romantic cues and bad luck of the two star-crossed survivors, the 20-year, on-again, off-again relationship takes on the lingering melancholy of an Andrzej Wajda film or an early Roman Polanski. It's the resignation that comes from punctured hopes. Before our eyes this seemingly straightforward romance suffers for the sins of its characters, as if the victory celebration is predestined to end sadly but beautifully.
The personalities the lovers encounter tell their own tales of ravaged Europe. We meet the party apparatchik Kaczmarek (Borys Szyc), Irena the skeptical musical producer (sharp-tongued Agata Kulesza from
Ida
), Juliette the poet (radiant Jeanne Balibar), and Michel, the man who sleeps with the talent (Cédric Kahn). But it's Zula and Wiktor who capture our imagination. Professionally sophisticated Wiktor emulates the style of a quick-witted opportunist but ultimately cannot live without home or the possibility of happiness that clings to it. Zula's priorities, on the other hand, are survival first, with everything else in second place.
Her dissatisfaction, depicted over the course of decades, makes actor Kulig's performance one of the most haunting of the past year.
Pawlikowski has the knack of making personal (and political) heartbreak seem, initially, like a joyous European fling. As in
Ida
, his subjects have been emotionally damaged in the war. Their only hope for peace of mind is to take that chance and cross the borderline. If they fail — and despite the film's sexy sizzle we can see they're doomed from the start — at least they made the attempt. Two photogenic losers. And one more painfully beautiful character study by Pawlikowski. l
Tomasz Kot and Joanna Kulig perform music together in Cold War.
Cold War
Directed by Pawel Pawlikowski. With Joanna Kulig and Tomasz Kot. Opens Friday.