It started as a joke: South Berkeley residents Caroline Sandifer and Trey Jalbert were talking about how they wanted to host a get-together for local grassroots organizers when Sandifer asked, what if they invited everyone over for "cookies and 'solidari-tea'"?

Goofy pun notwithstanding, the thought stuck. Jalbert — a part time community organizer and full-time grad student — and Sandifer, who had been working for an environmental-education nonprofit, had long commiserated about the challenges many small nonprofits face. "What if we could use tea to fundraise for all of the awesome grassroots nonprofits in the Bay Area?" Jalbert asked.

[jump]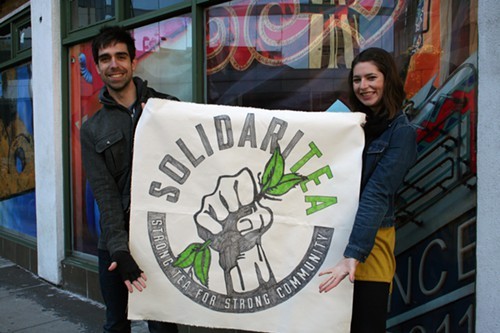 That was the seed of the idea that eventually led Sandifer and Jalbert to co-found
SolidariTEA
, an iced tea company with a social conscience, and a commitment to donating ten cents of the proceeds from each bottle sold to local nonprofits. The company launched last summer, and Sandifer and Jalbert have pledged to donate a total of $18,000 to two Oakland-based nonprofits — the food justice organization
People's Grocery
and the arts-focused
Rock Paper Scissors Collective
.
Sandifer said that in coming up with their business model, she and Jalbert were particularly inspired by the Oakland-based apparel company
Oaklandish
— which also gives out grants to innovative local nonprofits — and
Guayaki
, a yerba mate beverage company that uses part of its proceeds to restore South American rain forests. Like those companies, SolidariTEA isn't run as a nonprofit, but rather as a socially responsible business. Eventually, Sandifer said, they hope to apply for
B-Corp certification
, a designation that requires adhering to specific social and environmental standards.
Jalbert is the mastermind behind the actual teas — a hobby sparked by his upbringing in Virginia (where sweet tea was the beverage of choice) and his professional interest, as a bioengineering Ph.D candidate whose research has focused on brain cancer, in the health benefits of drinking tea. Currently, there are three flavors: Blueberry Roibois, Black Rose Ceylon, and Cinnamon Peach.
Sandifer explained that until the company gets out of the red, she and Jalbert are just keeping a tally of how much money is earmarked to go to each nonprofit. All told, it will probably take them three or four years to pay out the promised sum. Once the business is more established, though, Sandifer and Jalbert hope to add more teas (a new green tea flavor is currently in the recipe-development phase) and to involve their chosen nonprofits more directly — everything from recipe testing to giving input on the design of the labels to helping to pick future beneficiaries.
Currently, SolidariTEA's iced teas are available at a number of markets and other food vendors in the East Bay, including Victory Burger, the Berkeley Whole Foods, the Fivetenburger food truck, and the Grand Lake Theater. Visit the SolidariTEA website for a full
list of purveyors
.