Local 123 (2049 San Pablo Ave., Berkeley) has been at the leading edge of the East Bay coffee scene since it opened in 2009. Last week, the West Berkeley stalwart added another arrow to its formidable third-wave coffee quiver: As of March 1, the cafe has been selling espresso drinks and drip coffee brewed with beans from its newly-launched house brand, One Twenty Three Coffee Roasters.

[jump]
Any caffeine-slinger can stock its shelves with Blue Bottle or [insert trendy West Coast roaster] coffee beans, but roasting your own — that takes some ambition. So it's worth noting that this seems to be a growing trend among small, independent East Bay coffee shops: Oakland's Timeless Coffee (4252 Piedmont Ave.) also recently made the jump, and of course Berkeley's Artis (1717B Fourth St.) has made roasting beans in-house — to order — the core of its business model.


The roastmaster Hoffman has hired is Keith Gehrke, who was previously a roaster at Flying Goat Coffee, in Healdsburg, and then later at Portland's Coava Coffee, which he co-founded. (Not coincidentally, Local 123 was a loyal customer of each company during Gehrke's tenure.) Now, Gehrke is roasting One Twenty Three coffee beans out of the same warehouse/garage in Pacheco, CA, that houses
Able Brewing
, the sustainable coffee brewing equipment company that he founded. He delivers a freshly-roasted batch to the cafe twice a week, on Tuesdays and Fridays.
One Twenty Three's beans will be consistent with the lighter roasting style that the cafe has long favored — one "that coaxes the most sweetness, bright and varied fruit, body and balance from the beans," Hoffman explained. That said, she noted that the coffees aren't quite as light (or as "bright" or "grassy"-tasting) as what you'll find from roasters like Ritual and Sightglass, for instance.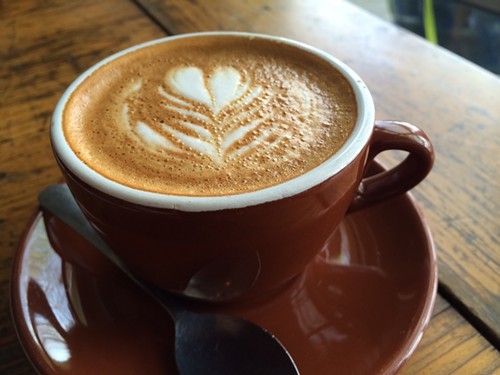 Cappuccino made using the new One Twenty Three "Union Blend."
Translation: If you're the kind of coffee drinker who sometimes finds third-wave brews to be too sour or watery, you'll probably still be able to find something you like.
During a recent visit, I passed on a couple of single-origin drip coffees whose descriptions ("winy," "mandarin bright") seemed less up my alley. Instead, I settled on a Union Blend cappuccino (as smooth and satisfying as ever) and, later, a cup of the Nicaraguan "Las Segurias": a chocolate-y, full-bodied roast with just enough fruitiness to perk up the palate.
I liked it an awful lot.