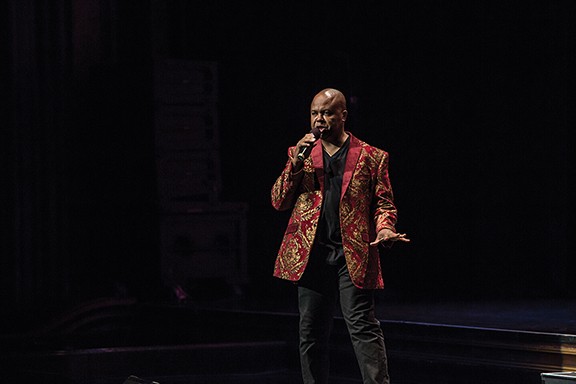 Storytelling has seen a resurgence in popular consciousness over the past decade with productions like The Moth, This American Life, and Serial. Among these programs is Snap Judgment, a weekly podcast and public radio show featuring stories from a broad range of speakers about impactful or defining moments in their lives. The show's founders, Mark Ristich and host Glynn Washington, say that's largely the result of recording in Oakland, with its rich tradition of storytelling, diversity, and reputation for being a no-nonsense city.
"There are so many things we want to elucidate through storytelling," said Washington. "We, as a society, are not effectively telling stories about things that matter right now, and there is a big responsibility as storytellers to remind people that history matters."
The weekly show features stories told in the first-person. Its production is sleek and fast-paced, with background music that accentuates the emotional charge of the narrative. "The drive behind any Snap story is curiosity," said Washington. Running the gamut of human emotions, the stories never preach or fall into abstraction. "It's not pontification or contemplation," explained Ristich. "This isn't just some exercise, it's people's lives."
Recent episodes have included the tale of a Utah park ranger who was shot and left for dead by an assailant with no clear motive, the journey of a lesbian couple escaping familial persecution in Russia by sailing to Canada by means of the Panama Canal, and an inside look at the life of a social worker who separated children from potentially dangerous home environments for Child Protective Services. "I think it's a type of magic," said Washington, "that your perspective can be broadened just by spending a few moments in another person's world."
Adding to the fascination of Snap Judgment's approach to storytelling is its willingness to address subjects both small and large. In a recent episode, Jamie DeWolf, an Oakland-based filmmaker, performer, and occasional producer for Snap Judgment, shared a story about living in the same building as Xiana Fairchild, who was kidnapped as a 7-year-old on her way to school in Vallejo in 1999, and the subsequent investigation of her disappearance and eventual conviction of her murderer. DeWolf approaches the story with an elegiac tone, expressing regret for passing her in the hallways so many times without ever reaching out to her. In the same episode, Josh Healy, a writer and longtime performer with Snap Judgment, talks about helping his mother set up an online dating account. Beneath its comedic presentation unfolds a touching story about family and discovery as Healy, while answering questions on the site, learns things about his mother that he hadn't before (such as the fact that she once tried cocaine and that she didn't finish college because she was busy raising kids). Both performances elicit powerful, albeit vastly different, emotional responses.
Snap Judgment was conceptualized by Washington in 2007 when he entered the Public Radio Talent Quest, a competition put on by PRX (Public Radio Exchange) seeking out new voices and angles in the world of public broadcasting. "I heard about it like a day before the contest was over, made my little entry, and sent it in," said Washington, who is married to Oakland Councilmember Annie Campbell Washington. "I had never made radio before." When he was notified that his pitch was among the top 10 finalists, he thought Ristich, who had consulted on the submission, was playing a prank on him. It was not a joke, however, and Snap Judgment was eventually declared one of the winners, receiving funding from the Corporation for Public Broadcasting and distribution through NPR.
Snap Judgment officially debuted in 2010 with a live show at San Francisco's Brava Theater, which was recorded for radio and television. Today, Snap Judgment, now presented by WNYC, is broadcast on more than 400 radio stations, and its weekly podcast is downloaded about 2 million times per month. It's still produced in the heart of downtown Oakland.
Along with its pre-recorded programming, Snap Judgment also frequently organizes live shows across the country, for which it sources high-caliber performers from the worlds of standup, slam poetry, and acting to tell stories onstage with backing by a live band. The current iteration has been touring for close to a year and features stories by DeWolf, acclaimed slam poet and Oakland native Joyce Lee, and fellow Oaklander, the Emmy-winning actor and stand-up comedian Don Reed, among many other talented storytellers. Snap Judgment's final show of the tour, on Dec. 1 at Oakland's historic Paramount Theatre, should be especially noteworthy, as the show and some of the performers will return to the town that has defined them.
"I represent Oakland whether I want to or not. It's where I'm from," said Lee. "When your city's represented, you feel uplifted."
Reed, who grew up in Oakland during the 1970s, said, "I don't think I've done a story where I don't say at some point 'I'm from Oakland.' It's the heartbeat of my stories."
Perhaps the key to Washington's belief that personal history matters is that by sharing, others are reminded that they, too, have stories that define them. And listeners are able to feel better connected to the world around them. What started as Ristich and Washington's last-minute contest pitch has grown into an institution in the realm of podcasting and public radio, recording history — one person at a time.